We show you the list with Verses on Fasting in the Bible. We know that God is a God of forgiveness, of love, and that is why we should fast; it is a form of sacrifice and to demonstrate to God our faith in his word. Be inspired by these messages of Fasting.
Fasting, which is defined as abstaining from food or drink to focus on prayer and seeking God's will, is mentioned more than 70 times in the Bible. In the Old Testament, there were two types of Fasting: public and private. Both provide important spiritual benefits.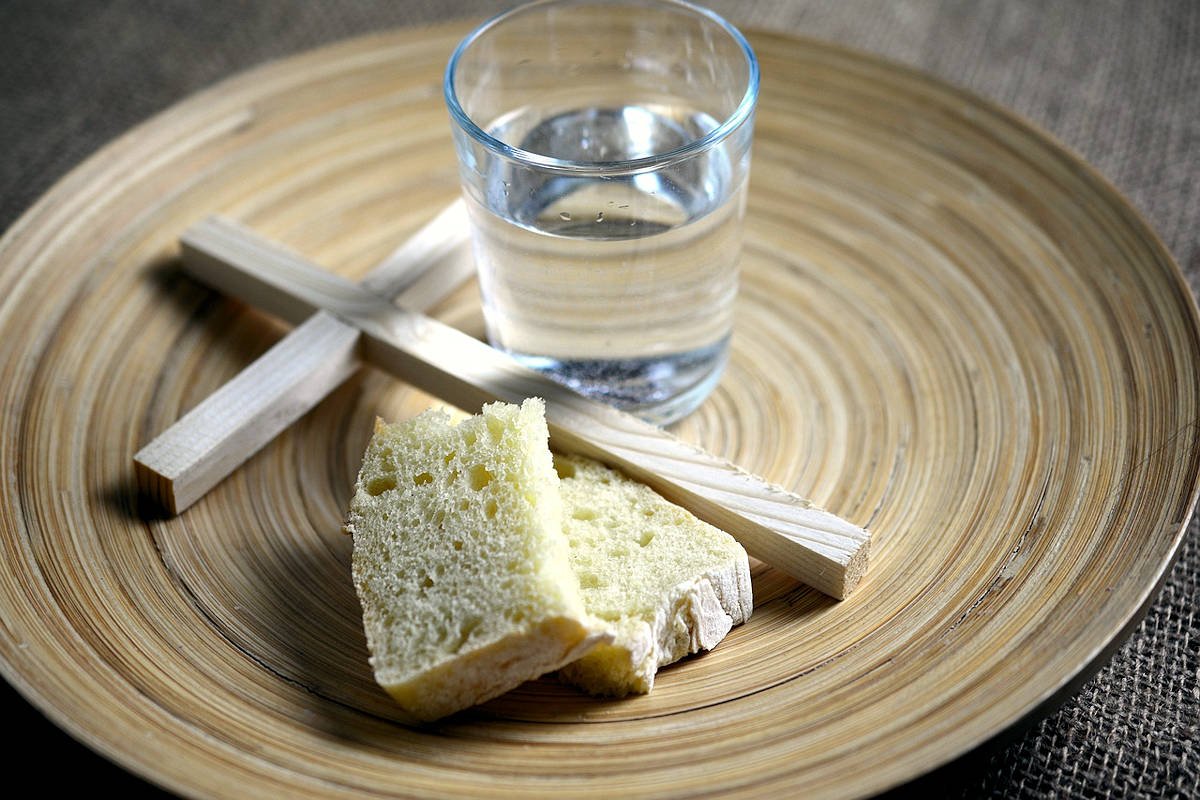 Verses on Fasting in the Bible. Photo by congerdesign. Pixabay.
We can know that God offers supernatural revelation and knowledge through Fasting because of the countless examples of people who fasted in the Bible. Fasting was practiced by Moses, Daniel, and even Jesus. Fasting, according to the Scriptures, will help us develop a closer relationship with Christ and open our eyes to what He wants to teach us.
If you are not sure how to fast, for example, how long to fast, what to abstain from, and how to pray, these verses on Fasting can help you.
Verses on Fasting in the Bible
Nehemiah 1:3-4
They said to me, "The remnant who are left of the captivity there in the province are in great affliction and reproach. The wall of Jerusalem is also broken down, and its gates are burned with fire."

When I heard these words, I sat down and wept, and mourned several days; and I fasted and prayed before the God of heaven.
Psalm 35:13-14
But as for me, when they were sick, my clothing was sackcloth. I afflicted my soul with fasting. My prayer returned into my own bosom.

I behaved myself as though it had been my friend or my brother. I bowed down mourning, as one who mourns his mother.
Matthew 4:2
When he had fasted forty days and forty nights, he was hungry afterward.
Job 41:17
They are joined to one another. They stick together, so that they can't be pulled apart.
Ezra 8:21-23
Then I proclaimed a fast there, at the river Ahava, that we might humble ourselves before our God, to seek from him a straight way for us, and for our little ones, and for all our possessions.

For I was ashamed to ask of the king a band of soldiers and horsemen to help us against the enemy on the way, because we had spoken to the king, saying, "The hand of our God is on all those who seek him, for good; but his power and his wrath is against all those who forsake him."

So we fasted and begged our God for this: and he granted our request.
Acts 14:23
When they had appointed elders for them in every assembly, and had prayed with fasting, they commended them to the Lord, on whom they had believed.
Daniel 10:3
I ate no pleasant bread. No meat or wine came into my mouth. I didn't anoint myself at all, until three whole weeks were fulfilled.
2 Chronicles 20:3-4
Jehoshaphat was alarmed, and set himself to seek to Yahweh. He proclaimed a fast throughout all Judah.

Judah gathered themselves together to seek help from Yahweh. They came out of all the cities of Judah to seek Yahweh.
Joel 1:13-14
Put on sackcloth and mourn, you priests! Wail, you ministers of the altar. Come, lie all night in sackcloth, you ministers of my God,for the meal offering and the drink offering are withheld from your God's house.

Sanctify a fast. Call a solemn assembly. Gather the elders, and all the inhabitants of the land, to the house of Yahweh, your God, and cry to Yahweh.
Luke 18:12
I fast twice a week. I give tithes of all that I get.'
1 Samuel 14:24-30
The men of Israel were distressed that day; for Saul had adjured the people, saying, "Cursed is the man who eats any food until it is evening, and I am avenged of my enemies." So none of the people tasted food.

All the people came into the forest; and there was honey on the ground.

When the people had come to the forest, behold, honey was dripping, but no one put his hand to his mouth; for the people feared the oath.

But Jonathan didn't hear when his father commanded the people with the oath. Therefore he put out the end of the rod that was in his hand, and dipped it in the honeycomb, and put his hand to his mouth; and his eyes brightened.

Then one of the people answered, and said, "Your father directly commanded the people with an oath, saying, 'Cursed is the man who eats food today.'" The people were faint.

Then Jonathan said, "My father has troubled the land. Please look how my eyes have brightened, because I tasted a little of this honey.

How much more, if perhaps the people had eaten freely today of the plunder of their enemies which they found? For now has there been no great slaughter among the Philistines."
Mark 9:29
He said to them, "This kind can come out by nothing, except by prayer and fasting."
2 Samuel 12:15-17
Nathan departed to his house. Yahweh struck the child that Uriah's wife bore to David, and it was very sick.

David therefore begged God for the child; and David fasted, and went in, and lay all night on the ground.

The elders of his house arose beside him, to raise him up from the earth: but he would not, and he didn't eat bread with them.
1 Samuel 7:6
They gathered together to Mizpah, and drew water, and poured it out before Yahweh, and fasted on that day, and said there, "We have sinned against Yahweh." Samuel judged the children of Israel in Mizpah.
Matthew 4:4
But he answered, "It is written, 'Man shall not live by bread alone, but by every word that proceeds out of the mouth of God.'"
Verses on Fasting and Prayer
Joel 2:12-15
"Yet even now," says Yahweh, "turn to me with all your heart, and with fasting, and with weeping, and with mourning."

Tear your heart, and not your garments, and turn to Yahweh, your God; for he is gracious and merciful, slow to anger, and abundant in loving kindness, and relents from sending calamity.

Who knows? He may turn and relent, and leave a blessing behind him, even a meal offering and a drink offering to Yahweh, your God.

Blow the trumpet in Zion! Sanctify a fast. Call a solemn assembly.
Luke 4:1-2
Jesus, full of the Holy Spirit, returned from the Jordan, and was led by the Spirit into the wilderness for forty days, being tempted by the devil. He ate nothing in those days. Afterward, when they were completed, he was hungry.
Jude 1:20-21
But you, beloved, keep building up yourselves on your most holy faith, praying in the Holy Spirit.

Keep yourselves in God's love, looking for the mercy of our Lord Jesus Christ to eternal life.
Zechariah 7:4-7
Then the word of Yahweh of Armies came to me, saying, "Speak to all the people of the land, and to the priests, saying, 'When you fasted and mourned in the fifth and in the seventh month for these seventy years, did you at all fast to me, really to me?

When you eat, and when you drink, don't you eat for yourselves, and drink for yourselves?

Aren't these the words which Yahweh proclaimed by the former prophets, when Jerusalem was inhabited and in prosperity, and its cities around her, and the South and the lowland were inhabited?'"
Job 36:8
If they are bound in fetters, and are taken in the cords of afflictions.
Matthew 6:16-18
"Moreover when you fast, don't be like the hypocrites, with sad faces. For they disfigure their faces, that they may be seen by men to be fasting. Most certainly I tell you, they have received their reward.

But you, when you fast, anoint your head, and wash your face; so that you are not seen by men to be fasting, but by your Father who is in secret, and your Father, who sees in secret, will reward you.
1 Kings 21:12
They proclaimed a fast, and set Naboth on high among the people.
Matthew 9:14-17
Then John's disciples came to him, saying, "Why do we and the Pharisees fast often, but your disciples don't fast?"

Jesus said to them, "Can the friends of the bridegroom mourn, as long as the bridegroom is with them? But the days will come when the bridegroom will be taken away from them, and then they will fast.

No one puts a piece of unshrunk cloth on an old garment; for the patch would tear away from the garment, and a worse hole is made.

Neither do people put new wine into old wine skins, or else the skins would burst, and the wine be spilled, and the skins ruined. No, they put new wine into fresh wine skins, and both are preserved."
1 Samuel 31:13
They took their bones and buried them under the tamarisk tree in Jabesh, and fasted seven days.
Acts 13:3-4
Then, when they had fasted and prayed and laid their hands on them, they sent them away.

So, being sent out by the Holy Spirit, they went down to Seleucia. From there they sailed to Cyprus.
Jeremiah 14:11-12
Yahweh said to me, "Don't pray for this people for their good.

When they fast, I will not hear their cry; and when they offer burnt offering and meal offering, I will not accept them; but I will consume them by the sword, by famine, and by pestilence."
Exodus 34:28
He was there with Yahweh forty days and forty nights; he neither ate bread, nor drank water. He wrote on the tablets the words of the covenant, the ten commandments.
Daniel 9:3-5
I set my face to the Lord God, to seek by prayer and petitions, with fasting and sackcloth and ashes.

I prayed to Yahweh my God, and made confession, and said, "Oh, Lord, the great and dreadful God, who keeps covenant and loving kindness with those who love him and keep his commandments, we have sinned, and have dealt perversely, and have done wickedly, and have rebelled, even turning aside from your precepts and from your ordinances.
2 Samuel 1:12
They mourned, wept, and fasted until evening, for Saul, and for Jonathan his son, and for the people of Yahweh, and for the house of Israel; because they had fallen by the sword.
Esther 4:16
"Go, gather together all the Jews who are present in Susa, and fast for me, and neither eat nor drink three days, night or day. I and my maidens will also fast the same way. Then I will go in to the king, which is against the law; and if I perish, I perish."
Verses on Fasting and Forgiveness
Psalm 109:24
My knees are weak through fasting. My body is thin and lacks fat.
Nehemiah 9:1-3
Now in the twenty-fourth day of this month the children of Israel were assembled with fasting, with sackcloth, and dirt on them.

The offspring of Israel separated themselves from all foreigners, and stood and confessed their sins, and the iniquities of their fathers.

They stood up in their place, and read in the book of the law of Yahweh their God a fourth part of the day; and a fourth part they confessed, and worshiped Yahweh their God.
1 Corinthians 10:31
Whether therefore you eat, or drink, or whatever you do, do all to the glory of God.
Psalm 119:31
I cling to your statutes, Yahweh. Don't let me be disappointed.
Jonah 3:5-9
The people of Nineveh believed God; and they proclaimed a fast, and put on sackcloth, from their greatest even to their least.

The news reached the king of Nineveh, and he arose from his throne, and took off his royal robe, covered himself with sackcloth, and sat in ashes.

He made a proclamation and published through Nineveh by the decree of the king and his nobles, saying, "Let neither man nor animal, herd nor flock, taste anything; let them not feed, nor drink water; but let them be covered with sackcloth, both man and animal, and let them cry mightily to God. Yes, let them turn everyone from his evil way, and from the violence that is in his hands.

Who knows whether God will not turn and relent, and turn away from his fierce anger, so that we might not perish?"
Isaiah 58:1-7
"Cry aloud, don't spare. Lift up your voice like a trumpet. Declare to my people their disobedience, and to the house of Jacob their sins.

Yet they seek me daily, and delight to know my ways. As a nation that did righteousness, and didn't forsake the ordinance of their God, they ask of me righteous judgments. They delight to draw near to God.

'Why have we fasted,' say they, 'and you don't see? Why have we afflicted our soul, and you don't notice?' "Behold, in the day of your fast you find pleasure, and oppress all your laborers.

Behold, you fast for strife and contention, and to strike with the fist of wickedness. You don't fast today so as to make your voice to be heard on high.

Is this the fast that I have chosen? A day for a man to humble his soul? Is it to bow down his head like a reed, and to spread sackcloth and ashes under himself? Will you call this a fast, and an acceptable day to Yahweh?

"Isn't this the fast that I have chosen: to release the bonds of wickedness, to undo the straps of the yoke, to let the oppressed go free, and that you break every yoke?

Isn't it to distribute your bread to the hungry, and that you bring the poor who are cast out to your house? When you see the naked, that you cover him; and that you not hide yourself from your own flesh?
1 Kings 21:25-29
But there was no one like Ahab, who sold himself to do that which was evil in Yahweh's sight, whom Jezebel his wife stirred up.

He did very abominably in following idols, according to all that the Amorites did, whom Yahweh cast out before the children of Israel.

When Ahab heard those words, he tore his clothes, and put sackcloth on his flesh, and fasted, and lay in sackcloth, and went softly.

Yahweh's word came to Elijah the Tishbite, saying, "See how Ahab humbles himself before me? Because he humbles himself before me, I will not bring the evil in his days; but I will bring the evil on his house in his son's day."
Acts 13:2
As they served the Lord and fasted, the Holy Spirit said, "Separate Barnabas and Saul for me, for the work to which I have called them."
Luke 5:33-35
They said to him, "Why do John's disciples often fast and pray, likewise also the disciples of the Pharisees, but yours eat and drink?"

He said to them, "Can you make the friends of the bridegroom fast, while the bridegroom is with them?

But the days will come when the bridegroom will be taken away from them. Then they will fast in those days."
Psalm 139:10
Even there your hand will lead me, and your right hand will hold me.
Matthew 17:20
He said to them, "Because of your unbelief. For most certainly I tell you, if you have faith as a grain of mustard seed, you will tell this mountain, 'Move from here to there,' and it will move; and nothing will be impossible for you.
Luke 2:37
And she had been a widow for about eighty-four years), who didn't depart from the temple, worshiping with fastings and petitions night and day.
Psalm 69:10
When I wept and I fasted, that was to my reproach.
1 Corinthians 7:3-5
Let the husband give his wife the affection owed her, and likewise also the wife her husband.

The wife doesn't have authority over her own body, but the husband. Likewise also the husband doesn't have authority over his own body, but the wife.

Don't deprive one another, unless it is by consent for a season, that you may give yourselves to fasting and prayer, and may be together again, that Satan doesn't tempt you because of your lack of self-control.
Mark 2:18-20
John's disciples and the Pharisees were fasting, and they came and asked him, "Why do John's disciples and the disciples of the Pharisees fast, but your disciples don't fast?"

Jesus said to them, "Can the groomsmen fast while the bridegroom is with them? As long as they have the bridegroom with them, they can't fast.

But the days will come when the bridegroom will be taken away from them, and then they will fast in that day.
Proverbs 5:22
The evil deeds of the wicked ensnare him. The cords of his sin hold him firmly.
What did you think of these Verses on Fasting in the Bible? Remember that God's forgiveness is a gift; fasting is a way to ask for His forgiveness, love, and protection. Do you have any other verses about Fasting to contribute to the community? Leave your message in the comments.