We show you the list with Bible Verses for Youth and Teens so that you understand God's message and remember that when you feel you can't take it anymore, remember that you are not alone. Get inspired by these love messages for young people in the bible.
Youth and adolescence are a time of change and transition in everyone's life. Many young people struggle to fit in and take on significant new responsibilities, which can be stressful and lonely. Young people are continually bombarded with messages from the media and peers that they are never good enough and can never live up to their expectations. No wonder most teenagers feel helpless and alone.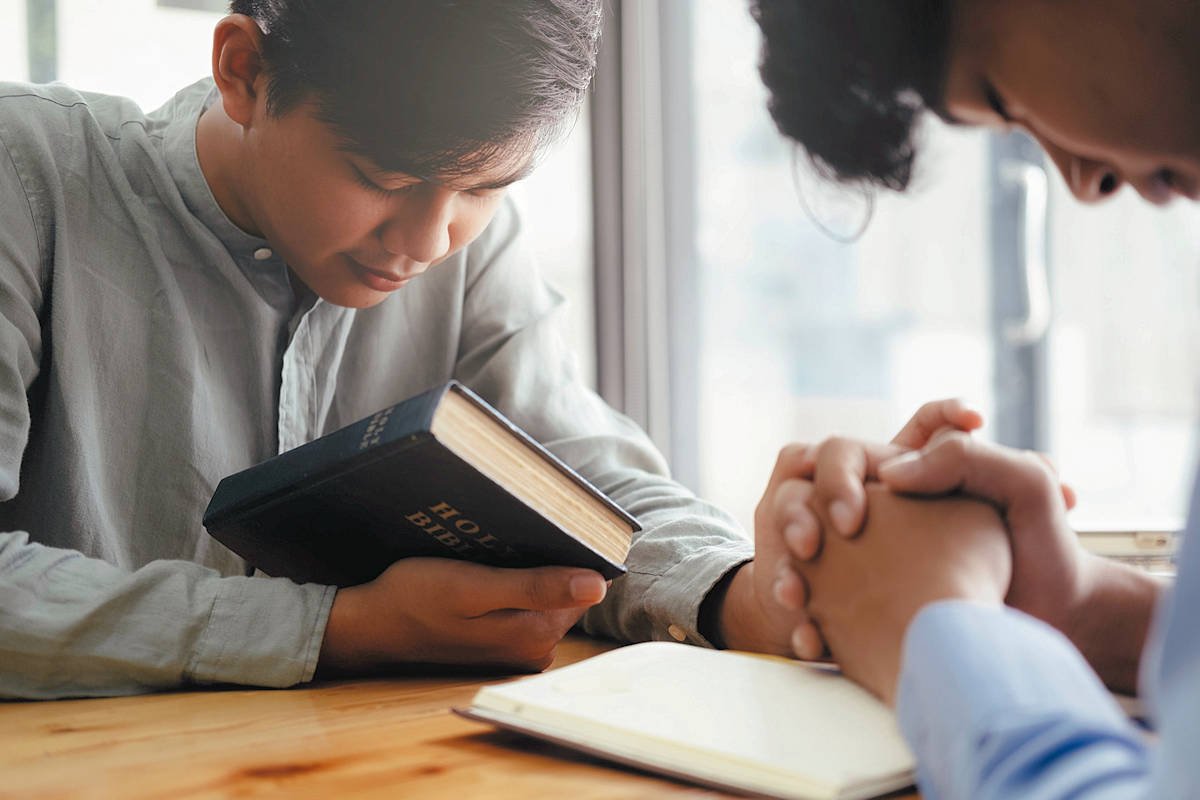 Bible Verses for Youth and Teens. Photo by @ijeab. Twenty20.
Teens need all the love and support of family, but most of all, to always keep God's love in mind. Use these Bible verses for teens to comfort and encourage in these times of emotional imbalance. They can also help control rebellious young people who have strayed from God's path.
It is essential as parents, adults, or friends to teach them God's word and let them know the relief that his verses, through the bible, give us. Read the verses for young people that will help you find the right path to healing any despair and problem that life presents us.
Bible Verses for Youth and Teens
1 Timothy 4:12
Let no man despise your youth; but be an example to those who believe, in word, in your way of life, in love, in spirit, in faith, and in purity.
Ecclesiastes 11:9-10
Rejoice, young man, in your youth, and let your heart cheer you in the days of your youth, and walk in the ways of your heart, and in the sight of your eyes; but know that for all these things God will bring you into judgment.

Therefore remove sorrow from your heart, and put away evil from your flesh; for youth and the dawn of life are vanity.
Jeremiah 1:4-9
Now Yahweh's word came to me, saying, "Before I formed you in the womb, I knew you. Before you were born, I sanctified you. I have appointed you a prophet to the nations."

Then I said, "Ah, Lord Yahweh! Behold, I don't know how to speak; for I am a child."

But Yahweh said to me, "Don't say, 'I am a child;' for you must go to whomever I send you, and you must say whatever I command you.

Don't be afraid because of them, for I am with you to rescue you," says Yahweh.

Then Yahweh stretched out his hand, and touched my mouth. Then Yahweh said to me, "Behold, I have put my words in your mouth.
Ecclesiastes 12:1-2
Remember also your Creator in the days of your youth, before the evil days come, and the years draw near, when you will say, "I have no pleasure in them;"

Before the sun, the light, the moon, and the stars are darkened, and the clouds return after the rain.
Psalm 119:9
BET How can a young man keep his way pure? By living according to your word.
2 Timothy 2:22
Flee from youthful lusts; but pursue righteousness, faith, love, and peace with those who call on the Lord out of a pure heart.
Ephesians 6:1-4
Children, obey your parents in the Lord, for this is right.

"Honor your father and mother," which is the first commandment with a promise: "that it may be well with you, and you may live long on the earth."

You fathers, don't provoke your children to wrath, but nurture them in the discipline and instruction of the Lord.
Jeremiah 29:11
For I know the thoughts that I think toward you," says Yahweh, "thoughts of peace, and not of evil, to give you hope and a future.
Proverbs 23:26
My son, give me your heart; and let your eyes keep in my ways.
1 Corinthians 10:13
No temptation has taken you except what is common to man. God is faithful, who will not allow you to be tempted above what you are able, but will with the temptation also make the way of escape, that you may be able to endure it.
Colossians 3:20
Children, obey your parents in all things, for this pleases the Lord.
1 Timothy 5:4
But if any widow has children or grandchildren, let them learn first to show piety towards their own family, and to repay their parents, for this is acceptable in the sight of God.
Deuteronomy 5:16
"Honor your father and your mother, as Yahweh your God commanded you; that your days may be long, and that it may go well with you, in the land which Yahweh your God gives you.
Psalm 110:3
Your people offer themselves willingly in the day of your power, in holy array. Out of the womb of the morning, you have the dew of your youth.
Lucas 10:2
Then he said to them, The harvest is indeed plentiful, but the laborers are few. Pray therefore to the Lord of the harvest, that he may send out laborers into his harvest.
Job 32:6
Elihu the son of Barachel the Buzite answered, "I am young, and you are very old; Therefore I held back, and didn't dare show you my opinion.
Lucas 1:38
Mary said, "Behold, the servant of the Lord; let it be done to me according to your word."

Then the angel departed from her.
Psalm 1:1-3
Blessed is the man who doesn't walk in the counsel of the wicked, nor stand on the path of sinners, nor sit in the seat of scoffers; but his delight is in Yahweh's law. On his law he meditates day and night.

He will be like a tree planted by the streams of water, that produces its fruit in its season, whose leaf also does not wither. Whatever he does shall prosper.
Deuteronomy 6:4-9
Hear, Israel: Yahweh is our God. Yahweh is one.

You shall love Yahweh your God with all your heart, with all your soul, and with all your might.

These words, which I command you today, shall be on your heart; and you shall teach them diligently to your children, and shall talk of them when you sit in your house, and when you walk by the way, and when you lie down, and when you rise up.

You shall bind them for a sign on your hand, and they shall be for frontlets between your eyes.

You shall write them on the door posts of your house, and on your gates.
Proverbs 6:20-21
My son, keep your father's commandment, and don't forsake your mother's teaching.

Bind them continually on your heart. Tie them around your neck.
Leviticus 19:3
"'Each one of you shall respect his mother and his father. You shall keep my Sabbaths. I am Yahweh your God.
Amos 8:13
In that day the beautiful virgins and the young men will faint for thirst.
Proverbs 2:17
who forsakes the friend of her youth, and forgets the covenant of her God:
Jeremiah 3:4
Will you not from this time cry to me, 'My Father, you are the guide of my youth?'
Romans 13:13
Let's walk properly, as in the day; not in reveling and drunkenness, not in sexual promiscuity and lustful acts, and not in strife and jealousy.
Proverbs 20:11
Even a child makes himself known by his doings, whether his work is pure, and whether it is right.
Daniel 6:7
All the presidents of the kingdom, the deputies and the local governors, the counselors and the governors, have consulted together to establish a royal statute, and to make a strong decree, that whoever asks a petition of any god or man for thirty days, except of you, O king, he shall be cast into the den of lions.
Romans 12:1-2
Therefore I urge you, brothers, by the mercies of God, to present your bodies a living sacrifice, holy, acceptable to God, which is your spiritual service.

Don't be conformed to this world, but be transformed by the renewing of your mind, so that you may prove what is the good, well-pleasing, and perfect will of God.
James 3:16
For where jealousy and selfish ambition are, there is confusion and every evil deed.
Jeremiah 9:21
For death has come up into our windows. It has entered into our palaces to cut off the children from outside, and the young men from the streets.
Motivational Verses for young people
1 Chronicles 29:1
David the king said to all the assembly, "Solomon my son, whom alone God has chosen, is yet young and tender, and the work is great; for the palace is not for man, but for Yahweh God.
1 Samuel 2:18
But Samuel ministered before Yahweh, being a child, clothed with a linen ephod.
Psalm 119:105
NUN Your word is a lamp to my feet, and a light for my path.
Jeremiah 29:13
You shall seek me, and find me, when you search for me with all your heart.
Mark 8:34
He called the multitude to himself with his disciples, and said to them, "Whoever wants to come after me, let him deny himself, and take up his cross, and follow me.
Psalm 71:17
God, you have taught me from my youth. Until now, I have declared your wondrous works.
Matthew 26:41
Watch and pray, that you don't enter into temptation. The spirit indeed is willing, but the flesh is weak."
1 Chronicles 22:5
David said, "Solomon my son is young and tender, and the house that is to be built for Yahweh must be exceedingly magnificent, of fame and of glory throughout all countries. I will therefore make preparation for it." So David prepared abundantly before his death.
Psalm 27:10
When my father and my mother forsake me, then Yahweh will take me up.
Exodus 20:12
"Honor your father and your mother, that your days may be long in the land which Yahweh your God gives you.
2 Kings 12:1-2
Jehoash began to reign in the seventh year of Jehu, and he reigned forty years in Jerusalem. His mother's name was Zibiah of Beersheba.

Jehoash did that which was right in Yahweh's eyes all his days in which Jehoiada the priest instructed him.
Micah 6:8
He has shown you, O man, what is good. What does Yahweh require of you, but to act justly, to love mercy, and to walk humbly with your God?
John 3:16-17
For God so loved the world, that he gave his one and only Son, that whoever believes in him should not perish, but have eternal life.

For God didn't send his Son into the world to judge the world, but that the world should be saved through him.
1 Samuel 15:23
For rebellion is as the sin of witchcraft, and stubbornness is as idolatry and teraphim. Because you have rejected Yahweh's word, he has also rejected you from being king."
1 Corinthians 6:19-20
Or don't you know that your body is a temple of the Holy Spirit who is in you, whom you have from God? You are not your own, for you were bought with a price. Therefore glorify God in your body and in your spirit, which are God's.
Proverbs 7:7
I saw among the simple ones. I discerned among the youths a young man void of understanding.
2 Chronicles 13:7
Worthless men were gathered to him, wicked fellows who strengthened themselves against Rehoboam the son of Solomon, when Rehoboam was young and tender hearted, and could not withstand them.
2 Corinthians 2:15
For we are a sweet aroma of Christ to God, in those who are saved, and in those who perish.
2 Timothy 1:5
having been reminded of the sincere faith that is in you; which lived first in your grandmother Lois, and your mother Eunice, and, I am persuaded, in you also.
1 Timothy 5:1-2
Don't rebuke an older man, but exhort him as a father; the younger men as brothers; the elder women as mothers; the younger as sisters, in all purity.
Mark 8:24
He looked up, and said, "I see men; for I see them like trees walking."
Job 36:14
They die in youth. Their life perishes among the unclean.
psalm 89:45
You have shortened the days of his youth. You have covered him with shame. Selah.
Proverbs 28:24
Whoever robs his father or his mother, and says, "It's not wrong." He is a partner with a destroyer.
Genesis 8:21
Yahweh smelled the pleasant aroma. Yahweh said in his heart, "I will not again curse the ground any more for man's sake because the imagination of man's heart is evil from his youth. I will never again strike every living thing, as I have done.
Romans 8:28
We know that all things work together for good for those who love God, to those who are called according to his purpose.
1 Kings 18:12
It will happen, as soon as I leave you, that Yahweh's Spirit will carry you I don't know where; and so when I come and tell Ahab, and he can't find you, he will kill me. But I, your servant, have feared Yahweh from my youth.
Matthew 7:12
Therefore whatever you desire for men to do to you, you shall also do to them; for this is the law and the prophets.
Psalm 144:12
Then our sons will be like well-nurtured plants, our daughters like pillars carved to adorn a palace.
Romans 8:31
What then shall we say about these things? If God is for us, who can be against us?
Verses of Encouragement for Youth and Teens
1 Corinthians 6:11
Such were some of you, but you were washed. But you were sanctified. But you were justified in the name of the Lord Jesus, and in the Spirit of our God.
1 Corinthians 13:1-6
If I speak with the languages of men and of angels, but don't have love, I have become sounding brass, or a clanging cymbal.

If I have the gift of prophecy, and know all mysteries and all knowledge; and if I have all faith, so as to remove mountains, but don't have love, I am nothing.

If I give away all my goods to feed the poor, and if I give my body to be burned, but don't have love, it profits me nothing.

Love is patient and is kind; love doesn't envy. Love doesn't brag, is not proud, doesn't behave itself inappropriately, doesn't seek its own way, is not provoked, takes no account of evil; doesn't rejoice in unrighteousness, but rejoices with the truth.
Psalm 103:1-5
By David. Praise Yahweh, my soul! All that is within me, praise his holy name!

Praise Yahweh, my soul, and don't forget all his benefits; who forgives all your sins; who heals all your diseases; who redeems your life from destruction; who crowns you with loving kindness and tender mercies; who satisfies your desire with good things, so that your youth is renewed like the eagle's.
Lamentations 3:25-27
Yahweh is good to those who wait for him, to the soul who seeks him.

It is good that a man should hope and quietly wait for the salvation of Yahweh.

It is good for a man that he bear the yoke in his youth.
Lucas 11:9
I tell you, keep asking, and it will be given you. Keep seeking, and you will find. Keep knocking, and it will be opened to you.
Mark 12:29-31
Jesus answered, "The greatest is, 'Hear, Israel, the Lord our God, the Lord is one: you shall love the Lord your God with all your heart, and with all your soul, and with all your mind, and with all your strength.' This is the first commandment.

The second is like this, 'You shall love your neighbor as yourself.' There is no other commandment greater than these."
Job 33:25
His flesh shall be fresher than a child's. He returns to the days of his youth.
2 Kings 22:1-2
Josiah was eight years old when he began to reign, and he reigned thirty-one years in Jerusalem. His mother's name was Jedidah the daughter of Adaiah of Bozkath.

He did that which was right in Yahweh's eyes, and walked in all the way of David his father, and didn't turn away to the right hand or to the left.
Jeremiah 2:2
"Go, and proclaim in the ears of Jerusalem, saying, 'Yahweh says, "I remember for you the kindness of your youth, the love of your weddings; how you went after me in the wilderness, in a land that was not sown.
Isaiah 40:29-31
He gives power to the weak. He increases the strength of him who has no might.

Even the youths faint and get weary, and the young men utterly fall; But those who wait for Yahweh will renew their strength. They will mount up with wings like eagles. They will run, and not be weary. They will walk, and not faint.
Proverbs 1:8-10
My son, listen to your father's instruction, and don't forsake your mother's teaching: for they will be a garland to grace your head, and chains around your neck.

My son, if sinners entice you, don't consent.
Acts 22:9-11
"Those who were with me indeed saw the light and were afraid, but they didn't understand the voice of him who spoke to me.

I said, 'What shall I do, Lord?' The Lord said to me, 'Arise, and go into Damascus. There you will be told about all things which are appointed for you to do.'

When I couldn't see for the glory of that light, being led by the hand of those who were with me, I came into Damascus.
1 Samuel 2:8
He raises up the poor out of the dust. He lifts up the needy from the dunghill, To make them sit with princes, and inherit the throne of glory. For the pillars of the earth are Yahweh's. He has set the world on them.
Psalm 139:14
I will give thanks to you, for I am fearfully and wonderfully made. Your works are wonderful. My soul knows that very well.
1 Corinthians 13:11
When I was a child, I spoke as a child, I felt as a child, I thought as a child. Now that I have become a man, I have put away childish things.
2 Timothy 3:16-17
Every Scripture is God-breathed and profitable for teaching, for reproof, for correction, and for instruction in righteousness, that each person who belongs to God may be complete, thoroughly equipped for every good work.
Ephesians 6:24
Grace be with all those who love our Lord Jesus Christ with incorruptible love. Amen.
Galatians 6:9
Let's not be weary in doing good, for we will reap in due season, if we don't give up.
Job 20:11
His bones are full of his youth, but youth shall lie down with him in the dust.
Isaiah 54:4
"Don't be afraid; for you will not be ashamed. Don't be confounded; for you will not be disappointed. For you will forget the shame of your youth; and the reproach of your widowhood you shall remember no more.
Joshua 1:7-9
Only be strong and very courageous. Be careful to observe to do according to all the law, which Moses my servant commanded you. Don't turn from it to the right hand or to the left, that you may have good success wherever you go.

This book of the law shall not depart from your mouth, but you shall meditate on it day and night, that you may observe to do according to all that is written in it; for then you shall make your way prosperous, and then you shall have good success.

Haven't I commanded you? Be strong and courageous. Don't be afraid. Don't be dismayed, for Yahweh your God is with you wherever you go."
1 Samuel 17:33
Saul said to David, "You are not able to go against this Philistine to fight with him; for you are but a youth, and he a man of war from his youth."
Ezekiel 16:60
Nevertheless I will remember my covenant with you in the days of your youth, and I will establish to you an everlasting covenant.
James 3:1
Let not many of you be teachers, my brothers, knowing that we will receive heavier judgment.
Isaiah 41:10
Don't you be afraid, for I am with you. Don't be dismayed, for I am your God. I will strengthen you. Yes, I will help you. Yes, I will uphold you with the right hand of my righteousness.
Proverbs 3:5-6
Trust in Yahweh with all your heart, and don't lean on your own understanding.

In all your ways acknowledge him, and he will make your paths straight.
Job 29:8
The young men saw me and hid themselves. The aged rose up and stood.
Philippians 4:4-7
Rejoice in the Lord always! Again I will say, "Rejoice!"

Let your gentleness be known to all men. The Lord is at hand.

In nothing be anxious, but in everything, by prayer and petition with thanksgiving, let your requests be made known to God.

And the peace of God, which surpasses all understanding, will guard your hearts and your thoughts in Christ Jesus.
Ephesians 4:28-29
Let him who stole steal no more; but rather let him labor, producing with his hands something that is good, that he may have something to give to him who has need.

Let no corrupt speech proceed out of your mouth, but only what is good for building others up as the need may be, that it may give grace to those who hear.
Psalm 25:7
Don't remember the sins of my youth, nor my transgressions. Remember me according to your loving kindness, for your goodness' sake, Yahweh.
Bible Verses about Youth serving God
Proverbs 4:20-22
My son, attend to my words. Turn your ear to my sayings.

Let them not depart from your eyes. Keep them in the center of your heart.

For they are life to those who find them, and health to their whole body.
Isaiah 13:12
I will make people more rare than fine gold, even a person than the pure gold of Ophir.
Jeremiah 11:22
therefore Yahweh of Armies says, 'Behold, I will punish them. The young men will die by the sword. Their sons and their daughters will die by famine.
Ezekiel 4:14
Then I said, "Ah Lord Yahweh! Behold, my soul has not been polluted; for from my youth up even until now I have not eaten of that which dies of itself, or is torn of animals. No abominable meat has come into my mouth!"
1 Peter 5:5-9
Likewise, you younger ones, be subject to the elder. Yes, all of you clothe yourselves with humility, to subject yourselves to one another; for "God resists the proud, but gives grace to the humble."

Humble yourselves therefore under the mighty hand of God, that he may exalt you in due time; casting all your worries on him, because he cares for you.

Be sober and self-controlled. Be watchful. Your adversary, the devil, walks around like a roaring lion, seeking whom he may devour.

Withstand him steadfast in your faith, knowing that your brothers who are in the world are undergoing the same sufferings.
Psalm 51:10-12
Create in me a clean heart, O God. Renew a right spirit within me.

Don't throw me from your presence, and don't take your holy Spirit from me.

Restore to me the joy of your salvation. Uphold me with a willing spirit.
Isaiah 62:5
For as a young man marries a virgin, so your sons will marry you. As a bridegroom rejoices over his bride, so your God will rejoice over you.
1 Kings 3:7
Now, Yahweh my God, you have made your servant king instead of David my father. I am just a little child. I don't know how to go out or come in.
Psalm 71:5
For you are my hope, Lord Yahweh; my confidence from my youth.
Ephesians 4:14
that we may no longer be children, tossed back and forth and carried about with every wind of doctrine, by the trickery of men, in craftiness, after the wiles of error.
Proverbs 8:32-33
"Now therefore, my sons, listen to me, for blessed are those who keep my ways.

Hear instruction, and be wise. Don't refuse it.
Proverbs 20:29
The glory of young men is their strength. The splendor of old men is their gray hair.
Philippians 4:13
I can do all things through Christ, who strengthens me.
Matthew 5:28
but I tell you that everyone who gazes at a woman to lust after her has committed adultery with her already in his heart.
Psalm 78:31
when the anger of God went up against them, killed some of their fattest, and struck down the young men of Israel.
Genesis 46:34
that you shall say, 'Your servants have been keepers of livestock from our youth even until now, both we, and our fathers:' that you may dwell in the land of Goshen; for every shepherd is an abomination to the Egyptians."
Psalm 78:63
Fire devoured their young men. Their virgins had no wedding song.
James 2:14-17
What good is it, my brothers, if a man says he has faith, but has no works? Can faith save him? And if a brother or sister is naked and in lack of daily food, and one of you tells them, "Go in peace, be warmed and filled;" and yet you didn't give them the things the body needs, what good is it? Even so faith, if it has no works, is dead in itself.
Proverbs 5:18-21
Let your spring be blessed. Rejoice in the wife of your youth.

A loving doe and a graceful deer— let her breasts satisfy you at all times. Be captivated always with her love.

For why should you, my son, be captivated with an adulteress? Why embrace the bosom of another? For the ways of man are before Yahweh's eyes. He examines all his paths.
2 Chronicles 34:1-2
Josiah was eight years old when he began to reign, and he reigned thirty-one years in Jerusalem.

He did that which was right in Yahweh's eyes, and walked in the ways of David his father, and didn't turn away to the right hand or to the left.
Isaiah 41:6-7
Everyone helps his neighbor. They say to their brothers, "Be strong!"

So the carpenter encourages the goldsmith. He who smoothes with the hammer encourages him who strikes the anvil, saying of the soldering, "It is good;" and he fastens it with nails, that it might not totter.
Hebrews 11:1
Now faith is assurance of things hoped for, proof of things not seen.
John 1:9
The true light that enlightens everyone was coming into the world.
Proverbs 17:25
A foolish son brings grief to his father, and bitterness to her who bore him.
Matthew 11:28-30
"Come to me, all you who labor and are heavily burdened, and I will give you rest.

Take my yoke upon you, and learn from me, for I am gentle and humble in heart; and you will find rest for your souls.

For my yoke is easy, and my burden is light."
Proverbs 23:22
Listen to your father who gave you life, and don't despise your mother when she is old.
Philippians 3:12
Not that I have already obtained, or am already made perfect; but I press on, that I may take hold of that for which also I was taken hold of by Christ Jesus.
2 Chronicles 24:1-2
Joash was seven years old when he began to reign, and he reigned forty years in Jerusalem. His mother's name was Zibiah, of Beersheba.

Joash did that which was right in Yahweh's eyes all the days of Jehoiada the priest.
Rut 1:16-17
Ruth said, "Don't urge me to leave you, and to return from following you, for where you go, I will go; and where you stay, I will stay. Your people will be my people, and your God my God.

Where you die, I will die, and there I will be buried. May Yahweh do so to me, and more also, if anything but death parts you and me."
Malachi 2:14-15
Yet you say, 'Why?' Because Yahweh has been witness between you and the wife of your youth, against whom you have dealt treacherously, though she is your companion, and the wife of your covenant.

Did he not make you one, although he had the residue of the Spirit? Why one? He sought godly offspring. Therefore take heed to your spirit, and let no one deal treacherously against the wife of his youth.
Psalm 23:1-6
A Psalm by David. Yahweh is my shepherd: I shall lack nothing.

He makes me lie down in green pastures. He leads me beside still waters.

He restores my soul. He guides me in the paths of righteousness for his name's sake.

Even though I walk through the valley of the shadow of death, I will fear no evil, for you are with me. Your rod and your staff, they comfort me.

You prepare a table before me in the presence of my enemies. You anoint my head with oil. My cup runs over.

Surely goodness and loving kindness shall follow me all the days of my life, and I will dwell in Yahweh's house forever.
Ezekiel 16:22
In all your abominations and your prostitution you have not remembered the days of your youth, when you were naked and bare, and were wallowing in your blood.
Deuteronomy 31:6
Be strong and courageous. Don't be afraid or scared of them; for Yahweh your God himself is who goes with you. He will not fail you nor forsake you."
Leviticus 19:32
"'You shall rise up before the gray head, and honor the face of an old man, and you shall fear your God. I am Yahweh.
Judges 11:36
She said to him, "My father, you have opened your mouth to Yahweh; do to me according to that which has proceeded out of your mouth, because Yahweh has taken vengeance for you on your enemies, even on the children of Ammon."
Romans 15:13
Now may the God of hope fill you with all joy and peace in believing, that you may abound in hope, in the power of the Holy Spirit.
What did you think of these Bible Verses for Youth and Teens? In times of enormous lack of faith, anguish and hopelessness are when we must motivate ourselves and take the hand of the Lord. Do you have other Bible Verses for Youth and Teens to contribute to the community? Leave your message in the comments.