We show you the list with Bible Verses about Childlike Faith so that they start from a very young age to know the way and the word of God. Be inspired by these messages of love and bible teachings for children.
The Bible can teach people of all ages, including children, the truth of God. God's word urges us to educate our children in the direction they should go, so they will not stray from it when they grow up.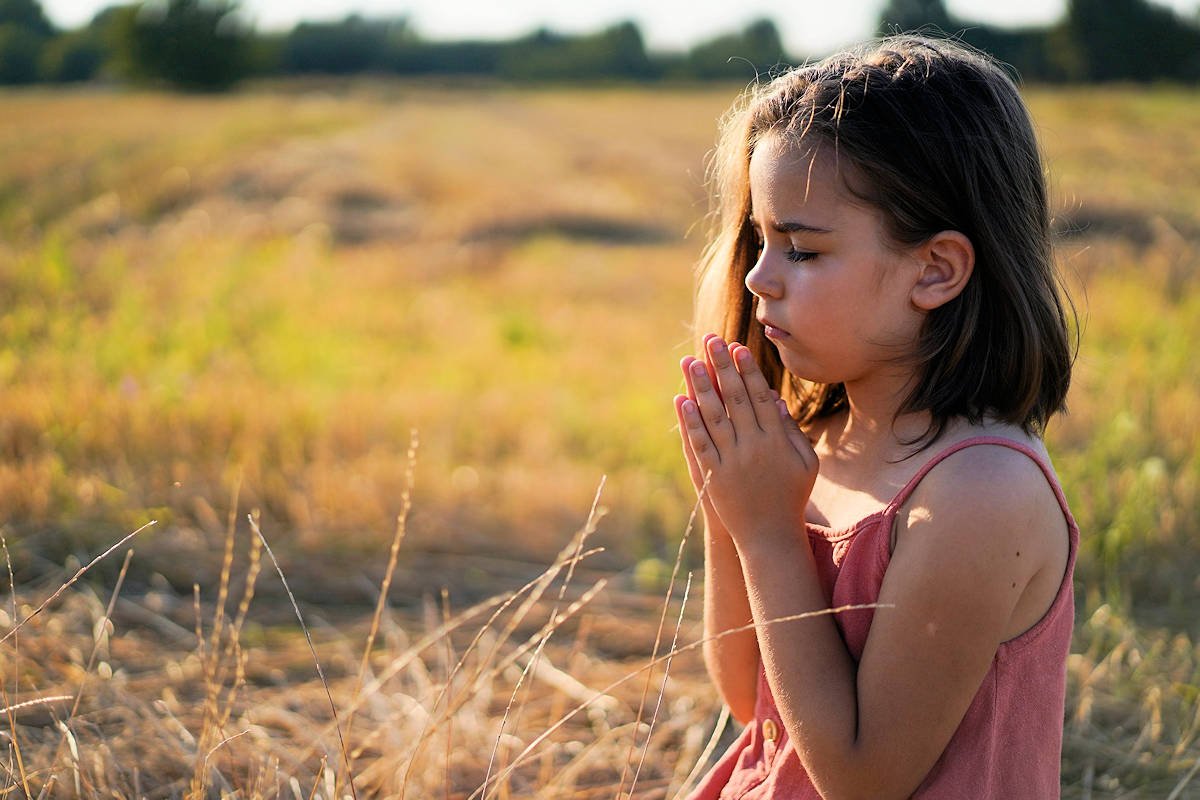 Bible Verses about Childlike Faith. Photo by @Nastyaofly. Twenty20
As parents, grandparents, and family members, it is critical that we help our children learn and understand God's promises, the meaning of His word, and how it all began because of Him. Our children will know which path to choose if we guide them with examples of Jesus Christ and tell them about the Scriptures. Children will learn essential lessons from what we teach them as parents, and it is our responsibility to show them the way to eternal life.
Our children are described in the Bible as a gift from God, and it is our responsibility to help them understand why they are so valuable. They will quickly learn why their faith is so important and how they can spread the love of the Lord to others through the teachings of Jesus. Read and be filled with God's love through these Bible Verses about Childlike Faith.
Bible Verses about Childlike Faith
Matthew 19:14
But Jesus said, "Allow the little children, and don't forbid them to come to me; for the Kingdom of Heaven belongs to ones like these."
Nahum 1:7
Yahweh is good, a stronghold in the day of trouble; and he knows those who take refuge in him.
Psalm 119:11
I have hidden your word in my heart, that I might not sin against you.
Genesis 1:1
In the beginning, God created the heavens and the earth.
John 10:11
I am the good shepherd. The good shepherd lays down his life for the sheep.
Joel 2:32
It will happen that whoever will call on Yahweh's name shall be saved; for in Mount Zion and in Jerusalem there will be those who escape, as Yahweh has said, and among the remnant, those whom Yahweh calls.
1 Samuel 17:47
and that all this assembly may know that Yahweh doesn't save with sword and spear; for the battle is Yahweh's, and he will give you into our hand."
Zechariah 4:6
Then he answered and spoke to me, saying, "This is Yahweh's word to Zerubbabel, saying, 'Not by might, nor by power, but by my Spirit,' says Yahweh of Armies.
Nehemiah 1:11
Lord, I beg you, let your ear be attentive now to the prayer of your servant, and to the prayer of your servants, who delight to fear your name; and please prosper your servant today, and grant him mercy in the sight of this man." Now I was cup bearer to the king.
Philippians 4:4
Rejoice in the Lord always! Again I will say, "Rejoice!"
Psalm 56:3
When I am afraid, I will put my trust in you.
Zephaniah 3:1
Woe to her who is rebellious and polluted, the oppressing city!
Ezekiel 36:26
I will also give you a new heart, and I will put a new spirit within you. I will take away the stony heart out of your flesh, and I will give you a heart of flesh.
Psalm 138:1
By David. I will give you thanks with my whole heart. Before the gods, I will sing praises to you.
1 Thessalonians 5:17
Pray without ceasing.
Ephesians 4:32
And be kind to one another, tender hearted, forgiving each other, just as God also in Christ forgave you.
2 Samuel 7:22
Therefore you are great, Yahweh God. For there is no one like you, neither is there any God besides you, according to all that we have heard with our ears.
Proverbs 13:20
One who walks with wise men grows wise, but a companion of fools suffers harm.
Amos 5:4
For Yahweh says to the house of Israel: "Seek me, and you will live.
Judges 6:12
Yahweh's angel appeared to him, and said to him, "Yahweh is with you, you mighty man of valor!"
Ecclesiastes 12:13
This is the end of the matter. All has been heard. Fear God, and keep his commandments; for this is the whole duty of man.
Isaiah 30:15
For thus said the Lord Yahweh, the Holy One of Israel, "You will be saved in returning and rest. Your strength will be in quietness and in confidence." You refused.
Colossians 3:16
Let the word of Christ dwell in you richly; in all wisdom teaching and admonishing one another with psalms, hymns, and spiritual songs, singing with grace in your heart to the Lord.
Proverbs 15:5
A fool despises his father's correction, but he who heeds reproof shows prudence.
Ezra 7:28
and has extended loving kindness to me before the king and his counselors, and before all the king's mighty princes. I was strengthened according to Yahweh my God's hand on me, and I gathered together chief men out of Israel to go up with me.
Numbers 6:24
'Yahweh bless you, and keep you.
1 John 3:23
This is his commandment, that we should believe in the name of his Son, Jesus Christ, and love one another, even as he commanded.
Proverbs 2:6
For Yahweh gives wisdom. Out of his mouth comes knowledge and understanding.
Acts 16:31
They said, "Believe in the Lord Jesus Christ, and you will be saved, you and your household."
Lamentations 3:23
They are new every morning. Great is your faithfulness.
Short Bible Verses for Children
Romans 10:13
For, "Whoever will call on the name of the Lord will be saved."
Galatians 6:7
Don't be deceived. God is not mocked, for whatever a man sows, that he will also reap.
Psalm 150:6
Let everything that has breath praise Yah! Praise Yah!
Isaiah 26:4
Trust in Yahweh forever; for in Yah, Yahweh, is an everlasting Rock.
Matthew 28:20
teaching them to observe all things that I commanded you. Behold, I am with you always, even to the end of the age." Amen.
2 Kings 6:16
He answered, "Don't be afraid; for those who are with us are more than those who are with them."
Psalm 119:105
NUN Your word is a lamp to my feet, and a light for my path.
Lucas 6:31
As you would like people to do to you, do exactly so to them.
Psalm 145:9
Yahweh is good to all. His tender mercies are over all his works.
Micah 6:8
He has shown you, O man, what is good. What does Yahweh require of you, but to act justly, to love mercy, and to walk humbly with your God?
Philippians 4:13
I can do all things through Christ, who strengthens me.
Lucas 2:52
And Jesus increased in wisdom and stature, and in favor with God and men.
Psalm 19:1
For the Chief Musician. A Psalm by David. The heavens declare the glory of God. The expanse shows his handiwork.
1 John 5:3
For this is loving God, that we keep his commandments. His commandments are not grievous.
1 John 4:19
We love him, because he first loved us.
Jonah 2:2
He said, "I called because of my affliction to Yahweh. He answered me. Out of the belly of Sheol I cried. You heard my voice.
Matthew 28:6
He is not here, for he has risen, just like he said. Come, see the place where the Lord was lying.
Habakkuk 3:19
Yahweh, the Lord, is my strength. He makes my feet like deer's feet, and enables me to go in high places. For the music director, on my stringed instruments.
Romans 3:23
for all have sinned, and fall short of the glory of God.
Psalm 136:1
Give thanks to Yahweh, for he is good; for his loving kindness endures forever.
Matthew 6:24
"No one can serve two masters, for either he will hate the one and love the other; or else he will be devoted to one and despise the other. You can't serve both God and Mammon.
Ecclesiastes 5:18
Behold, that which I have seen to be good and proper is for one to eat and to drink, and to enjoy good in all his labor, in which he labors under the sun, all the days of his life which God has given him; for this is his portion.
John 11:35
Jesus wept.
Matthew 5:14
You are the light of the world. A city located on a hill can't be hidden.
1 Corinthians 10:31
Whether therefore you eat, or drink, or whatever you do, do all to the glory of God.
Colossians 3:2
Set your mind on the things that are above, not on the things that are on the earth.
Psalm 107:1
Give thanks to Yahweh, for he is good, for his loving kindness endures forever.
Deuteronomy 6:5
You shall love Yahweh your God with all your heart, with all your soul, and with all your might.
Ephesians 4:30
Don't grieve the Holy Spirit of God, in whom you were sealed for the day of redemption.
Proverbs 3:5
Trust in Yahweh with all your heart, and don't lean on your own understanding.
Matthew 22:39
A second likewise is this, 'You shall love your neighbor as yourself.
1 Timothy 4:12
Let no man despise your youth; but be an example to those who believe, in word, in your way of life, in love, in spirit, in faith, and in purity.
Job 5:17-18
"Behold, happy is the man whom God corrects. Therefore do not despise the chastening of the Almighty.

For he wounds, and binds up. He injures, and his hands make whole.
Jeremiah 1:5
"Before I formed you in the womb, I knew you. Before you were born, I sanctified you. I have appointed you a prophet to the nations."
James 1:27
Pure religion and undefiled before our God and Father is this: to visit the fatherless and widows in their affliction, and to keep oneself unstained by the world.
Faith Verses for Kids
Daniel 2:28
but there is a God in heaven who reveals secrets, and he has made known to the king Nebuchadnezzar what will be in the latter days. Your dream, and the visions of your head on your bed, are these.
Psalm 118:24
This is the day that Yahweh has made. We will rejoice and be glad in it!
Ester 4:14
For if you remain silent now, then relief and deliverance will come to the Jews from another place, but you and your father's house will perish. Who knows if you haven't come to the kingdom for such a time as this?"
Joshua 1:5
No man will be able to stand before you all the days of your life. As I was with Moses, so I will be with you. I will not fail you nor forsake you.
John 3:16
For God so loved the world, that he gave his one and only Son, that whoever believes in him should not perish, but have eternal life.
1 Kings 18:21
Elijah came near to all the people, and said, "How long will you waver between the two sides? If Yahweh is God, follow him; but if Baal, then follow him." The people didn't say a word.
Josue 1: 9
Haven't I commanded you? Be strong and courageous. Don't be afraid. Don't be dismayed, for Yahweh your God is with you wherever you go.
Proverbs 14:5
A truthful witness will not lie, but a false witness pours out lies.
Acts 5:29
But Peter and the apostles answered, "We must obey God rather than men.
Proverbs 20:11
Even a child makes himself known by his doings, whether his work is pure, and whether it is right.
Romans 10:13
For, "Whoever will call on the name of the Lord will be saved."
Psalm 1:6
For Yahweh knows the way of the righteous, but the way of the wicked shall perish.
Proverbs 30:5
"Every word of God is flawless. He is a shield to those who take refuge in him.
Leviticus 19:18
"'You shall not take vengeance, nor bear any grudge against the children of your people; but you shall love your neighbor as yourself. I am Yahweh.
Isaiah 43:5
Don't be afraid; for I am with you. I will bring your offspring from the east, and gather you from the west.
Malachi 2:10
Don't we all have one father? Hasn't one God created us? Why do we deal treacherously every man against his brother, profaning the covenant of our fathers?
2 Chronicles 15:2
and he went out to meet Asa, and said to him, "Hear me, Asa, and all Judah and Benjamin! Yahweh is with you, while you are with him; and if you seek him, he will be found by you; but if you forsake him, he will forsake you.
Hosea 14:9
Who is wise, that he may understand these things? Who is prudent, that he may know them? For the ways of Yahweh are right, and the righteous walk in them; But the rebellious stumble in them.
Colossians 3:20
Children, obey your parents in all things, for this pleases the Lord.
Matthew 21:22
All things, whatever you ask in prayer, believing, you will receive."
Haggai 2: 5
This is the word that I covenanted with you when you came out of Egypt, and my Spirit lived among you. 'Don't be afraid.'
Ephesians 4:29
Let no corrupt speech proceed out of your mouth, but only what is good for building others up as the need may be, that it may give grace to those who hear.
1 Chronicles 16:11
Seek Yahweh and his strength. Seek his face forever more.
1 John 1:5
This is the message which we have heard from him and announce to you, that God is light, and in him is no darkness at all.
Ephesians 6:1
Children, obey your parents in the Lord, for this is right.
Rut 3:11
Now, my daughter, don't be afraid. I will do to you all that you say; for all the city of my people knows that you are a worthy woman.
Genesis 16:13
She called the name of Yahweh who spoke to her, "You are a God who sees," for she said, "Have I even stayed alive after seeing him?"
Psalm 55:16
As for me, I will call on God. Yahweh will save me.
Proverbs 31:8
Open your mouth for the mute, in the cause of all who are left desolate.
Psalm 46:10
"Be still, and know that I am God. I will be exalted among the nations. I will be exalted in the earth."
Isaiah 6:8
I heard the Lord's voice, saying, "Whom shall I send, and who will go for us?" Then I said, "Here I am. Send me!"
Exodus 14:14
Yahweh will fight for you, and you shall be still."
James 1:17
Every good gift and every perfect gift is from above, coming down from the Father of lights, with whom can be no variation, nor turning shadow.
Hebrews 13:8
Jesus Christ is the same yesterday, today, and forever.
Psalm 139:14
I will give thanks to you, for I am fearfully and wonderfully made. Your works are wonderful. My soul knows that very well.
Song of Solomon 6:3
I am my beloved's, and my beloved is mine. He browses among the lilies.
What do you think about these Bible Verses about Childlike Faith? It is a way to teach from a very young age the word of God; this is how we forge human beings devoted to his word and full of faith. Do you have any other Bible Verses about Childlike Faith to contribute to the community? Leave your message in the comments.