We show you the list with Verses of Forgiveness in the Bible so that in times of distress, we know that God forgives us and asks us humility before adversity. Be inspired by these messages of Forgiveness and love in the Bible.
For most people, Forgiveness is a difficult task. People act in ways that can offend us in everyday life. Although it may seem ordinary and human to hold grudges, the Bible teaches us to forgive. Practicing Forgiveness will help strengthen our mental and physical health. But how can we learn to forgive most sincerely and feel peace with it?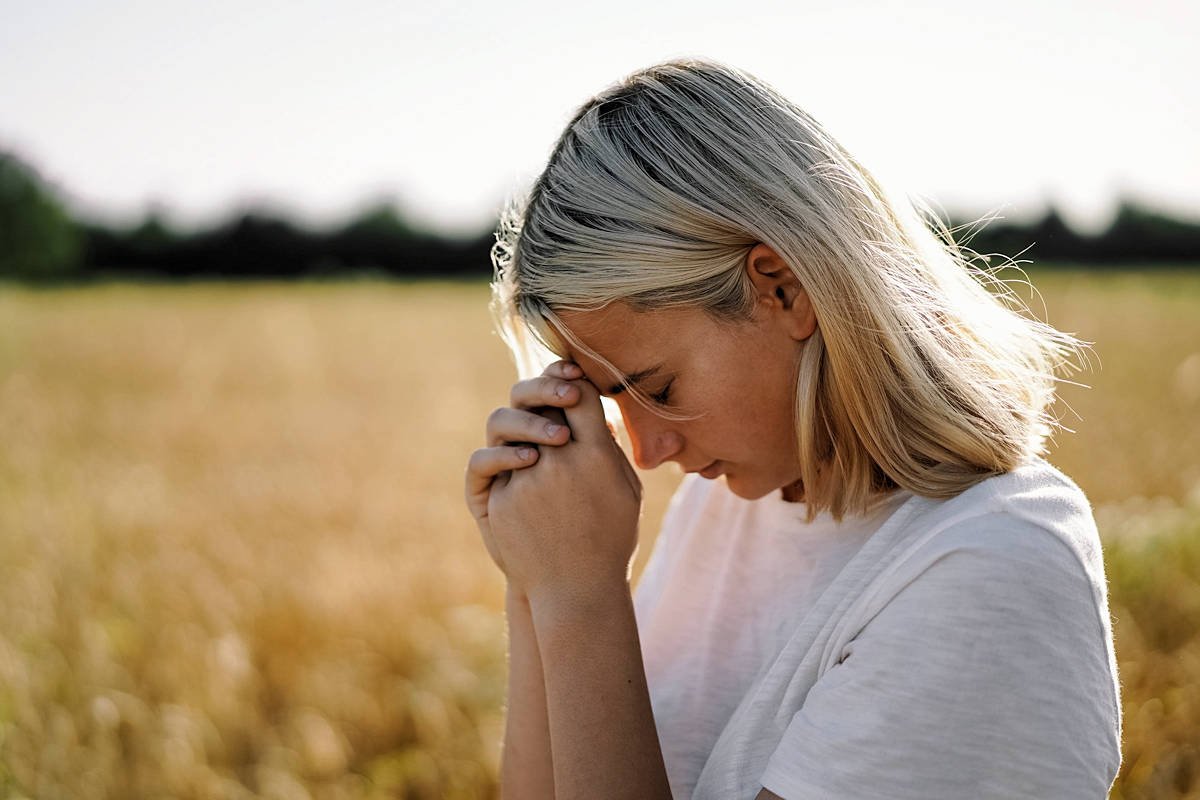 Verses of Forgiveness in the Bible. Photo by @Nastyaofly. Twenty20.
Reading these Bible verses on Forgiveness will help you forgive others and remind you that we have all been dismissed because of Jesus' sacrifice on the cross.
Forgiveness is not about forgetting everything that has been done to us or everything that has caused us pain; Forgiveness is the act of letting go of the need to seek revenge or to make others pay for the harm they have done to you or someone you care about. Forgiveness is beneficial because it frees you from the burden of hatred and anger, allowing you to recover fully from the pain you have experienced.
Forgiveness is walking on the path of truth and life. We show you some verses for Forgiveness, which will help you to walk in tranquility and the word of God.
Verses of Forgiveness in the Bible
Ephesians 4:32
And be kind to one another, tender hearted, forgiving each other, just as God also in Christ forgave you.
Mark 11:25
Whenever you stand praying, forgive, if you have anything against anyone; so that your Father, who is in heaven, may also forgive you your transgressions.
1 John 1:8-10
If we say that we have no sin, we deceive ourselves, and the truth is not in us.

If we confess our sins, he is faithful and righteous to forgive us the sins, and to cleanse us from all unrighteousness.

If we say that we haven't sinned, we make him a liar, and his word is not in us.
Matthew 6:14
"For if you forgive men their trespasses, your heavenly Father will also forgive you.
Matthew 18:21-22
Then Peter came and said to him, "Lord, how often shall my brother sin against me, and I forgive him? Until seven times?"

Jesus said to him, "I don't tell you until seven times, but, until seventy times seven.
Matthew 6:15
But if you don't forgive men their trespasses, neither will your Father forgive your trespasses.
Luke 6:37
Don't judge, and you won't be judged. Don't condemn, and you won't be condemned. Set free, and you will be set free.
Colossians 3:12-13
Put on therefore, as God's chosen ones, holy and beloved, a heart of compassion, kindness, lowliness, humility, and perseverance; bearing with one another, and forgiving each other, if any man has a complaint against any; even as Christ forgave you, so you also do.
Luke 6:27
"But I tell you who hear: love your enemies, do good to those who hate you.
Psalm 32:5
I acknowledged my sin to you. I didn't hide my iniquity. I said, I will confess my transgressions to Yahweh, and you forgave the iniquity of my sin. Selah.
Luke 23:33-34
When they came to the place that is called The Skull, they crucified him there with the criminals, one on the right and the other on the left.

Jesus said, "Father, forgive them, for they don't know what they are doing." Dividing his garments among them, they cast lots.
John 3:16-17
For God so loved the world, that he gave his one and only Son, that whoever believes in him should not perish, but have eternal life.

For God didn't send his Son into the world to judge the world, but that the world should be saved through him.
Acts 2:38
Peter said to them, "Repent, and be baptized, every one of you, in the name of Jesus Christ for the forgiveness of sins, and you will receive the gift of the Holy Spirit.
Acts 7:59-60
They stoned Stephen as he called out, saying, "Lord Jesus, receive my spirit!"

He kneeled down, and cried with a loud voice, "Lord, don't hold this sin against them!" When he had said this, he fell asleep.
Proverbs 10:12
Hatred stirs up strife, but love covers all wrongs.
Matthew 6:12
Forgive us our debts, as we also forgive our debtors.
Luke 7:44-50
Turning to the woman, he said to Simon, "Do you see this woman? I entered into your house, and you gave me no water for my feet, but she has wet my feet with her tears, and wiped them with the hair of her head.

You gave me no kiss, but she, since the time I came in, has not ceased to kiss my feet.

You didn't anoint my head with oil, but she has anointed my feet with ointment.

Therefore I tell you, her sins, which are many, are forgiven, for she loved much. But to whom little is forgiven, the same loves little."

He said to her, "Your sins are forgiven."

Those who sat at the table with him began to say to themselves, "Who is this who even forgives sins?"

He said to the woman, "Your faith has saved you. Go in peace."
Isaiah 1:18
"Come now, and let's reason together," says Yahweh: "Though your sins be as scarlet, they shall be as white as snow. Though they be red like crimson, they shall be as wool.
Proverbs 25:21
If your enemy is hungry, give him food to eat. If he is thirsty, give him water to drink.
Acts 10:43
All the prophets testify about him, that through his name everyone who believes in him will receive remission of sins."
Matthew 5:23-24
"If therefore you are offering your gift at the altar, and there remember that your brother has anything against you, leave your gift there before the altar, and go your way. First be reconciled to your brother, and then come and offer your gift.
Psalm 65:3
Sins overwhelmed me, but you atoned for our transgressions.
Romans 7:1
Or don't you know, brothers (for I speak to men who know the law), that the law has dominion over a man for as long as he lives?
Matthew 12:31
Therefore I tell you, every sin and blasphemy will be forgiven men, but the blasphemy against the Spirit will not be forgiven men.
Psalm 130:4
But there is forgiveness with you, therefore you are feared.
Verses about God's forgiveness
Romans 6:23
For the wages of sin is death, but the free gift of God is eternal life in Christ Jesus our Lord.
Isaiah 53:5
But he was pierced for our transgressions. He was crushed for our iniquities. The punishment that brought our peace was on him; and by his wounds we are healed.
Acts 17:30
The times of ignorance therefore God overlooked. But now he commands that all people everywhere should repent.
John 8:7
But when they continued asking him, he looked up and said to them, "He who is without sin among you, let him throw the first stone at her."
Proverbs 15:1
A gentle answer turns away wrath, but a harsh word stirs up anger.
Numbers 14:19-21
Please pardon the iniquity of this people according to the greatness of your loving kindness, and just as you have forgiven this people, from Egypt even until now."

Yahweh said, "I have pardoned according to your word: but in very deed, as I live, and as all the earth shall be filled with Yahweh's glory.
Ezekiel 11:19
I will give them one heart, and I will put a new spirit within you. I will take the stony heart out of their flesh, and will give them a heart of flesh.
Luke 5:20
Seeing their faith, he said to him, "Man, your sins are forgiven you."
Psalm 32:1
By David. A contemplative psalm. Blessed is he whose disobedience is forgiven, whose sin is covered.
Ephesians 2:8
For by grace you have been saved through faith, and that not of yourselves; it is the gift of God.
Joel 2:13
Tear your heart, and not your garments, and turn to Yahweh, your God; for he is gracious and merciful, slow to anger, and abundant in loving kindness, and relents from sending calamity.
Galatians 6:1
Brothers, even if a man is caught in some fault, you who are spiritual must restore such a one in a spirit of gentleness; looking to yourself so that you also aren't tempted.
Jeremiah 31:34
They will no longer each teach his neighbor, and every man teach his brother, saying, 'Know Yahweh;' for they will all know me, from their least to their greatest," says Yahweh: "for I will forgive their iniquity, and I will remember their sin no more."
Romans 4:5
But to him who doesn't work, but believes in him who justifies the ungodly, his faith is accounted for righteousness.
1 John 2:2
And he is the atoning sacrifice for our sins, and not for ours only, but also for the whole world.
Romans 3:23
For all have sinned, and fall short of the glory of God.
Daniel 9:9
To the Lord our God belong mercies and forgiveness; for we have rebelled against him.
1 John 2:12
I write to you, little children, because your sins are forgiven you for his name's sake.
Hebrews 10:17
"I will remember their sins and their iniquities no more."
Psalm 103:10-14
He has not dealt with us according to our sins, nor repaid us for our iniquities.

For as the heavens are high above the earth, so great is his loving kindness toward those who fear him.

As far as the east is from the west, so far has he removed our transgressions from us.

Like a father has compassion on his children, so Yahweh has compassion on those who fear him.

For he knows how we are made. He remembers that we are dust.
Matthew 5:7
Blessed are the merciful, for they shall obtain mercy.
Matthew 5:44
But I tell you, love your enemies, bless those who curse you, do good to those who hate you, and pray for those who mistreat you and persecute you.
Acts 3:19
"Repent therefore, and turn again, that your sins may be blotted out, so that there may come times of refreshing from the presence of the Lord.
Psalm 86:5
For you, Lord, are good, and ready to forgive; abundant in loving kindness to all those who call on you.
Proverbs 17:9
He who covers an offense promotes love; but he who repeats a matter separates best friends.
Verses on Forgiveness of Neighbors
Romans 12:20
Therefore "If your enemy is hungry, feed him. If he is thirsty, give him a drink; for in doing so, you will heap coals of fire on his head."
Psalm 40:3
He has put a new song in my mouth, even praise to our God. Many shall see it, and fear, and shall trust in Yahweh.
2 Chronicles 7:14
If my people, who are called by my name, will humble themselves, pray, seek my face, and turn from their wicked ways; then I will hear from heaven, will forgive their sin, and will heal their land.
Acts 22:16
Now why do you wait? Arise, be baptized, and wash away your sins, calling on the name of the Lord.'
Matthew 18:15
"If your brother sins against you, go, show him his fault between you and him alone. If he listens to you, you have gained back your brother.
1 Peter 3:9
Not rendering evil for evil, or insult for insult; but instead blessing; knowing that to this were you called, that you may inherit a blessing.
Psalm 51:2-5
Wash me thoroughly from my iniquity. Cleanse me from my sin.

For I know my transgressions. My sin is constantly before me.

Against you, and you only, I have sinned, and done that which is evil in your sight; that you may be proved right when you speak, and justified when you judge.

Behold, I was born in iniquity. In sin my mother conceived me.
1 Peter 1:3
Blessed be the God and Father of our Lord Jesus Christ, who according to his great mercy caused us to be born again to a living hope through the resurrection of Jesus Christ from the dead.
Luke 17:3-4
Be careful. If your brother sins against you, rebuke him. If he repents, forgive him.

If he sins against you seven times in the day, and seven times returns, saying, 'I repent,' you shall forgive him."
James 5:14-16
Is any among you sick? Let him call for the elders of the assembly, and let them pray over him, anointing him with oil in the name of the Lord, and the prayer of faith will heal him who is sick, and the Lord will raise him up. If he has committed sins, he will be forgiven.

Confess your offenses to one another, and pray for one another, that you may be healed. The insistent prayer of a righteous person is powerfully effective.
1 Peter 4:8
And above all things be earnest in your love among yourselves, for love covers a multitude of sins.
Ephesians 1:7-8
In whom we have our redemption through his blood, the forgiveness of our trespasses, according to the riches of his grace, which he made to abound toward us in all wisdom and prudence.
Isaiah 55:7
Let the wicked forsake his way, and the unrighteous man his thoughts. Let him return to Yahweh, and he will have mercy on him; and to our God, for he will freely pardon.
1 John 2:1
My little children, I write these things to you so that you may not sin. If anyone sins, we have a Counselor with the Father, Jesus Christ, the righteous.
Romans 8:1
There is therefore now no condemnation to those who are in Christ Jesus, who don't walk according to the flesh, but according to the Spirit.
2 Corinthians 5:17
Therefore if anyone is in Christ, he is a new creation. The old things have passed away. Behold, all things have become new.
Matthew 26:28
For this is my blood of the new covenant, which is poured out for many for the remission of sins.
1 Corinthians 10:13
No temptation has taken you except what is common to man. God is faithful, who will not allow you to be tempted above what you are able, but will with the temptation also make the way of escape, that you may be able to endure it.
John 13:34
A new commandment I give to you, that you love one another. Just as I have loved you, you also love one another.
Colossians 1:13-14
Who delivered us out of the power of darkness, and translated us into the Kingdom of the Son of his love; in whom we have our redemption, the forgiveness of our sins.
Proverbs 28:13
He who conceals his sins doesn't prosper, but whoever confesses and renounces them finds mercy.
Ecclesiastes 7:20
Surely there is not a righteous man on earth, who does good and doesn't sin.
Isaiah 43:25-26
I, even I, am he who blots out your transgressions for my own sake; and I will not remember your sins.

Put me in remembrance. Let us plead together. Declare your case, that you may be justified.
Micah 7:18-19
Who is a God like you, who pardons iniquity, and passes over the disobedience of the remnant of his heritage? He doesn't retain his anger forever, because he delights in loving kindness.

He will again have compassion on us. He will tread our iniquities under foot; and you will cast all their sins into the depths of the sea.
Hebrews 8:12
For I will be merciful to their unrighteousness. I will remember their sins and lawless deeds no more."
What do you think about these Verses of Forgiveness in the Bible? We know that asking for forgiveness or giving up forgiveness is not an easy decision, which is why it is essential that we help ourselves with God's word, the one who always shows us the right path. Do you have any other Verses of Forgiveness in the Bible to contribute to the community? Leave your message in the comments.