We show you the list of Bible Verses on Worry. To ask God to take us with his mantle of grace and give us the wisdom to understand his designs. Be inspired by these verses on worry so that it is the word and mercy of God that keeps your life in peace and harmony.
Life is a constant change, sometimes we are fine, and sometimes we feel that everything is coming down on us, whether of health problems, money, family, or anyone around us. But we must remember to be strong. The word of God in the Bible constantly reminds us that we should not falter and that God has a purpose for us.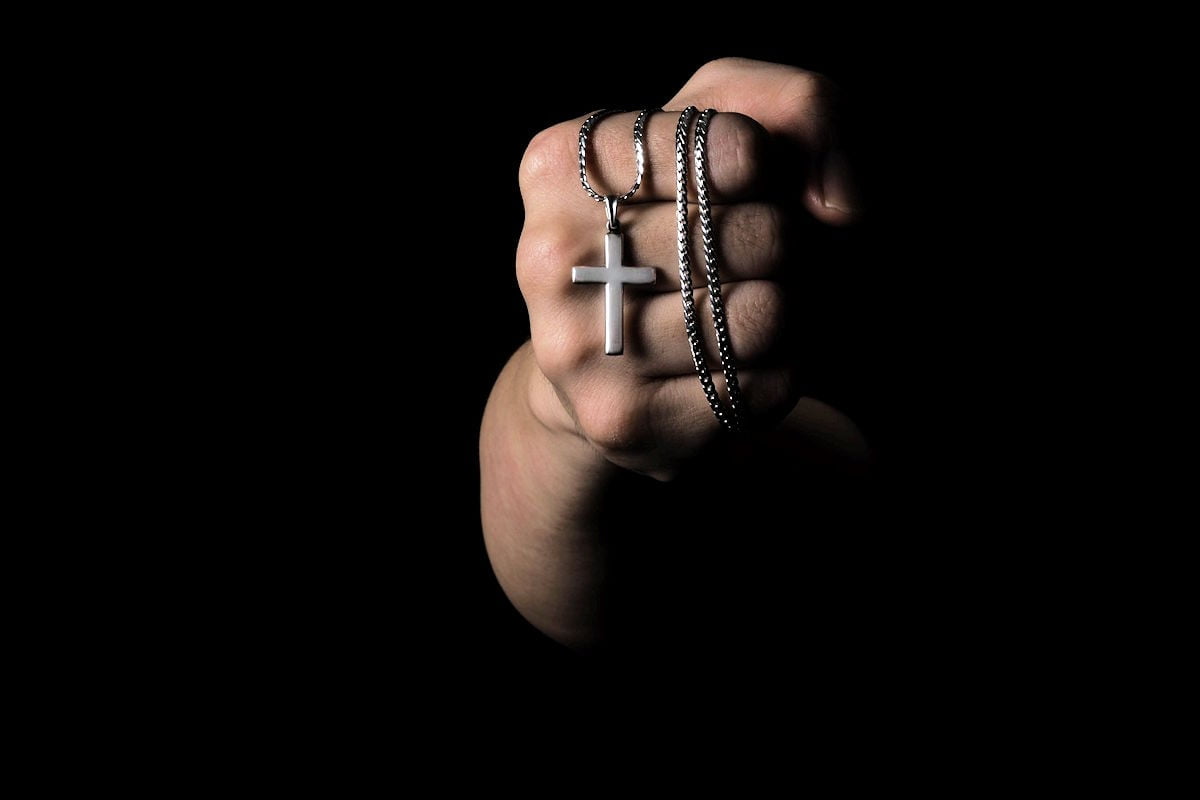 Bible Verses on Worry. Photo by @gnepphoto. Twenty20.
In times of greatest worry, protect yourself and soothe your soul with these verses about the protection of all those you love, and learn how to deal with it without falling into sadness and depression. Remember that God loves you, and in His infinite love, you should support and rejoice.
Bible Verses on Worry
Romans 5:1
Being therefore justified by faith, we have peace with God through our Lord Jesus Christ.
Revelation 13:6
He opened his mouth for blasphemy against God, to blaspheme his name, and his dwelling, those who dwell in heaven.
Luke 12:25
Which of you by being anxious can add a cubit to his height?
1 Corinthians 2:14
Now the natural man doesn't receive the things of God's Spirit, for they are foolishness to him, and he can't know them, because they are spiritually discerned.
1 Corinthians 15:10
But by the grace of God I am what I am. His grace which was given to me was not futile, but I worked more than all of them; yet not I, but the grace of God which was with me.
Philippians 4:6-7
In nothing be anxious, but in everything, by prayer and petition with thanksgiving, let your requests be made known to God.

And the peace of God, which surpasses all understanding, will guard your hearts and your thoughts in Christ Jesus.
Proverbs 16:9
A man's heart plans his course, but Yahweh directs his steps.
John 5:24
"Most certainly I tell you, he who hears my word, and believes him who sent me, has eternal life, and doesn't come into judgment, but has passed out of death into life.
Psalm 55:22
Cast your burden on Yahweh, and he will sustain you. He will never allow the righteous to be moved.
1 Corinthians 4:5
Therefore judge nothing before the time, until the Lord comes, who will both bring to light the hidden things of darkness, and reveal the counsels of the hearts. Then each man will get his praise from God.
Psalm 56:3
When I am afraid, I will put my trust in you.
Psalm 34:4
I sought Yahweh, and he answered me, and delivered me from all my fears.
Romans 8:28
We know that all things work together for good for those who love God, to those who are called according to his purpose.
Psalm 102:18
This will be written for the generation to come. A people which will be created will praise Yah.
2 Corinthians 11:28
Besides those things that are outside, there is that which presses on me daily: anxiety for all the assemblies.
Jeremiah 17:7-8
"Blessed is the man who trusts in Yahweh, and whose confidence is in Yahweh.

For he will be as a tree planted by the waters, who spreads out its roots by the river, and will not fear when heat comes, but its leaf will be green; and will not be concerned in the year of drought. It won't cease from yielding fruit.
Romans 8:31
What then shall we say about these things? If God is for us, who can be against us?
Revelation 20:11-15
I saw a great white throne, and him who sat on it, from whose face the earth and the heaven fled away. There was found no place for them.

I saw the dead, the great and the small, standing before the throne, and they opened books. Another book was opened, which is the book of life. The dead were judged out of the things which were written in the books, according to their works.

The sea gave up the dead who were in it. Death and Hades gave up the dead who were in them. They were judged, each one according to his works.

Death and Hades were thrown into the lake of fire. This is the second death, the lake of fire.

If anyone was not found written in the book of life, he was cast into the lake of fire.
Romans 13:12
The night is far gone, and the day is near. Let's therefore throw off the deeds of darkness, and let's put on the armor of light.
1 Corinthians 2:9-10
But as it is written, "Things which an eye didn't see, and an ear didn't hear, which didn't enter into the heart of man, these God has prepared for those who love him."

But to us, God revealed them through the Spirit. For the Spirit searches all things, yes, the deep things of God.
Hebrews 6:1
Therefore leaving the teaching of the first principles of Christ, let's press on to perfection—not laying again a foundation of repentance from dead works, of faith toward God.
Joshua 1:9
Haven't I commanded you? Be strong and courageous. Don't be afraid. Don't be dismayed, for Yahweh your God is with you wherever you go."
Psalm 119:105
NUN Your word is a lamp to my feet, and a light for my path.
2 Timothy 1:7
For God didn't give us a spirit of fear, but of power, love, and self-control.
Galatians 2:20
I have been crucified with Christ, and it is no longer I that live, but Christ lives in me. That life which I now live in the flesh, I live by faith in the Son of God, who loved me, and gave himself up for me.
Verses about Family Concern
John 3:16-18
For God so loved the world, that he gave his one and only Son, that whoever believes in him should not perish, but have eternal life.

For God didn't send his Son into the world to judge the world, but that the world should be saved through him.

He who believes in him is not judged. He who doesn't believe has been judged already, because he has not believed in the name of the one and only Son of God.
Acts 2:38
Peter said to them, "Repent, and be baptized, every one of you, in the name of Jesus Christ for the forgiveness of sins, and you will receive the gift of the Holy Spirit.
Romans 12:1
Therefore I urge you, brothers, by the mercies of God, to present your bodies a living sacrifice, holy, acceptable to God, which is your spiritual service.
John 13:34-35
A new commandment I give to you, that you love one another. Just as I have loved you, you also love one another.

By this everyone will know that you are my disciples, if you have love for one another."
Matthew 11:28-30
"Come to me, all you who labor and are heavily burdened, and I will give you rest.

Take my yoke upon you, and learn from me, for I am gentle and humble in heart; and you will find rest for your souls.

For my yoke is easy, and my burden is light."
1 Peter 2:24
He himself bore our sins in his body on the tree, that we, having died to sins, might live to righteousness; by whose stripes you were healed.
Psalm 23:1-6
A Psalm by David. Yahweh is my shepherd: I shall lack nothing.

He makes me lie down in green pastures. He leads me beside still waters.

He restores my soul. He guides me in the paths of righteousness for his name's sake.

Even though I walk through the valley of the shadow of death, I will fear no evil, for you are with me. Your rod and your staff, they comfort me.

You prepare a table before me in the presence of my enemies. You anoint my head with oil. My cup runs over.

Surely goodness and loving kindness shall follow me all the days of my life, and I will dwell in Yahweh's house forever.
Matthew 6:34
Therefore don't be anxious for tomorrow, for tomorrow will be anxious for itself. Each day's own evil is sufficient.
Joel 2:28
"It will happen afterward, that I will pour out my Spirit on all flesh; and your sons and your daughters will prophesy. Your old men will dream dreams. Your young men will see visions.
Colossians 3:15
And let the peace of God rule in your hearts, to which also you were called in one body; and be thankful.
Isaiah 40:31
But those who wait for Yahweh will renew their strength. They will mount up with wings like eagles. They will run, and not be weary. They will walk, and not faint.
John 14:1
"Don't let your heart be troubled. Believe in God. Believe also in me.
Psalm 121:1-2
A Song of Ascents. I will lift up my eyes to the hills. Where does my help come from?

My help comes from Yahweh, who made heaven and earth.
Romans 14:10-12
But you, why do you judge your brother? Or you again, why do you despise your brother? For we will all stand before the judgment seat of Christ.

For it is written, "'As I live,' says the Lord, 'to me every knee will bow. Every tongue will confess to God.'"

So then each one of us will give account of himself to God.
Matthew 24:42
Watch therefore, for you don't know in what hour your Lord comes.
Acts 17:30-31
The times of ignorance therefore God overlooked. But now he commands that all people everywhere should repent, because he has appointed a day in which he will judge the world in righteousness by the man whom he has ordained; of which he has given assurance to all men, in that he has raised him from the dead."
Revelation 21:4
He will wipe away every tear from their eyes. Death will be no more; neither will there be mourning, nor crying, nor pain, any more. The first things have passed away."
1 Corinthians 10:13
No temptation has taken you except what is common to man. God is faithful, who will not allow you to be tempted above what you are able, but will with the temptation also make the way of escape, that you may be able to endure it.
Luke 12:22
He said to his disciples, "Therefore I tell you, don't be anxious for your life, what you will eat, nor yet for your body, what you will wear.
Isaiah 41:10
Don't you be afraid, for I am with you. Don't be dismayed, for I am your God. I will strengthen you. Yes, I will help you. Yes, I will uphold you with the right hand of my righteousness.
Psalm 34:17
The righteous cry, and Yahweh hears, and delivers them out of all their troubles.
Isaiah 35:4
Tell those who have a fearful heart, "Be strong. Don't be afraid. Behold, your God will come with vengeance, God's retribution. He will come and save you.
Ecclesiastes 7:14
In the day of prosperity be joyful, and in the day of adversity consider; yes, God has made the one side by side with the other, to the end that man should not find out anything after him.
Romans 8:1
There is therefore now no condemnation to those who are in Christ Jesus, who don't walk according to the flesh, but according to the Spirit.
Matthew 7:13-14
"Enter in by the narrow gate; for wide is the gate and broad is the way that leads to destruction, and many are those who enter in by it.

How narrow is the gate, and restricted is the way that leads to life! Few are those who find it.
1 Peter 5:6-8
Humble yourselves therefore under the mighty hand of God, that he may exalt you in due time; casting all your worries on him, because he cares for you.

Be sober and self-controlled. Be watchful. Your adversary, the devil, walks around like a roaring lion, seeking whom he may devour.
Romans 12:2
Don't be conformed to this world, but be transformed by the renewing of your mind, so that you may prove what is the good, well-pleasing, and perfect will of God.
Hebrews 11:1
Now faith is assurance of things hoped for, proof of things not seen.
John 14:27
Peace I leave with you. My peace I give to you; not as the world gives, give I to you. Don't let your heart be troubled, neither let it be fearful.
Luke 21:36
Therefore be watchful all the time, praying that you may be counted worthy to escape all these things that will happen, and to stand before the Son of Man."
Verses of Worry about Health and Money
Matthew 6:24
"No one can serve two masters, for either he will hate the one and love the other; or else he will be devoted to one and despise the other. You can't serve both God and Mammon.
Matthew 6: 19-21
"Don't lay up treasures for yourselves on the earth, where moth and rust consume, and where thieves break through and steal; but lay up for yourselves treasures in heaven, where neither moth nor rust consume, and where thieves don't break through and steal; for where your treasure is, there your heart will be also.
Luke 8:14
That which fell among the thorns, these are those who have heard, and as they go on their way they are choked with cares, riches, and pleasures of life, and bring no fruit to maturity.
Matthew 6:25-27
Therefore I tell you, don't be anxious for your life: what you will eat, or what you will drink; nor yet for your body, what you will wear. Isn't life more than food, and the body more than clothing?

See the birds of the sky, that they don't sow, neither do they reap, nor gather into barns. Your heavenly Father feeds them. Aren't you of much more value than they?

"Which of you, by being anxious, can add one moment to his lifespan?
Matthew 5:48
Therefore you shall be perfect, just as your Father in heaven is perfect.
1 Timothy 6:17-19
Charge those who are rich in this present world that they not be arrogant, nor have their hope set on the uncertainty of riches, but on the living God, who richly provides us with everything to enjoy; that they do good, that they be rich in good works, that they be ready to distribute, willing to share; laying up in store for themselves a good foundation against the time to come, that they may lay hold of eternal life.
Daniel 9:3
I set my face to the Lord God, to seek by prayer and petitions, with fasting and sackcloth and ashes.
Luke 1:35-37
The angel answered her, "The Holy Spirit will come on you, and the power of the Most High will overshadow you. Therefore also the holy one who is born from you will be called the Son of God.

Behold, Elizabeth, your relative, also has conceived a son in her old age; and this is the sixth month with her who was called barren.

For nothing spoken by God is impossible."
Ephesians 5:1
Be therefore imitators of God, as beloved children.
1 Timothy 6:10
For the love of money is a root of all kinds of evil. Some have been led astray from the faith in their greed, and have pierced themselves through with many sorrows.
Matthew 19:21
Jesus said to him, "If you want to be perfect, go, sell what you have, and give to the poor, and you will have treasure in heaven; and come, follow me."
Psalm 94:19
In the multitude of my thoughts within me, your comforts delight my soul.
2 Thessalonians 3:16
Now may the Lord of peace himself give you peace at all times in all ways. The Lord be with you all.
Jeremiah 29:11-12
For I know the thoughts that I think toward you," says Yahweh, "thoughts of peace, and not of evil, to give you hope and a future.

You shall call on me, and you shall go and pray to me, and I will listen to you.
Proverbs 12:25
Anxiety in a man's heart weighs it down, but a kind word makes it glad.
Ephesians 5:11
Have no fellowship with the unfruitful deeds of darkness, but rather even reprove them.
Psalm 138:8
Yahweh will fulfill that which concerns me; your loving kindness, Yahweh, endures forever. Don't forsake the works of your own hands.
2 Corinthians 5:17
Therefore if anyone is in Christ, he is a new creation. The old things have passed away. Behold, all things have become new.
1 John 4:18
There is no fear in love; but perfect love casts out fear, because fear has punishment. He who fears is not made perfect in love.
John 16:33
I have told you these things, that in me you may have peace. In the world you have trouble; but cheer up! I have overcome the world."
James 4:13-15
Come now, you who say, "Today or tomorrow let's go into this city, and spend a year there, trade, and make a profit."

Whereas you don't know what your life will be like tomorrow. For what is your life? For you are a vapor that appears for a little time, and then vanishes away.

For you ought to say, "If the Lord wills, we will both live, and do this or that."
Joel 2:2
A day of darkness and gloominess, a day of clouds and thick darkness. As the dawn spreading on the mountains, a great and strong people; there has never been the like, neither will there be any more after them, even to the years of many generations.
Hebrews 13:5-6
Be free from the love of money, content with such things as you have, for he has said, "I will in no way leave you, neither will I in any way forsake you."

So that with good courage we say, "The Lord is my helper. I will not fear. What can man do to me?"
Matthew 5:16
Even so, let your light shine before men; that they may see your good works, and glorify your Father who is in heaven.
1 John 1:9
If we confess our sins, he is faithful and righteous to forgive us the sins, and to cleanse us from all unrighteousness.
What do you think of these Bible Verses on Worry? Remember that God asks you for courage, resignation, and strength to overcome any problem. He knows what is best for each of His children, and His timing is perfect. Do you have any other Bible verses about worry to contribute to the community? Leave your message in the comments.