We show you the list with Bible Verses on Marriage Problems. To remember that love can do all things and that what God has joined together, let not man put asunder. Be inspired by these Bible Verses on Marriage Problems so that the word of God can intercede in each problem and strengthen your marriage.
Marriage is a long road, full of illusions, hopes, and magical moments, but all married people know that marriage requires many adjectives. Above all, it requires a lot of patience, understanding, and wisdom. No marriage is perfect, but if you take God's hand, and together you talk about internal problems, there is no problem so big that you can break that powerful bond and that promise that you have made to God.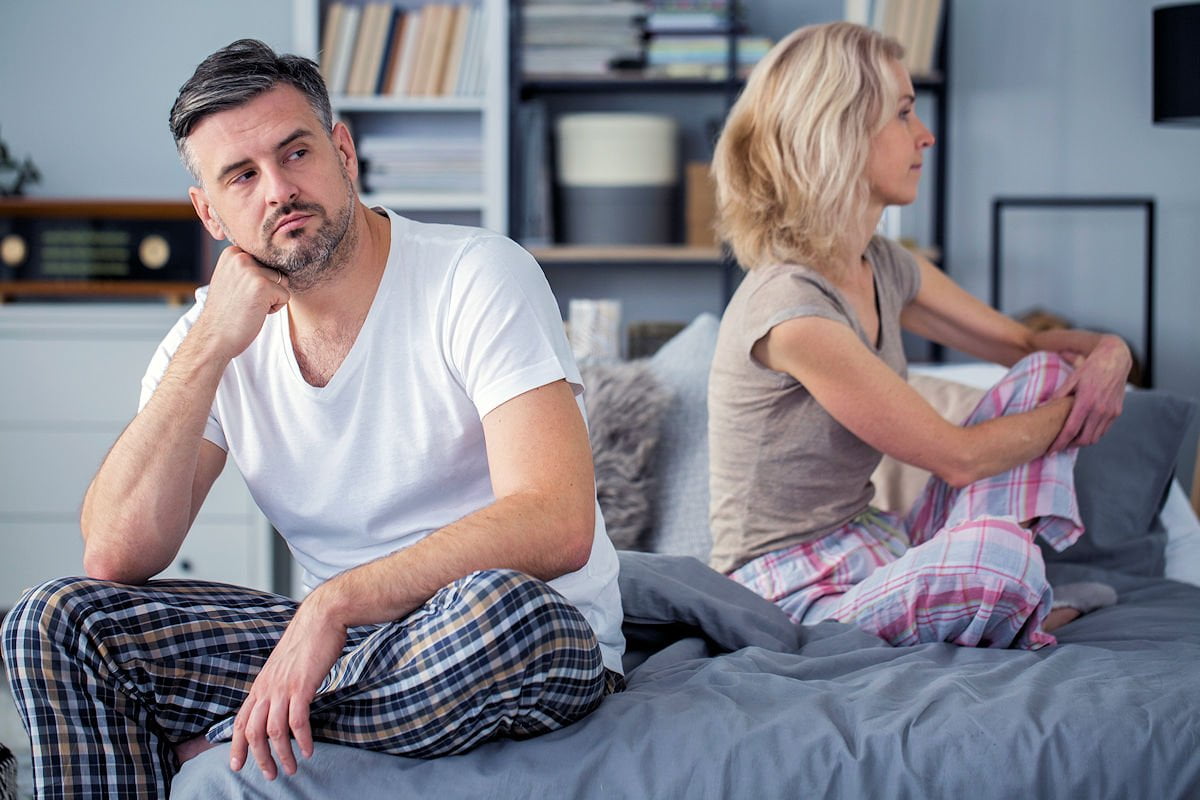 Bible Verses on Marriage Problems. Photo by bialasiewicz. Envato.
That's why we show you these Bible verses for marriage problems, to help you make the most accurate decisions and make your marriage work the way God expects us to.
Bible Verses on Marriage Problems
Ephesians 4:32
And be kind to one another, tender hearted, forgiving each other, just as God also in Christ forgave you.
Matthew 19:26
Looking at them, Jesus said, "With men this is impossible, but with God all things are possible."
1 Peter 4:7-8
But the end of all things is near. Therefore be of sound mind, self-controlled, and sober in prayer.

And above all things be earnest in your love among yourselves, for love covers a multitude of sins.
Ephesians 5:33
Nevertheless each of you must also love his own wife even as himself; and let the wife see that she respects her husband.
Isaiah 43:2
When you pass through the waters, I will be with you; and through the rivers, they will not overflow you. When you walk through the fire, you will not be burned, and flame will not scorch you.
James 1:19
So, then, my beloved brothers, let every man be swift to hear, slow to speak, and slow to anger.
Proverbs 12:4
A worthy woman is the crown of her husband, but a disgraceful wife is as rottenness in his bones.
Ecclesiastes 4:9
Two are better than one, because they have a good reward for their labor.
2 Corinthians 10:3-5
For though we walk in the flesh, we don't wage war according to the flesh; for the weapons of our warfare are not of the flesh, but mighty before God to the throwing down of strongholds, throwing down imaginations and every high thing that is exalted against the knowledge of God, and bringing every thought into captivity to the obedience of Christ.
Proverbs 21:20
There is precious treasure and oil in the dwelling of the wise; but a foolish man swallows it up.
Verses to Strengthen a Marriage in Problems
1 Peter 5:6-8
Humble yourselves therefore under the mighty hand of God, that he may exalt you in due time; casting all your worries on him, because he cares for you.

Be sober and self-controlled. Be watchful. Your adversary, the devil, walks around like a roaring lion, seeking whom he may devour.
Proverbs 13:10-12
Pride only breeds quarrels, but wisdom is with people who take advice.

Wealth gained dishonestly dwindles away, but he who gathers by hand makes it grow.

Hope deferred makes the heart sick, but when longing is fulfilled, it is a tree of life.
Proverbs 31:10-12
Who can find a worthy woman? For her price is far above rubies.

The heart of her husband trusts in her. He shall have no lack of gain.

She does him good, and not harm, all the days of her life.
Luke 1:37
For nothing spoken by God is impossible."
Colossians 3:13-14
Bearing with one another, and forgiving each other, if any man has a complaint against any; even as Christ forgave you, so you also do.

Above all these things, walk in love, which is the bond of perfection.
Hebrews 12:14
Follow after peace with all men, and the sanctification without which no man will see the Lord.
Proverbs 18:22
Whoever finds a wife finds a good thing, and obtains favor of Yahweh.
Isaiah 57:15
For thus says the high and lofty One who inhabits eternity, whose name is Holy: "I dwell in the high and holy place, with him also who is of a contrite and humble spirit, to revive the spirit of the humble, and to revive the heart of the contrite.
Matthew 5:32
But I tell you that whoever puts away his wife, except for the cause of sexual immorality, makes her an adulteress; and whoever marries her when she is put away commits adultery.
Psalm 46:10
"Be still, and know that I am God. I will be exalted among the nations. I will be exalted in the earth."
Verses on Love in Marriage
Mark 10:6-9
But from the beginning of the creation, God made them male and female.

For this cause a man will leave his father and mother, and will join to his wife, and the two will become one flesh, so that they are no longer two, but one flesh.

What therefore God has joined together, let no man separate."
1 Corinthians 13:4-8
Love is patient and is kind; love doesn't envy. Love doesn't brag, is not proud, doesn't behave itself inappropriately, doesn't seek its own way, is not provoked, takes no account of evil; doesn't rejoice in unrighteousness, but rejoices with the truth; bears all things, believes all things, hopes all things, endures all things.

Love never fails. But where there are prophecies, they will be done away with. Where there are various languages, they will cease. Where there is knowledge, it will be done away with.
Luke 7:47
Therefore I tell you, her sins, which are many, are forgiven, for she loved much. But to whom little is forgiven, the same loves little."
Luke 17:3
Be careful. If your brother sins against you, rebuke him. If he repents, forgive him.
Hebrews 13:4-7
Let marriage be held in honor among all, and let the bed be undefiled: but God will judge the sexually immoral and adulterers.

Be free from the love of money, content with such things as you have, for he has said, "I will in no way leave you, neither will I in any way forsake you."

So that with good courage we say, "¿The Lord is my helper. I will not fear. What can man do to me?"

Remember your leaders, men who spoke to you the word of God, and considering the results of their conduct, imitate their faith.
Matthew 19:4-6
He answered, "Haven't you read that he who made them from the beginning made them male and female, and said, 'For this cause a man shall leave his father and mother, and shall be joined to his wife; and the two shall become one flesh?'

So that they are no more two, but one flesh. What therefore God has joined together, don't let man tear apart."
Matthew 5:24
Leave your gift there before the altar, and go your way. First be reconciled to your brother, and then come and offer your gift.
1 Corinthians 7:10-11
But to the married I command—not I, but the Lord—that the wife not leave her husband

(but if she departs, let her remain unmarried, or else be reconciled to her husband), and that the husband not leave his wife.
Jeremiah 29:11
For I know the thoughts that I think toward you," says Yahweh, "thoughts of peace, and not of evil, to give you hope and a future.
Proverbs 20:6-7
Many men claim to be men of unfailing love, but who can find a faithful man?

A righteous man walks in integrity. Blessed are his children after him.
What did you think of these Bible Verses on Marriage Problems? Remember that a marriage is a marriage of two, and the only one who can intercede is God and His holy word. Do you have other Bible Verses on Marriage Problems to contribute to the community? Leave your message in the comments.