We show you the list with Verses on Family in the Bible. To ask for God's protection and healing over our family, we must know his word and be obedient to what he asks of us. Be inspired by these Verses on Family in the Bible so that you know how to take care, bless and keep your family together.
Many people find their greatest strength in God and their families, and Bible verses about family can help you to know how to handle different situations in life.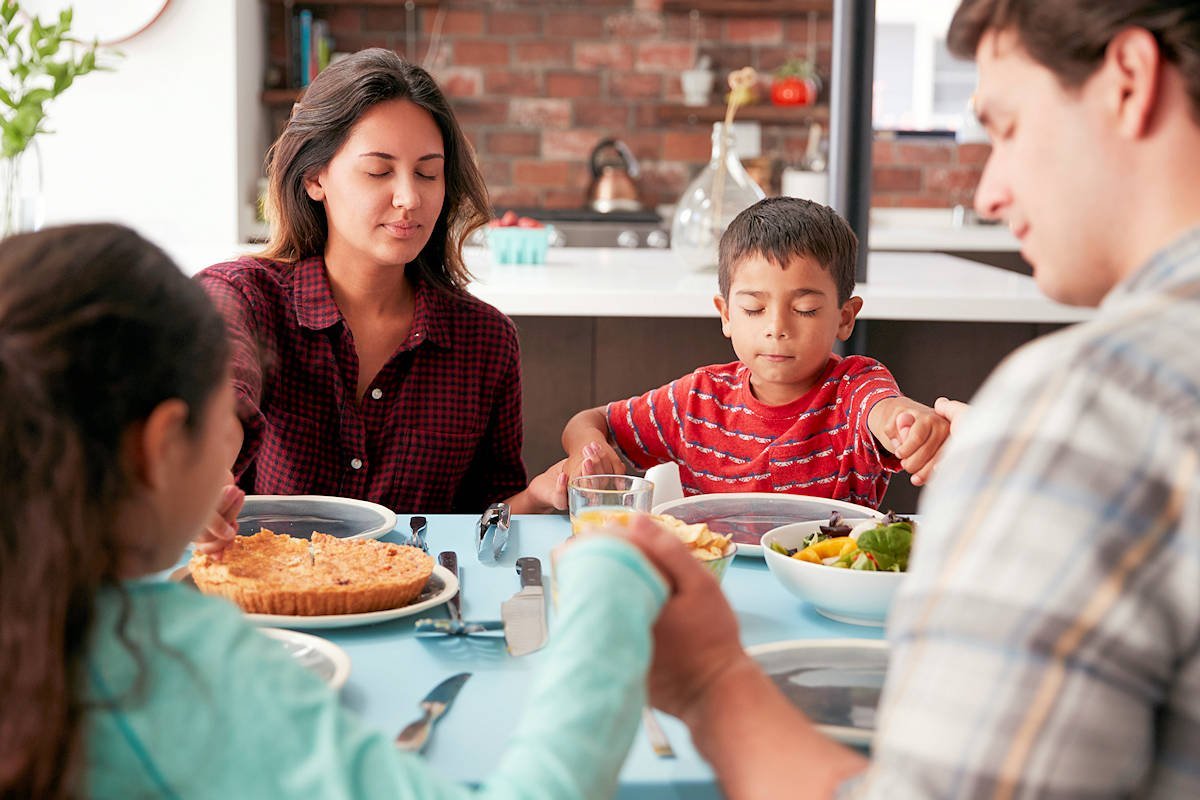 Verses on Family in the Bible. Photo by monkeybusiness. Envato.
Bible verses are God's word, and in them, we find the answer to our needs and concerns, whether it is about love, complicated relationships, family values, parenting, dealing with grief and death, and other issues that are important to families. Human beings were created to live as a family unit. He anticipated that our family bonds would have many ups and downs, and He provided direction and wisdom in every situation. God desires to protect and bless your family no matter what they are going through.
For parenting, sibling interactions, and expanding family bonds, look to Scripture for encouragement and inspiration. Encourage your family to share these family love verses with you to find the same path with God.
Verses on Family in the Bible
Exodus 20:12
"Honor your father and your mother, that your days may be long in the land which Yahweh your God gives you.
Proverbs 22:6
Train up a child in the way he should go, and when he is old he will not depart from it.
1 Timothy 5:8
But if anyone doesn't provide for his own, and especially his own household, he has denied the faith, and is worse than an unbeliever.
Genesis 2:24
Therefore a man will leave his father and his mother, and will join with his wife, and they will be one flesh.
Psalm 128:3
Your wife will be as a fruitful vine, in the innermost parts of your house; your children like olive plants, around your table.
Joshua 24:15
If it seems evil to you to serve Yahweh, choose today whom you will serve; whether the gods which your fathers served that were beyond the River, or the gods of the Amorites, in whose land you dwell; but as for me and my house, we will serve Yahweh."
Ephesians 3:14-15
For this cause, I bow my knees to the Father of our Lord Jesus Christ, from whom every family in heaven and on earth is named.
John 15:12-17
"This is my commandment, that you love one another, even as I have loved you.

Greater love has no one than this, that someone lay down his life for his friends.

You are my friends, if you do whatever I command you.

No longer do I call you servants, for the servant doesn't know what his lord does. But I have called you friends, for everything that I heard from my Father, I have made known to you.

You didn't choose me, but I chose you, and appointed you, that you should go and bear fruit, and that your fruit should remain; that whatever you will ask of the Father in my name, he may give it to you.

"I command these things to you, that you may love one another.
1 Timothy 3:4
One who rules his own house well, having children in subjection with all reverence.
Colossians 3:20
Children, obey your parents in all things, for this pleases the Lord.
1 Timothy 3:5
(but how could someone who doesn't know how to rule one's own house take care of God's assembly?)
Psalm 127:3-5
Behold, children are a heritage of Yahweh. The fruit of the womb is his reward.

As arrows in the hand of a mighty man, so are the children of youth.

Happy is the man who has his quiver full of them. They won't be disappointed when they speak with their enemies in the gate.
Romans 12:17
Repay no one evil for evil. Respect what is honorable in the sight of all men.
Genesis 26:3
Live in this land, and I will be with you, and will bless you. For I will give to you, and to your offspring, all these lands, and I will establish the oath which I swore to Abraham your father.
Psalm 46:1
For the Chief Musician. By the sons of Korah. According to Alamoth. God is our refuge and strength, a very present help in trouble.
Proverbs 1:8
My son, listen to your father's instruction, and don't forsake your mother's teaching.
Matthew 15:4
For God commanded, 'Honor your father and your mother,' and, 'He who speaks evil of father or mother, let him be put to death.'
1 Corinthians 7:10-11
But to the married I command—not I, but the Lord—that the wife not leave her husband (but if she departs, let her remain unmarried, or else be reconciled to her husband), and that the husband not leave his wife.
1 Timothy 3:12
Let servants be husbands of one wife, ruling their children and their own houses well.
Proverbs 15:20
A wise son makes a father glad, but a foolish man despises his mother.
1 Kings 8:57
May Yahweh our God be with us, as he was with our fathers. Let him not leave us or forsake us.
Acts 10:2
A devout man, and one who feared God with all his house, who gave gifts for the needy generously to the people, and always prayed to God.
1 John 3:2-4
Beloved, now we are children of God, and it is not yet revealed what we will be. But we know that when he is revealed, we will be like him; for we will see him just as he is.

Everyone who has this hope set on him purifies himself, even as he is pure.

Everyone who sins also commits lawlessness. Sin is lawlessness.
Matthew 18:19-22
Again, assuredly I tell you, that if two of you will agree on earth concerning anything that they will ask, it will be done for them by my Father who is in heaven.

For where two or three are gathered together in my name, there I am in the middle of them."

Then Peter came and said to him, "Lord, how often shall my brother sin against me, and I forgive him? Until seven times?"

Jesus said to him, "I don't tell you until seven times, but, until seventy times seven.
Proverbs 12:4
A worthy woman is the crown of her husband, but a disgraceful wife is as rottenness in his bones.
Psalm 1:1-6
Blessed is the man who doesn't walk in the counsel of the wicked, nor stand on the path of sinners, nor sit in the seat of scoffers; but his delight is in Yahweh's law. On his law he meditates day and night.

He will be like a tree planted by the streams of water, that produces its fruit in its season, whose leaf also does not wither. Whatever he does shall prosper.

The wicked are not so, but are like the chaff which the wind drives away.

Therefore the wicked shall not stand in the judgment, nor sinners in the congregation of the righteous.

For Yahweh knows the way of the righteous, but the way of the wicked shall perish.
Isaiah 49:15-16
"Can a woman forget her nursing child, that she should not have compassion on the son of her womb? Yes, these may forget, yet I will not forget you!

Behold, I have engraved you on the palms of my hands. your walls are continually before me.
Proverbs 10:1
The proverbs of Solomon. A wise son makes a glad father; but a foolish son brings grief to his mother.
1 Corinthians 13:13
But now faith, hope, and love remain—these three. The greatest of these is love.
Ephesians 6:1-4
Children, obey your parents in the Lord, for this is right.

"Honor your father and mother," which is the first commandment with a promise: "that it may be well with you, and you may live long on the earth."

You fathers, don't provoke your children to wrath, but nurture them in the discipline and instruction of the Lord.
Proverbs 17:6
Children's children are the crown of old men; the glory of children are their parents.
Galatians 6:2
Bear one another's burdens, and so fulfill the law of Christ.
Matthew 19:18
He said to him, "Which ones?" Jesus said, "'You shall not murder.' 'You shall not commit adultery.' 'You shall not steal.' 'You shall not offer false testimony.'
Psalm 147:3
He heals the broken in heart, and binds up their wounds.
Proverbs 23:15
My son, if your heart is wise, then my heart will be glad, even mine.
Verses to Keep the Family Together
1 John 4:19
We love him, because he first loved us.
Hebrews 10:24-25
Let's consider how to provoke one another to love and good works, not forsaking our own assembling together, as the custom of some is, but exhorting one another; and so much the more, as you see the Day approaching.
Malachi 2:16
For I hate divorce", says Yahweh, the God of Israel, "and him who covers his garment with violence!" says Yahweh of Armies. "Therefore take heed to your spirit, that you don't deal treacherously.
Romans 8:15
For you didn't receive the spirit of bondage again to fear, but you received the Spirit of adoption, by whom we cry, "Abba! Father!"
Colossians 3:1-4
If then you were raised together with Christ, seek the things that are above, where Christ is, seated on the right hand of God.

Set your mind on the things that are above, not on the things that are on the earth.

For you died, and your life is hidden with Christ in God.

When Christ, our life, is revealed, then you will also be revealed with him in glory.
3 John 1:4
I have no greater joy than this, to hear about my children walking in truth.
Mark 3:31-35
His mother and his brothers came, and standing outside, they sent to him, calling him.

A multitude was sitting around him, and they told him, "Behold, your mother, your brothers, and your sisters are outside looking for you."

He answered them, "Who are my mother and my brothers?"

Looking around at those who sat around him, he said, "Behold, my mother and my brothers!

For whoever does the will of God, the same is my brother, and my sister, and mother."
Proverbs 11:29
He who troubles his own house shall inherit the wind. The foolish shall be servant to the wise of heart.
Hebrews 4:15
For we don't have a high priest who can't be touched with the feeling of our infirmities, but one who has been in all points tempted like we are, yet without sin.
Isaiah 44:3-6
For I will pour water on him who is thirsty, and streams on the dry ground. I will pour my Spirit on your descendants, and my blessing on your offspring: and they will spring up among the grass, as willows by the watercourses.

One will say, 'I am Yahweh's;' and another will be called by the name of Jacob; and another will write with his hand 'to Yahweh,' and honor the name of Israel."

This is what Yahweh, the King of Israel, and his Redeemer, Yahweh of Armies, says: "I am the first, and I am the last; and besides me there is no God.
Proverbs 14:1
Every wise woman builds her house, but the foolish one tears it down with her own hands.
Romans 12:18
If it is possible, as much as it is up to you, be at peace with all men.
1 Peter 3:1
In the same way, wives, be in subjection to your own husbands; so that, even if any don't obey the Word, they may be won by the behavior of their wives without a word.
Acts 16:31-34
They said, "Believe in the Lord Jesus Christ, and you will be saved, you and your household."

They spoke the word of the Lord to him, and to all who were in his house.

He took them the same hour of the night, and washed their stripes, and was immediately baptized, he and all his household.

He brought them up into his house, and set food before them, and rejoiced greatly, with all his household, having believed in God.
Ephesians 4:2-3
With all lowliness and humility, with patience, bearing with one another in love; being eager to keep the unity of the Spirit in the bond of peace.
Luke 18:16
Jesus summoned them, saying, "Allow the little children to come to me, and don't hinder them, for God's Kingdom belongs to such as these.
Genesis 1:28
God blessed them. God said to them, "Be fruitful, multiply, fill the earth, and subdue it. Have dominion over the fish of the sea, over the birds of the sky, and over every living thing that moves on the earth."
Psalm 103:17-18
But Yahweh's loving kindness is from everlasting to everlasting with those who fear him, his righteousness to children's children; to those who keep his covenant, to those who remember to obey his precepts.
1 John 4:20
If a man says, "I love God," and hates his brother, he is a liar; for he who doesn't love his brother whom he has seen, how can he love God whom he has not seen?
Proverbs 23:24
The father of the righteous has great joy. Whoever fathers a wise child delights in him.
Genesis 30:22-24
God remembered Rachel, and God listened to her, and opened her womb.

She conceived, bore a son, and said, "God has taken away my reproach."

She named him Joseph, saying, "May Yahweh add another son to me."
Ephesians 1:5
Having predestined us for adoption as children through Jesus Christ to himself, according to the good pleasure of his desire.
Proverbs 27:10
Don't forsake your friend and your father's friend. Don't go to your brother's house in the day of your disaster: better is a neighbor who is near than a distant brother.
Genesis 18:19
For I have known him, to the end that he may command his children and his household after him, that they may keep the way of Yahweh, to do righteousness and justice; to the end that Yahweh may bring on Abraham that which he has spoken of him."
Colossians 3:19
Husbands, love your wives, and don't be bitter against them.
Ephesians 5:33
Nevertheless each of you must also love his own wife even as himself; and let the wife see that she respects her husband.
1 Corinthians 13:4-8
Love is patient and is kind; love doesn't envy. Love doesn't brag, is not proud, doesn't behave itself inappropriately, doesn't seek its own way, is not provoked, takes no account of evil; doesn't rejoice in unrighteousness, but rejoices with the truth; bears all things, believes all things, hopes all things, endures all things.

Love never fails. But where there are prophecies, they will be done away with. Where there are various languages, they will cease. Where there is knowledge, it will be done away with.
Proverbs 31:15-17
She rises also while it is yet night, gives food to her household, and portions for her servant girls.

She considers a field, and buys it. With the fruit of her hands, she plants a vineyard.

She arms her waist with strength, and makes her arms strong.
2 Corinthians 6:18
I will be to you a Father. You will be to me sons and daughters,' says the Lord Almighty."
Matthew 19:19
'Honor your father and your mother.' And, 'You shall love your neighbor as yourself.'"
Proverbs 15:17
Better is a dinner of herbs, where love is, than a fattened calf with hatred.
1 Corinthians 3:7-14
So then neither he who plants is anything, nor he who waters, but God who gives the increase.

Now he who plants and he who waters are the same, but each will receive his own reward according to his own labor.

For we are God's fellow workers. You are God's farming, God's building.

According to the grace of God which was given to me, as a wise master builder I laid a foundation, and another builds on it. But let each man be careful how he builds on it.

For no one can lay any other foundation than that which has been laid, which is Jesus Christ.

But if anyone builds on the foundation with gold, silver, costly stones, wood, hay, or stubble; each man's work will be revealed. For the Day will declare it, because it is revealed in fire; and the fire itself will test what sort of work each man's work is.

If any man's work remains which he built on it, he will receive a reward.
John 16:22
Therefore you now have sorrow, but I will see you again, and your heart will rejoice, and no one will take your joy away from you.
Acts 18:8
Crispus, the ruler of the synagogue, believed in the Lord with all his house. Many of the Corinthians, when they heard, believed and were baptized.
1 Samuel 1:10-11
She was in bitterness of soul, and prayed to Yahweh, weeping bitterly.

She vowed a vow, and said, "Yahweh of Armies, if you will indeed look at the affliction of your servant, and remember me, and not forget your servant, but will give to your servant a boy, then I will give him to Yahweh all the days of his life, and no razor shall come on his head."
Verses for the Protection of the Family
2 Timothy 1:5
Having been reminded of the sincere faith that is in you; which lived first in your grandmother Lois, and your mother Eunice, and, I am persuaded, in you also.
Proverbs 17:17
A friend loves at all times; and a brother is born for adversity.
Luke 6:31
"As you would like people to do to you, do exactly so to them.
1 Peter 4:8-11
And above all things be earnest in your love among yourselves, for love covers a multitude of sins.

Be hospitable to one another without grumbling.

As each has received a gift, employ it in serving one another, as good managers of the grace of God in its various forms.

If anyone speaks, let it be as it were the very words of God. If anyone serves, let it be as of the strength which God supplies, that in all things God may be glorified through Jesus Christ, to whom belong the glory and the dominion forever and ever. Amen.
Proverbs 6:20
My son, keep your father's commandment, and don't forsake your mother's teaching.
Isaiah 66:13
As one whom his mother comforts, so I will comfort you. You will be comforted in Jerusalem."
Genesis 31:49
And Mizpah, for he said, "Yahweh watch between me and you, when we are absent one from another.
Deuteronomy 5:16
"Honor your father and your mother, as Yahweh your God commanded you; that your days may be long, and that it may go well with you, in the land which Yahweh your God gives you.
Proverbs 15:27
He who is greedy for gain troubles his own house, but he who hates bribes will live.
Luke 11:13
If you then, being evil, know how to give good gifts to your children, how much more will your heavenly Father give the Holy Spirit to those who ask him?"
Ecclesiastes 3:1-2
For everything there is a season, and a time for every purpose under heaven: a time to be born, and a time to die; a time to plant, and a time to pluck up that which is planted.
Proverbs 20:2-9
The terror of a king is like the roaring of a lion. He who provokes him to anger forfeits his own life.

It is an honor for a man to keep aloof from strife; but every fool will be quarreling.

The sluggard will not plow by reason of the winter; therefore he shall beg in harvest, and have nothing.

Counsel in the heart of man is like deep water; but a man of understanding will draw it out.

Many men claim to be men of unfailing love, but who can find a faithful man?

A righteous man walks in integrity. Blessed are his children after him.

A king who sits on the throne of judgment scatters away all evil with his eyes.

Who can say, "I have made my heart pure. I am clean and without sin?"
1 Corinthians 11:3
But I would have you know that the head of every man is Christ, and the head of the woman is man, and the head of Christ is God.
Colossians 3:21
Fathers, don't provoke your children, so that they won't be discouraged.
Ephesians 5:25
Husbands, love your wives, even as Christ also loved the assembly, and gave himself up for it.
Psalm 27:10
When my father and my mother forsake me, then Yahweh will take me up.
Proverbs 31:25
Strength and dignity are her clothing. She laughs at the time to come.
Psalm 34:18-19
Yahweh is near to those who have a broken heart, and saves those who have a crushed spirit.

Many are the afflictions of the righteous, but Yahweh delivers him out of them all.
Numbers 27:18-23
Yahweh said to Moses, "Take Joshua the son of Nun, a man in whom is the Spirit, and lay your hand on him.

Set him before Eleazar the priest, and before all the congregation; and commission him in their sight.

You shall give authority to him, that all the congregation of the children of Israel may obey.

He shall stand before Eleazar the priest, who shall inquire for him by the judgment of the Urim before Yahweh. At his word they shall go out, and at his word they shall come in, both he, and all the children of Israel with him, even all the congregation."

Moses did as Yahweh commanded him. He took Joshua, and set him before Eleazar the priest, and before all the congregation.

He laid his hands on him, and commissioned him, as Yahweh spoke by Moses.
Colossians 3:13
Bearing with one another, and forgiving each other, if any man has a complaint against any; even as Christ forgave you, so you also do.
Proverbs 13:22
A good man leaves an inheritance to his children's children, but the wealth of the sinner is stored for the righteous.
1 Peter 3:7
You husbands, in the same way, live with your wives according to knowledge, giving honor to the woman, as to the weaker vessel, as being also joint heirs of the grace of life; that your prayers may not be hindered.
Romans 12:9
Let love be without hypocrisy. Abhor that which is evil. Cling to that which is good.
Psalm 10:17
Yahweh, you have heard the desire of the humble. You will prepare their heart. You will cause your ear to hear.
Matthew 5:9
Blessed are the peacemakers, for they shall be called children of God.
Proverbs 18:24
A man of many companions may be ruined, but there is a friend who sticks closer than a brother.
Psalm 133:1
A Song of Ascents. By David. See how good and how pleasant it is for brothers to live together in unity!
Matthew 6:9-13
Pray like this: 'Our Father in heaven, may your name be kept holy.

Let your Kingdom come. Let your will be done, as in heaven, so on earth.

Give us today our daily bread.

Forgive us our debts, as we also forgive our debtors.

Bring us not into temptation, but deliver us from the evil one. For yours is the Kingdom, the power, and the glory forever. Amen.'
1 Corinthians 1:10
Now I beg you, brothers, through the name of our Lord, Jesus Christ, that you all speak the same thing, and that there be no divisions among you, but that you be perfected together in the same mind and in the same judgment.
Proverbs 18:19
A brother offended is more difficult than a fortified city; and disputes are like the bars of a fortress.
Matthew 12:50
For whoever does the will of my Father who is in heaven, he is my brother, and sister, and mother."
Mark 10:9
What therefore God has joined together, let no man separate."
Proverbs 14:21-28
He who despises his neighbor sins, but he is blessed who has pity on the poor.

Don't they go astray who plot evil? But love and faithfulness belong to those who plan good.

In all hard work there is profit, but the talk of the lips leads only to poverty.

The crown of the wise is their riches, but the folly of fools crowns them with folly.

A truthful witness saves souls, but a false witness is deceitful.

In the fear of Yahweh is a secure fortress, and he will be a refuge for his children.

The fear of Yahweh is a fountain of life, turning people from the snares of death.

In the multitude of people is the king's glory, but in the lack of people is the destruction of the prince.
Deuteronomy 6:6-7
These words, which I command you today, shall be on your heart; and you shall teach them diligently to your children, and shall talk of them when you sit in your house, and when you walk by the way, and when you lie down, and when you rise up.
Philippians 4:13
I can do all things through Christ, who strengthens me.
Genesis 28:12-15
He dreamed. Behold, a stairway set upon the earth, and its top reached to heaven. Behold, the angels of God ascending and descending on it.

Behold, Yahweh stood above it, and said, "I am Yahweh, the God of Abraham your father, and the God of Isaac. I will give the land whereon you lie to you and to your offspring.

Your offspring will be as the dust of the earth, and you will spread abroad to the west, and to the east, and to the north, and to the south. In you and in your offspring will all the families of the earth be blessed.

Behold, I am with you, and will keep you, wherever you go, and will bring you again into this land. For I will not leave you, until I have done that which I have spoken of to you."
Romans 12:5
So we, who are many, are one body in Christ, and individually members of one another.
Colossians 3:15
And let the peace of God rule in your hearts, to which also you were called in one body; and be thankful.
What did you think of these Verses on Family in the Bible? God knows that the Family is the most important and sacred thing we have, so we must know how to ask for His protection and know how to deal when storms approach. Do you have any other Bible verses about the Family to contribute to the community? Leave your message in the comments.