We know that health is a delicate and important issue; in the moments of greatest anguish and weakness, let's ask God for his healing hand, his encouragement, and his way. Be inspired by these messages from God for the tranquility and healing of the sick.
When we are sick, or someone we love is sick, it is difficult to find the right emotional balance to support us in dealing with the process. Even if we believe that nothing can calm us down, the best option is always to hold God's hand, read his promises and his scriptures, and remember that with faith and patience, all this will pass. We just have to believe in his word.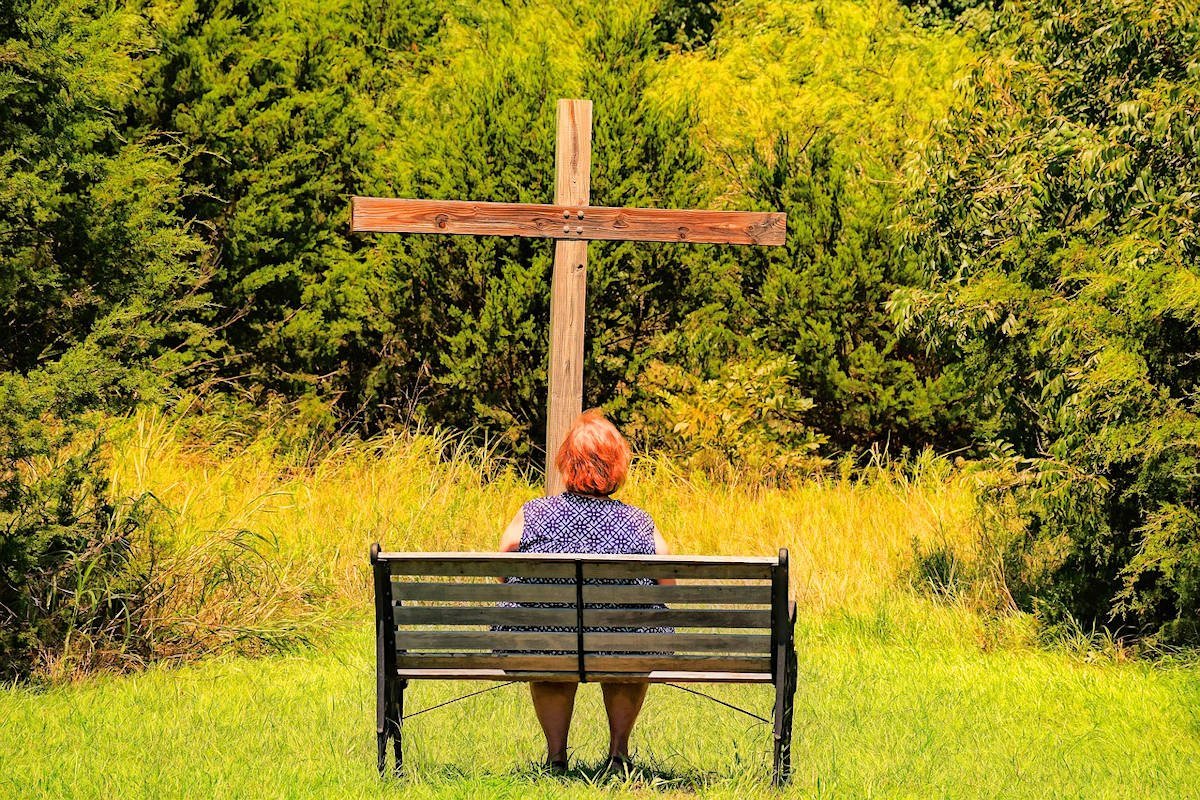 Bible Verses about Sickness Healing. Photo by Ray Shrewsberry. Pixabay.
If you do not know where to start, here you will find those verses in which God speaks directly to you and asks you to be patient; it will give you that peace of mind that you need so much. Take these Bible verses as a weapon to win this health battle.
Bible Verses about Sickness Healing
Matthew 11:28-29
"Come to me, all you who labor and are heavily burdened, and I will give you rest.

Take my yoke upon you, and learn from me, for I am gentle and humble in heart; and you will find rest for your souls.
Isaiah 40:31
But those who wait for Yahweh will renew their strength. They will mount up with wings like eagles. They will run, and not be weary. They will walk, and not faint.
Proverbs 4:20-24
My son, attend to my words. Turn your ear to my sayings.

Let them not depart from your eyes. Keep them in the center of your heart.

For they are life to those who find them, and health to their whole body.

Keep your heart with all diligence, for out of it is the wellspring of life.

Put away from yourself a perverse mouth. Put corrupt lips far from you.
Isaiah 58:8
Then your light will break out as the morning, and your healing will appear quickly; then your righteousness shall go before you; and Yahweh's glory will be your rear guard.
John 14:27
Peace I leave with you. My peace I give to you; not as the world gives, give I to you. Don't let your heart be troubled, neither let it be fearful.
Psalm 41:3
Yahweh will sustain him on his sickbed, and restore him from his bed of illness.
Proverbs 13:17
A wicked messenger falls into trouble, but a trustworthy envoy gains healing.
John 6:1-2
After these things, Jesus went away to the other side of the sea of Galilee, which is also called the Sea of Tiberias.

A great multitude followed him, because they saw his signs which he did on those who were sick.
Proverbs 12:18
There is one who speaks rashly like the piercing of a sword, but the tongue of the wise heals.
Proverbs 3:5-8
Trust in Yahweh with all your heart, and don't lean on your own understanding.

In all your ways acknowledge him, and he will make your paths straight.

Don't be wise in your own eyes. Fear Yahweh, and depart from evil.

It will be health to your body, and nourishment to your bones.
Isaiah 54:17
No weapon that is formed against you will prevail; and you will condemn every tongue that rises against you in judgment. This is the heritage of Yahweh's servants, and their righteousness is of me," says Yahweh.
Philippians 4:19
My God will supply every need of yours according to his riches in glory in Christ Jesus.
Revelation 21:4
He will wipe away every tear from their eyes. Death will be no more; neither will there be mourning, nor crying, nor pain, any more. The first things have passed away."
Isaiah 33:2
Yahweh, be gracious to us. We have waited for you. Be our strength every morning, our salvation also in the time of trouble.
Job 5:17-20
"Behold, happy is the man whom God corrects. Therefore do not despise the chastening of the Almighty.

For he wounds, and binds up. He injures, and his hands make whole.

He will deliver you in six troubles; yes, in seven no evil shall touch you.

In famine he will redeem you from death; in war, from the power of the sword.
1 Corinthians 10:13
No temptation has taken you except what is common to man. God is faithful, who will not allow you to be tempted above what you are able, but will with the temptation also make the way of escape, that you may be able to endure it.
Mark 5:34
He said to her, "Daughter, your faith has made you well. Go in peace, and be cured of your disease."
2 Kings 20:5
"Turn back, and tell Hezekiah the prince of my people, 'Yahweh, the God of David your father, says, "I have heard your prayer. I have seen your tears. Behold, I will heal you. On the third day, you will go up to Yahweh's house.
Ecclesiastes 3:1-8
For everything there is a season, and a time for every purpose under heaven: a time to be born, and a time to die; a time to plant, and a time to pluck up that which is planted; a time to kill, and a time to heal; a time to break down, and a time to build up; a time to weep, and a time to laugh; a time to mourn, and a time to dance; a time to cast away stones, and a time to gather stones together; a time to embrace, and a time to refrain from embracing; a time to seek, and a time to lose; a time to keep, and a time to cast away; a time to tear, and a time to sew; a time to keep silence, and a time to speak; a time to love, and a time to hate; a time for war, and a time for peace.
Matthew 4:23
Jesus went about in all Galilee, teaching in their synagogues, preaching the Good News of the Kingdom, and healing every disease and every sickness among the people.
Bible Verses for the Seriously Ill
Isaiah 26:3
You will keep whoever's mind is steadfast in perfect peace, because he trusts in you.
Psalms 147:2-4
Yahweh builds up Jerusalem. He gathers together the outcasts of Israel.

He heals the broken in heart, and binds up their wounds.

He counts the number of the stars. He calls them all by their names.
Jeremiah 33:6
'Behold, I will bring it health and cure, and I will cure them; and I will reveal to them abundance of peace and truth.
Proverbs 17:22
A cheerful heart makes good medicine, but a crushed spirit dries up the bones.
James 5:14-16
Is any among you sick? Let him call for the elders of the assembly, and let them pray over him, anointing him with oil in the name of the Lord, and the prayer of faith will heal him who is sick, and the Lord will raise him up. If he has committed sins, he will be forgiven.

Confess your offenses to one another, and pray for one another, that you may be healed. The insistent prayer of a righteous person is powerfully effective.
Psalm 30:2
Yahweh my God, I cried to you, and you have healed me.
James 1:4
Let endurance have its perfect work, that you may be perfect and complete, lacking in nothing.
Isaiah 38:16-17
Lord, men live by these things; and my spirit finds life in all of them: you restore me, and cause me to live.

Behold, for peace I had great anguish, but you have in love for my soul delivered it from the pit of corruption; for you have cast all my sins behind your back.
Psalm 147:3
He heals the broken in heart, and binds up their wounds.
Matthew 10:8
Heal the sick, cleanse the lepers, and cast out demons. Freely you received, so freely give.
Luke 6:17-19
He came down with them, and stood on a level place, with a crowd of his disciples, and a great number of the people from all Judea and Jerusalem, and the sea coast of Tyre and Sidon, who came to hear him and to be healed of their diseases; as well as those who were troubled by unclean spirits, and they were being healed.

All the multitude sought to touch him, for power came out of him and healed them all.
Psalm 6:2
Have mercy on me, Yahweh, for I am faint. Yahweh, heal me, for my bones are troubled.
Matthew 9:6-7
But that you may know that the Son of Man has authority on earth to forgive sins-" (then he said to the paralytic), "Get up, and take up your mat, and go to your house."

He arose and departed to his house.
Deuteronomy 32:39
"See now that I myself am he. There is no god with me. I kill and I make alive. I wound and I heal. There is no one who can deliver out of my hand.
Psalms 146:8
Yahweh opens the eyes of the blind. Yahweh raises up those who are bowed down. Yahweh loves the righteous.
Isaiah 41:10
Don't you be afraid, for I am with you. Don't be dismayed, for I am your God. I will strengthen you. Yes, I will help you. Yes, I will uphold you with the right hand of my righteousness.
Matthew 9:20-21
Behold, a woman who had an issue of blood for twelve years came behind him, and touched the fringe of his garment; for she said within herself, "If I just touch his garment, I will be made well."
Psalm 103:2-4
Praise Yahweh, my soul, and don't forget all his benefits; who forgives all your sins; who heals all your diseases; who redeems your life from destruction; who crowns you with loving kindness and tender mercies.
Acts 4:30
While you stretch out your hand to heal; and that signs and wonders may be done through the name of your holy Servant Jesus."
Psalms 107:19
Then they cry to Yahweh in their trouble, he saves them out of their distresses.
Verses for the Healing of the Sick
Isaiah 40:29
He gives power to the weak. He increases the strength of him who has no might.
James 5:6
You have condemned, you have murdered the righteous one. He doesn't resist you.
Luke 8:50
But Jesus hearing it, answered him, "Don't be afraid. Only believe, and she will be healed."
Exodus 23:25
You shall serve Yahweh your God, and he will bless your bread and your water, and I will take sickness away from among you.
Psalm 107:20-21
He sends his word, and heals them, and delivers them from their graves.

Let them praise Yahweh for his loving kindness, for his wonderful deeds to the children of men!
1 John 1:9
If we confess our sins, he is faithful and righteous to forgive us the sins, and to cleanse us from all unrighteousness.
Deuteronomy 7:15
Yahweh will take away from you all sickness; and he will put none of the evil diseases of Egypt, which you know, on you, but will lay them on all those who hate you.
1 Peter 2:24
He himself bore our sins in his body on the tree, that we, having died to sins, might live to righteousness; by whose stripes you were healed.
3 John 1:2
Beloved, I pray that you may prosper in all things and be healthy, even as your soul prospers.
Malachi 4:2
But to you who fear my name shall the sun of righteousness arise with healing in its wings. You will go out, and leap like calves of the stall.
Exodus 15:26
And he said, "If you will diligently listen to Yahweh your God's voice, and will do that which is right in his eyes, and will pay attention to his commandments, and keep all his statutes, I will put none of the diseases on you, which I have put on the Egyptians; for I am Yahweh who heals you."
Matthew 10:1
He called to himself his twelve disciples, and gave them authority over unclean spirits, to cast them out, and to heal every disease and every sickness.
2 Chronicles 7:14-15
If my people, who are called by my name, will humble themselves, pray, seek my face, and turn from their wicked ways; then I will hear from heaven, will forgive their sin, and will heal their land.

Now my eyes will be open and my ears attentive to prayer that is made in this place.
Jeremiah 17:14
Heal me, O Yahweh, and I will be healed. Save me, and I will be saved; for you are my praise.
Philippians 4:6-7
In nothing be anxious, but in everything, by prayer and petition with thanksgiving, let your requests be made known to God.

And the peace of God, which surpasses all understanding, will guard your hearts and your thoughts in Christ Jesus.
Psalm 103:1-5
By David. Praise Yahweh, my soul! All that is within me, praise his holy name!

Praise Yahweh, my soul, and don't forget all his benefits; who forgives all your sins; who heals all your diseases; who redeems your life from destruction; who crowns you with loving kindness and tender mercies; who satisfies your desire with good things, so that your youth is renewed like the eagle's.
Luke 4:18
"The Spirit of the Lord is on me, because he has anointed me to preach good news to the poor. He has sent me to heal the broken hearted, to proclaim release to the captives, recovering of sight to the blind, to deliver those who are crushed.
Isaiah 53:4-5
Surely he has borne our sickness, and carried our suffering; yet we considered him plagued, struck by God, and afflicted.

But he was pierced for our transgressions. He was crushed for our iniquities. The punishment that brought our peace was on him; and by his wounds we are healed.
Matthew 9:35
Jesus went about all the cities and the villages, teaching in their synagogues, and preaching the Good News of the Kingdom, and healing every disease and every sickness among the people.
Jeremiah 30:17
For I will restore health to you, and I will heal you of your wounds," says Yahweh; "because they have called you an outcast, saying, 'It is Zion, whom no man seeks after.'"
Isaiah 57:18-19
I have seen his ways, and will heal him: I will lead him also, and restore comforts to him and to his mourners.

I create the fruit of the lips: Peace, peace, to him who is far off and to him who is near," says Yahweh; "and I will heal them."
Proverbs 16:24
Pleasant words are a honeycomb, sweet to the soul, and health to the bones.
What did you think of these Bible Verses about Sickness Healing? We must never forget that God's blessings are enormous and that despite the adversities that come our way in life, his word comforts us and will lead us to peace and tranquility. Do you have other Bible Verses about Sickness Healing to contribute to the community? Leave your message in the comments.