We show you the list with Verses on Marriage in the Bible. To ask God to intercede in your relationship, to help from day one, to be a united marriage full of God's love. Be inspired by these Marriage Verses so that God's love is the only important thing in the relationship.
Marriage is the sacred union of two people who are willing to share their lives until death does them part, but we know that living together, the passing of the years, and sometimes differences can damage relationships. But God asks us to be patient and to always keep his word in mind. A marriage that walks hand in hand with God can overcome any difficulty.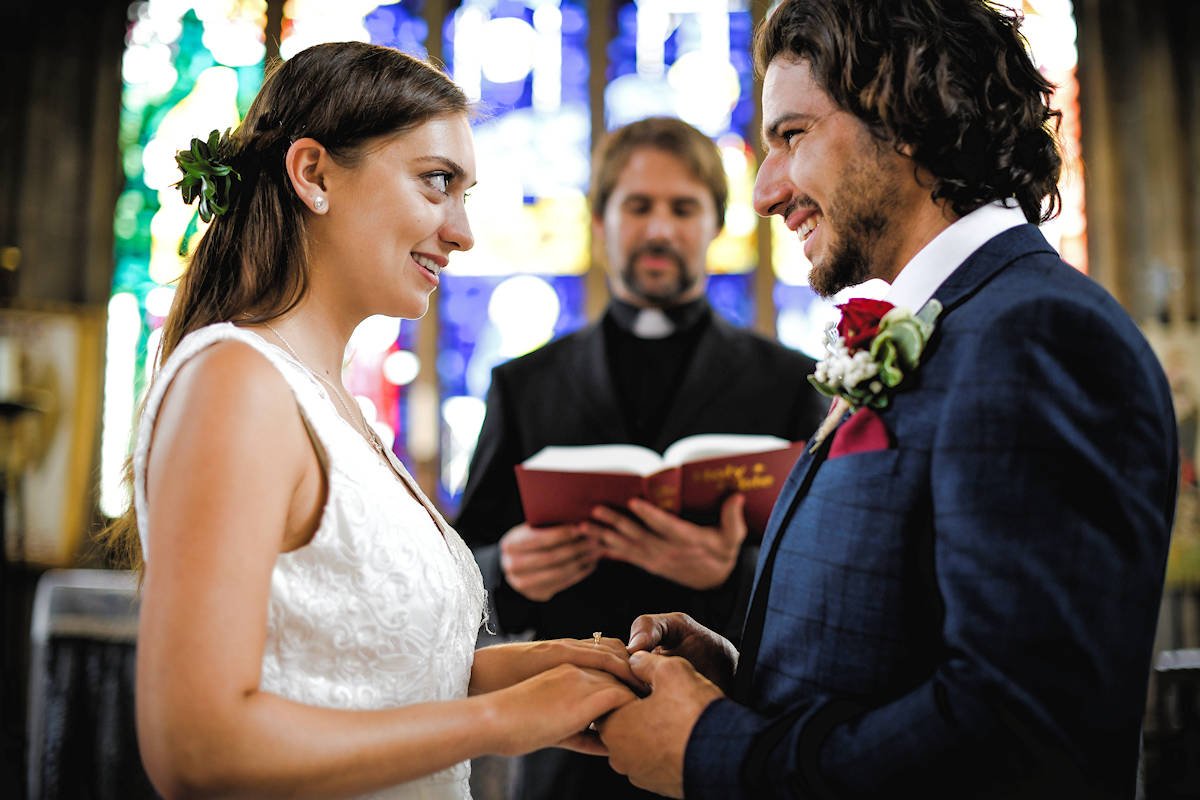 Verses on Marriage in the Bible. Edition by Versiculos.net. Photo by Rawpixel. Envato.
The Bible makes several references to the sacredness and beauty of marriage. Its poetic scriptures on love perfectly summarize what it means to be in love and to commit for the rest of your life to your partner. These Bible verses about marriage can also be used as the perfect complement to your wedding vows and are lovely readings that help make your ceremony even more memorable.
From the beginning of the marriage, it is important to walk on the same path, and the right one is God's path; they will also help you in those moments of problems in the couple, which you will be able to solve in the best way. So read these verses and help yourself to understand more the perception of marriage for God and be happier every day. If you are wondering what the Bible says about marriage, here are its best messages.
Verses on Marriage in the Bible
Genesis 2:24
Therefore a man will leave his father and his mother, and will join with his wife, and they will be one flesh.
Hebrews 13:4
Let marriage be held in honor among all, and let the bed be undefiled: but God will judge the sexually immoral and adulterers.
Proverbs 18:22
Whoever finds a wife finds a good thing, and obtains favor of Yahweh.
1 Corinthians 13:4-7
Love is patient and is kind; love doesn't envy. Love doesn't brag, is not proud, doesn't behave itself inappropriately, doesn't seek its own way, is not provoked, takes no account of evil; doesn't rejoice in unrighteousness, but rejoices with the truth; bears all things, believes all things, hopes all things, endures all things.
Ephesians 5:22-23
Wives, be subject to your own husbands, as to the Lord.

For the husband is the head of the wife, as Christ also is the head of the assembly, being himself the savior of the body.
Ephesians 5:28-30
Even so husbands also ought to love their own wives as their own bodies. He who loves his own wife loves himself.

For no man ever hated his own flesh; but nourishes and cherishes it, even as the Lord also does the assembly; because we are members of his body, of his flesh and bones.
Proverbs 21:9
It is better to dwell in the corner of the housetop, than to share a house with a contentious woman.
Proverbs 19:14
House and riches are an inheritance from fathers, but a prudent wife is from Yahweh.
2 Corinthians 6:14
Don't be unequally yoked with unbelievers, for what fellowship have righteousness and iniquity? Or what fellowship has light with darkness?
Genesis 2:18
Yahweh God said, "It is not good for the man to be alone. I will make him a helper comparable to him."
1 Corinthians 7:12-15
But to the rest I—not the Lord—say, if any brother has an unbelieving wife, and she is content to live with him, let him not leave her.

The woman who has an unbelieving husband, and he is content to live with her, let her not leave her husband.

For the unbelieving husband is sanctified in the wife, and the unbelieving wife is sanctified in the husband. Otherwise your children would be unclean, but now they are holy.

Yet if the unbeliever departs, let there be separation. The brother or the sister is not under bondage in such cases, but God has called us in peace.
Colossians 3:12
Put on therefore, as God's chosen ones, holy and beloved, a heart of compassion, kindness, lowliness, humility, and perseverance.
Genesis 24:67
Isaac brought her into his mother Sarah's tent, and took Rebekah, and she became his wife. He loved her. Isaac was comforted after his mother's death.
1 Corinthians 11:3
But I would have you know that the head of every man is Christ, and the head of the woman is man, and the head of Christ is God.
Song of Solomon 3:4
I had scarcely passed from them, when I found him whom my soul loves.

I held him, and would not let him go, until I had brought him into my mother's house, into the room of her who conceived me.
1 Thessalonians 5:11
Therefore exhort one another, and build each other up, even as you also do.
Proverbs 5:18-19
Let your spring be blessed. Rejoice in the wife of your youth.

A loving doe and a graceful deer— let her breasts satisfy you at all times. Be captivated always with her love.
Hosea 2:19
I will betroth you to me forever. Yes, I will betroth you to me in righteousness, in justice, in loving kindness, and in compassion.
Ephesians 4:31-32
Let all bitterness, wrath, anger, outcry, and slander, be put away from you, with all malice.

And be kind to one another, tender hearted, forgiving each other, just as God also in Christ forgave you.
Ecclesiastes 4:9-12
Two are better than one, because they have a good reward for their labor.

For if they fall, the one will lift up his fellow; but woe to him who is alone when he falls, and doesn't have another to lift him up.

Again, if two lie together, then they have warmth; but how can one keep warm alone?

If a man prevails against one who is alone, two shall withstand him; and a threefold cord is not quickly broken.
Proverbs 10:12
Hatred stirs up strife, but love covers all wrongs.
Ephesians 4:2-3
With all lowliness and humility, with patience, bearing with one another in love; being eager to keep the unity of the Spirit in the bond of peace.
1 Corinthians 7:2-3
But, because of sexual immoralities, let each man have his own wife, and let each woman have her own husband.

Let the husband give his wife the affection owed her, and likewise also the wife her husband.
Matthew 5:32
But I tell you that whoever puts away his wife, except for the cause of sexual immorality, makes her an adulteress; and whoever marries her when she is put away commits adultery.
John 3:16
For God so loved the world, that he gave his one and only Son, that whoever believes in him should not perish, but have eternal life.
Verses for a Christian Marriage
Psalm 143:8
Cause me to hear your loving kindness in the morning, for I trust in you. Cause me to know the way in which I should walk, for I lift up my soul to you.
Esther 4:14
For if you remain silent now, then relief and deliverance will come to the Jews from another place, but you and your father's house will perish. Who knows if you haven't come to the kingdom for such a time as this?"
Jeremiah 31:3
Yahweh appeared of old to me, saying, "Yes, I have loved you with an everlasting love. Therefore I have drawn you with loving kindness.
Song of Solomon 2:16
My beloved is mine, and I am his.

He browses among the lilies.
Philippians 1:7
It is even right for me to think this way on behalf of all of you, because I have you in my heart, because, both in my bonds and in the defense and confirmation of the Good News, you all are partakers with me of grace.
1 Corinthians 9:5
Have we no right to take along a wife who is a believer, even as the rest of the apostles, and the brothers of the Lord, and Cephas?
1 Timothy 3:2
The overseer therefore must be without reproach, the husband of one wife, temperate, sensible, modest, hospitable, good at teaching.
Micah 6:8
He has shown you, O man, what is good. What does Yahweh require of you, but to act justly, to love mercy, and to walk humbly with your God?
1 Corinthians 7:39
A wife is bound by law for as long as her husband lives; but if the husband is dead, she is free to be married to whomever she desires, only in the Lord.
1 Corinthians 7:9
But if they don't have self-control, let them marry. For it's better to marry than to burn.
Song of Solomon 8:6-7
Set me as a seal on your heart, as a seal on your arm; for love is strong as death.

Jealousy is as cruel as Sheol.

Its flashes are flashes of fire, a very flame of Yahweh.

Many waters can't quench love, neither can floods drown it.

If a man would give all the wealth of his house for love, he would be utterly scorned.
1 John 4:16
We know and have believed the love which God has for us. God is love, and he who remains in love remains in God, and God remains in him.
Ezekiel 16:8
Now when I passed by you, and looked at you, behold, your time was the time of love; and I spread my skirt over you, and covered your nakedness. Yes, I swore to you, and entered into a covenant with you, says the Lord Yahweh, and you became mine.
Leviticus 21:7
"'They shall not marry a woman who is a prostitute, or profane. They shall not marry a woman divorced from her husband; for he is holy to his God.
1 Corinthians 13:2
If I have the gift of prophecy, and know all mysteries and all knowledge; and if I have all faith, so as to remove mountains, but don't have love, I am nothing.
Ruth 1:16-17
Ruth said, "Don't urge me to leave you, and to return from following you, for where you go, I will go; and where you stay, I will stay. Your people will be my people, and your God my God.

Where you die, I will die, and there I will be buried. May Yahweh do so to me, and more also, if anything but death parts you and me."
2 Chronicles 24:1-3
Joash was seven years old when he began to reign, and he reigned forty years in Jerusalem. His mother's name was Zibiah, of Beersheba.

Joash did that which was right in Yahweh's eyes all the days of Jehoiada the priest.

Jehoiada took for him two wives, and he became the father of sons and daughters.
Proverbs 3:3
Don't let kindness and truth forsake you. Bind them around your neck. Write them on the tablet of your heart.
1 Timothy 3:12
Let servants be husbands of one wife, ruling their children and their own houses well.
1 Corinthians 11:9-12
For man wasn't created for the woman, but woman for the man.

For this cause the woman ought to have authority over her own head, because of the angels.

Nevertheless, neither is the woman independent of the man, nor the man independent of the woman, in the Lord.

For as woman came from man, so a man also comes through a woman; but all things are from God.
1 John 4:18-19
There is no fear in love; but perfect love casts out fear, because fear has punishment. He who fears is not made perfect in love.

We love him, because he first loved us.
Mark 10:6-12
But from the beginning of the creation, God made them male and female.

For this cause a man will leave his father and mother, and will join to his wife, and the two will become one flesh, so that they are no longer two, but one flesh.

What therefore God has joined together, let no man separate."

In the house, his disciples asked him again about the same matter.

He said to them, "Whoever divorces his wife, and marries another, commits adultery against her.

If a woman herself divorces her husband, and marries another, she commits adultery."
Proverbs 21:19
It is better to dwell in a desert land, than with a contentious and fretful woman.
1 Peter 4:8
And above all things be earnest in your love among yourselves, for love covers a multitude of sins.
1 Corinthians 13:13
But now faith, hope, and love remain—these three. The greatest of these is love.
Verses to Strengthen Marriage
Leviticus 21:13-15
"'He shall take a wife in her virginity.

A widow, or one divorced, or a woman who has been defiled, or a prostitute, these he shall not marry: but a virgin of his own people shall he take as a wife.

He shall not profane his offspring among his people, for I am Yahweh who sanctifies him.'"
Revelation 19:7-9
Let's rejoice and be exceedingly glad, and let's give the glory to him. For the marriage of the Lamb has come, and his wife has made herself ready."

It was given to her that she would array herself in bright, pure, fine linen: for the fine linen is the righteous acts of the saints.

He said to me, "Write, 'Blessed are those who are invited to the marriage supper of the Lamb.'" He said to me, "These are true words of God."
Psalm 85:10
Mercy and truth meet together. Righteousness and peace have kissed each other.
Proverbs 12:4
A worthy woman is the crown of her husband, but a disgraceful wife is as rottenness in his bones.
Malachi 2:16
For I hate divorce", says Yahweh, the God of Israel, "and him who covers his garment with violence!" says Yahweh of Armies. "Therefore take heed to your spirit, that you don't deal treacherously.
Jeremiah 29:6
Take wives and father sons and daughters. Take wives for your sons, and give your daughters to husbands, that they may bear sons and daughters. Multiply there, and don't be diminished.
Matthew 19:2-9
Great multitudes followed him, and he healed them there.

Pharisees came to him, testing him, and saying, "Is it lawful for a man to divorce his wife for any reason?"

He answered, "Haven't you read that he who made them from the beginning made them male and female, and said, 'For this cause a man shall leave his father and mother, and shall be joined to his wife; and the two shall become one flesh?'

So that they are no more two, but one flesh. What therefore God has joined together, don't let man tear apart."

They asked him, "Why then did Moses command us to give her a certificate of divorce, and divorce her?"

He said to them, "Moses, because of the hardness of your hearts, allowed you to divorce your wives, but from the beginning it has not been so.

I tell you that whoever divorces his wife, except for sexual immorality, and marries another, commits adultery; and he who marries her when she is divorced commits adultery."
Deuteronomy 24:5
When a man takes a new wife, he shall not go out in the army, neither shall he be assigned any business. He shall be free at home one year, and shall cheer his wife whom he has taken.
1 Peter 3:7
You husbands, in the same way, live with your wives according to knowledge, giving honor to the woman, as to the weaker vessel, as being also joint heirs of the grace of life; that your prayers may not be hindered.
Ecclesiastes 9:9
Live joyfully with the wife whom you love all the days of your life of vanity, which he has given you under the sun, all your days of vanity: for that is your portion in life, and in your labor in which you labor under the sun.
Romans 7:1-3
Or don't you know, brothers (for I speak to men who know the law), that the law has dominion over a man for as long as he lives?

For the woman that has a husband is bound by law to the husband while he lives, but if the husband dies, she is discharged from the law of the husband.

So then if, while the husband lives, she is joined to another man, she would be called an adulteress. But if the husband dies, she is free from the law, so that she is no adulteress, though she is joined to another man.
Proverbs 30:18-19
"There are three things which are too amazing for me, four which I don't understand:

The way of an eagle in the air; the way of a serpent on a rock; the way of a ship in the middle of the sea; and the way of a man with a maiden.
Song of Solomon: 4:9-10
You have ravished my heart, my sister, my bride.

You have ravished my heart with one of your eyes, with one chain of your neck.

How beautiful is your love, my sister, my bride! How much better is your love than wine, the fragrance of your perfumes than all kinds of spices!
Isaiah 54:5
For your Maker is your husband; Yahweh of Armies is his name. The Holy One of Israel is your Redeemer. He will be called the God of the whole earth.
Ephesians 5:21-25
Subjecting yourselves to one another in the fear of Christ.

Wives, be subject to your own husbands, as to the Lord.

For the husband is the head of the wife, as Christ also is the head of the assembly, being himself the savior of the body.

But as the assembly is subject to Christ, so let the wives also be to their own husbands in everything.

Husbands, love your wives, even as Christ also loved the assembly, and gave himself up for it.
Galatians 5:13
For you, brothers, were called for freedom. Only don't use your freedom for gain to the flesh, but through love be servants to one another.
Proverbs 20:6-7
Many men claim to be men of unfailing love, but who can find a faithful man?

A righteous man walks in integrity. Blessed are his children after him.
Luke 6:31
"As you would like people to do to you, do exactly so to them.
Romans 12:9-10
Let love be without hypocrisy. Abhor that which is evil. Cling to that which is good.

In love of the brothers be tenderly affectionate to one another; in honor preferring one another.
1 John 4:12
No one has seen God at any time. If we love one another, God remains in us, and his love has been perfected in us.
Luke 16:18
Everyone who divorces his wife, and marries another, commits adultery. He who marries one who is divorced from a husband commits adultery.
Romans 5:5
And hope doesn't disappoint us, because God's love has been poured out into our hearts through the Holy Spirit who was given to us.
Proverbs 31:10
Who can find a worthy woman? For her price is far above rubies.
Malachi 2:13-16
This again you do: you cover Yahweh's altar with tears, with weeping, and with sighing, because he doesn't regard the offering any more, neither receives it with good will at your hand.

Yet you say, 'Why?' Because Yahweh has been witness between you and the wife of your youth, against whom you have dealt treacherously, though she is your companion, and the wife of your covenant.

Did he not make you one, although he had the residue of the Spirit? Why one? He sought godly offspring. Therefore take heed to your spirit, and let no one deal treacherously against the wife of his youth.

For I hate divorce", says Yahweh, the God of Israel, "and him who covers his garment with violence!" says Yahweh of Armies. "Therefore take heed to your spirit, that you don't deal treacherously.
1 Timothy 5:14
I desire therefore that the younger widows marry, bear children, rule the household, and give no occasion to the adversary for insulting.
What do you think of these verses on Marriage that appear in the Bible? Remember that God asks you for humility and patience, above all, to love your neighbor above all things. Do you have any other Bible verses on Marriage to contribute to the community? Leave your message in the comments.