We show you the list with Verses on Serving God in the Bible. So that you know how to welcome the word of God in any moment of difficulty and learn how to take his word to everyone who needs it, be inspired with these Verses on Serving God so that we do not let our arms fall down and always praise God.
Being God's servants is pride and, at the same time, responsibility for Christians. That is why it is necessary to know these verses that will help you to please God and show His word to the world.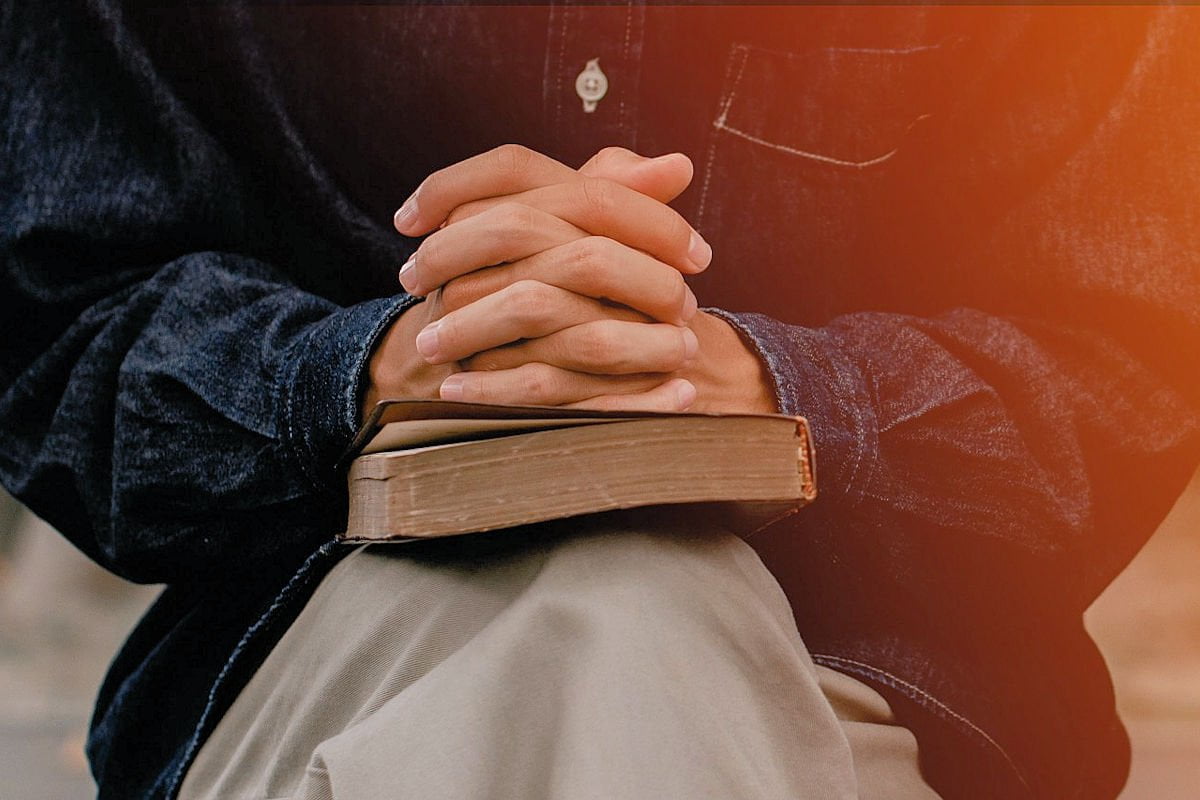 Verses on Serving God. Photo by @Deeangelo. Twenty20.
Verses on Serving God
1 Samuel 12:24
"Only fear Yahweh, and serve him in truth with all your heart; for consider what great things he has done for you."
Colossians 3:23-24
"And whatever you do, work heartily, as for the Lord, and not for men,"

"knowing that from the Lord you will receive the reward of the inheritance; for you serve the Lord Christ."
1 Corinthians 15:58
"Therefore, my beloved brothers, be steadfast, immovable, always abounding in the Lord's work, because you know that your labor is not in vain in the Lord."
Romans 12:1
"Therefore I urge you, brothers, by the mercies of God, to present your bodies a living sacrifice, holy, acceptable to God, which is your spiritual service."
Matthew 6:24
""No one can serve two masters, for either he will hate the one and love the other; or else he will be devoted to one and despise the other. You can't serve both God and Mammon."
Mark 10:45
"For the Son of Man also came not to be served, but to serve, and to give his life as a ransom for many.""
Deuteronomy 13:4
"You shall walk after Yahweh your God, fear him, keep his commandments, and obey his voice, and you shall serve him, and cling to him."
Malachi 3:18
"Then you shall return and discern between the righteous and the wicked, between him who serves God and him who doesn't serve him."
Colossians 3:23
"And whatever you do, work heartily, as for the Lord, and not for men"
Colossians 3:17
"Whatever you do, in word or in deed, do all in the name of the Lord Jesus, giving thanks to God the Father, through him."
2 Corinthians 9:7
"Let each man give according as he has determined in his heart; not grudgingly, or under compulsion; for God loves a cheerful giver."
John 12:26
"If anyone serves me, let him follow me. Where I am, there will my servant also be. If anyone serves me, the Father will honor him."
Acts 20:19
"serving the Lord with all humility, with many tears, and with trials which happened to me by the plots of the Jews"
2 Corinthians 5:13
"For if we are beside ourselves, it is for God. Or if we are of sober mind, it is for you."
Romans 12:7
"or service, let's give ourselves to service; or he who teaches, to his teaching"
Luke 6:38
"Give, and it will be given to you: good measure, pressed down, shaken together, and running over, will be given to you. For with the same measure you measure it will be measured back to you."
Daniel 3:17
"If it happens, our God whom we serve is able to deliver us from the burning fiery furnace; and he will deliver us out of your hand, O king."
Joshua 22:5
Only take diligent heed to do the commandment and the law which Moses the servant of Yahweh commanded you, to love Yahweh your God, to walk in all his ways, to keep his commandments, to hold fast to him, and to serve him with all your heart and with all your soul.
Revelation 7:15
Therefore they are before the throne of God, they serve him day and night in his temple. He who sits on the throne will spread his tabernacle over them.
Galatians 6:9
Let's not be weary in doing good, for we will reap in due season, if we don't give up.
Job 36:11
If they listen and serve him, they shall spend their days in prosperity, and their years in pleasures.
Matthew 25:21
His lord said to him, 'Well done, good and faithful servant. You have been faithful over a few things, I will set you over many things. Enter into the joy of your lord.
James 1:27
Pure religion and undefiled before our God and Father is this: to visit the fatherless and widows in their affliction, and to keep oneself unstained by the world.
1 Peter 4:10-11
As each has received a gift, employ it in serving one another, as good managers of the grace of God in its various forms.

If anyone speaks, let it be as it were the very words of God. If anyone serves, let it be as of the strength which God supplies, that in all things God may be glorified through Jesus Christ, to whom belong the glory and the dominion forever and ever. Amen.
Matthew 20:26
It shall not be so among you, but whoever desires to become great among you shall be your servant.
Verses on Serving and Loving God
Luke 10:40
But Martha was distracted with much serving, and she came up to him, and said, Lord, don't you care that my sister left me to serve alone? Ask her therefore to help me.
Matthew 22:37
Jesus said to him, "'You shall love the Lord your God with all your heart, with all your soul, and with all your mind.
1 John 2:15
Don't love the world or the things that are in the world. If anyone loves the world, the Father's love isn't in him.
Ephesians 4:12
For the perfecting of the saints, to the work of serving, to the building up of the body of Christ.
Romans 1:25
"Who exchanged the truth of God for a lie, and worshiped and served the creature rather than the Creator, who is blessed forever. Amen."
John 16:2
"They will put you out of the synagogues. Yes, the time comes that whoever kills you will think that he offers service to God."
1 Peter 1:12
"To them it was revealed, that not to themselves, but to you, they ministered these things, which now have been announced to you through those who preached the Good News to you by the Holy Spirit sent out from heaven; which things angels desire to look into."
Romans 7:6
"But now we have been discharged from the law, having died to that in which we were held; so that we serve in newness of the spirit, and not in oldness of the letter."
Psalm 102:22
"when the peoples are gathered together, the kingdoms, to serve Yahweh."
Ephesians 6:7
With good will doing service, as to the Lord, and not to men.
Psalm 27:5
"For in the day of trouble, he will keep me secretly in his pavilion. In the secret place of his tabernacle, he will hide me. He will lift me up on a rock."
Proverbs 19:17
"He who has pity on the poor lends to Yahweh; he will reward him."
Luke 4:8
Jesus answered him, "Get behind me Satan! For it is written, 'You shall worship the Lord your God, and you shall serve him only.'
Ephesians 2:10
For we are his workmanship, created in Christ Jesus for good works, which God prepared before that we would walk in them.
Joshua 24:14-15
Now therefore fear Yahweh, and serve him in sincerity and in truth. Put away the gods which your fathers served beyond the River, in Egypt; and serve Yahweh.

If it seems evil to you to serve Yahweh, choose today whom you will serve; whether the gods which your fathers served that were beyond the River, or the gods of the Amorites, in whose land you dwell; but as for me and my house, we will serve Yahweh.
Hebrews 6:10
"For God is not unrighteous, so as to forget your work and the labor of love which you showed toward his name, in that you served the saints, and still do serve them."
Mark 9:35
He sat down, and called the twelve; and he said to them. If any man wants to be first, he shall be last of all, and servant of all.
Romans 6:13
"Also, do not present your members to sin as instruments of unrighteousness, but present yourselves to God, as alive from the dead, and your members as instruments of righteousness to God."
Malachi 3:14
"You have said, 'It is vain to serve God;' and 'What profit is it that we have followed his instructions, and that we have walked mournfully before Yahweh of Armies?"
Psalm 2:11-12
"Serve Yahweh with fear, and rejoice with trembling."

"Give sincere homage to the Son, lest he be angry, and you perish on the way, for his wrath will soon be kindled. Blessed are all those who take refuge in him."
1 John 3:18
"My little children, let's not love in word only, or with the tongue only, but in deed and truth."
Romans 12:9-13
Let love be without hypocrisy. Abhor that which is evil. Cling to that which is good.

In love of the brothers be tenderly affectionate to one another; in honor preferring one another; not lagging in diligence; fervent in spirit; serving the Lord; rejoicing in hope; enduring in troubles; continuing steadfastly in prayer; contributing to the needs of the saints; given to hospitality.
Acts 6:2
"The twelve summoned the multitude of the disciples and said, "It is not appropriate for us to forsake the word of God and serve tables."
Galatians 5:13-14
For you, brothers, were called for freedom. Only don't use your freedom for gain to the flesh, but through love be servants to one another."

For the whole law is fulfilled in one word, in this: "You shall love your neighbor as yourself."
1 Chronicles 28:9
"You, Solomon my son, know the God of your father, and serve him with a perfect heart and with a willing mind; for Yahweh searches all hearts, and understands all the imaginations of the thoughts. If you seek him, he will be found by you; but if you forsake him, he will cast you off forever."
Verses to Share God's Word and Please Him
Matthew 20:28
Even as the Son of Man came not to be served, but to serve, and to give his life as a ransom for many."
1 Timothy 4:12
Let no man despise your youth; but be an example to those who believe, in word, in your way of life, in love, in spirit, in faith, and in purity.
Luke 22:27
For who is greater, one who sits at the table, or one who serves? Isn't it he who sits at the table? But I am among you as one who serves.
2 Timothy 3:16-17
Every Scripture is God-breathed and profitable for teaching, for reproof, for correction, and for instruction in righteousness, that each person who belongs to God may be complete, thoroughly equipped for every good work.
Galatians 1:10
For am I now seeking the favor of men, or of God? Or am I striving to please men? For if I were still pleasing men, I wouldn't be a servant of Christ.
1 Timothy 1:12
I thank him who enabled me, Christ Jesus our Lord, because he counted me faithful, appointing me to service.
Luke 1:75
In holiness and righteousness before him all the days of our life.
Ephesians 6:5
Servants, be obedient to those who according to the flesh are your masters, with fear and trembling, in singleness of your heart, as to Christ.
Deuteronomy 28:47
Because you didn't serve Yahweh your God with joyfulness, and with gladness of heart, by reason of the abundance of all things.
Proverbs 11:25
The liberal soul shall be made fat. He who waters shall be watered also himself.
Matthew 25:40
The King will answer them, 'Most certainly I tell you, because you did it to one of the least of these my brothers, you did it to me.
1 Samuel 12:20
Samuel said to the people, "Don't be afraid. You have indeed done all this evil; yet don't turn away from following Yahweh, but serve Yahweh with all your heart.
1 Peter 2:9
But you are a chosen race, a royal priesthood, a holy nation, a people for God's own possession, that you may proclaim the excellence of him who called you out of darkness into his marvelous light.
Romans 16:18
For those who are such don't serve our Lord, Jesus Christ, but their own belly; and by their smooth and flattering speech, they deceive the hearts of the innocent.
Ephesians 3:7
Of which I was made a servant, according to the gift of that grace of God which was given me according to the working of his power.
Deuteronomy 29:26
And went and served other gods, and worshiped them, gods that they didn't know, and that he had not given to them.
Psalm 119:91
Your laws remain to this day, for all things serve you.
Hebrews 1:14
Aren't they all serving spirits, sent out to do service for the sake of those who will inherit salvation?
1 Corinthians 12:5
There are various kinds of service, and the same Lord.
1 Peter 5:2
Shepherd the flock of God which is among you, exercising the oversight, not under compulsion, but voluntarily, not for dishonest gain, but willingly.
What do you think of these Verses on Serving God that appear in the Bible? Because we know that we must be constant and firm to fight in the face of adversity and always go hand in hand with the word of God. Do you have any other Bible Verses on Serving God that you want to contribute to the community? Leave your message in the comments.