We show you the list with Bible Verses about the Holy Spirit. Understand God's word and act according to what he asks of us. Be inspired by these Bible Verses about the Holy Spirit to purify ourselves before God.
To be holy means to be pure, concise, clean, and of reasonable thought. It is, therefore, essential to know the Bible verses that tell us about the holiness of our Father and how we should seek such righteousness. We must take care of our body and our spirit not to be contaminated by sin.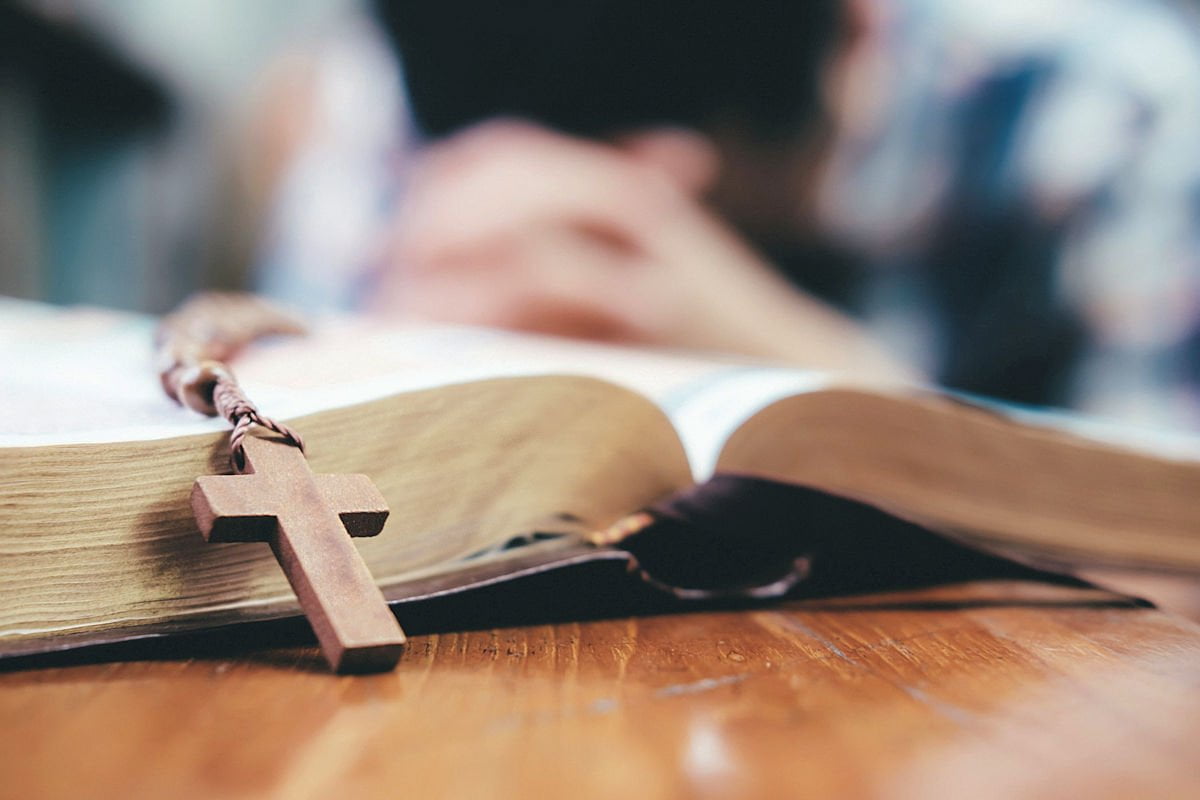 Bible Verses about the Holy Spirit. Photo by @ijeab. Twenty20.
Bible Verses about the Holy Spirit
Hebrews 12:14
Follow after peace with all men, and the sanctification without which no man will see the Lord.
2 Corinthians 7:1
Having therefore these promises, beloved, let's cleanse ourselves from all defilement of flesh and spirit, perfecting holiness in the fear of God.
1 Peter 2:9
But you are a chosen race, a royal priesthood, a holy nation, a people for God's own possession, that you may proclaim the excellence of him who called you out of darkness into his marvelous light.
1 Peter 1:15-16
But just as he who called you is holy, you yourselves also be holy in all of your behavior; because it is written, "You shall be holy; for I am holy."
1 Samuel 2:2
There is no one as holy as Yahweh, For there is no one besides you, nor is there any rock like our God.
1 Thessalonians 4:7
For God called us not for uncleanness, but in sanctification.
Romans 12:1
Therefore I urge you, brothers, by the mercies of God, to present your bodies a living sacrifice, holy, acceptable to God, which is your spiritual service.
Leviticus 19:2
"Speak to all the congregation of the children of Israel, and tell them, 'You shall be holy; for I, Yahweh your God, am holy.
Isaiah 35:8
A highway will be there, a road, and it will be called The Holy Way. The unclean shall not pass over it, but it will be for those who walk in the Way. Wicked fools will not go there.
Romans 6:22
But now, being made free from sin, and having become servants of God, you have your fruit of sanctification, and the result of eternal life.
Isaiah 57:15
For thus says the high and lofty One who inhabits eternity, whose name is Holy: "I dwell in the high and holy place, with him also who is of a contrite and humble spirit, to revive the spirit of the humble, and to revive the heart of the contrite.
Romans 7:12
Therefore the law indeed is holy, and the commandment holy, and righteous, and good.
Psalm 47:8
God reigns over the nations. God sits on his holy throne.
Revelation 4:8
The four living creatures, each one of them having six wings, are full of eyes around and within. They have no rest day and night, saying, "Holy, holy, holy is the Lord God, the Almighty, who was and who is and who is to come!"
Matthew 5:48
Therefore you shall be perfect, just as your Father in heaven is perfect.
1 Corinthians 1:2
To the assembly of God which is at Corinth; those who are sanctified in Christ Jesus, called saints, with all who call on the name of our Lord Jesus Christ in every place, both theirs and ours.
Psalm 20:6
Now I know that Yahweh saves his anointed. He will answer him from his holy heaven, with the saving strength of his right hand.
Genesis 17:1
When Abram was ninety-nine years old, Yahweh appeared to Abram and said to him, "I am God Almighty. Walk before me, and be blameless.
James 1:21
Therefore, putting away all filthiness and overflowing of wickedness, receive with humility the implanted word, which is able to save your souls.
Ephesians 1:4
Even as he chose us in him before the foundation of the world, that we would be holy and without defect before him in love.
Verses to strengthen our spirit
Isaiah 6:3
One called to another, and said, "Holy, holy, holy, is Yahweh of Armies! The whole earth is full of his glory!"
Philippians 4:8
Finally, brothers, whatever things are true, whatever things are honorable, whatever things are just, whatever things are pure, whatever things are lovely, whatever things are of good report; if there is any virtue, and if there is any praise, think about these things.
1 Corinthians 6:20
For you were bought with a price. Therefore glorify God in your body and in your spirit, which are God's.
Jeremiah 2:3
Israel was holiness to Yahweh, the first fruits of his increase. All who devour him will be held guilty. Evil will come on them,"' says Yahweh."
Ephesians 5:3
But sexual immorality, and all uncleanness, or covetousness, let it not even be mentioned among you, as becomes saints;
1 Chronicles 16:29
Ascribe to Yahweh the glory due to his name. Bring an offering, and come before him. Worship Yahweh in holy array.
Hebrews 7:26
For such a high priest was fitting for us: holy, guiltless, undefiled, separated from sinners, and made higher than the heavens.
Philippians 2:14-16
Do all things without complaining and arguing, that you may become blameless and harmless, children of God without defect in the middle of a crooked and perverse generation, among whom you are seen as lights in the world, holding up the word of life; that I may have something to boast in the day of Christ, that I didn't run in vain nor labor in vain.
Luke 1:75
In holiness and righteousness before him all the days of our life.
1 Thessalonians 3:13
To the end he may establish your hearts blameless in holiness before our God and Father, at the coming of our Lord Jesus with all his saints.
Colossians 1:22
Yet now he has reconciled in the body of his flesh through death, to present you holy and without defect and blameless before him.
Psalm 68:4-5
Sing to God! Sing praises to his name! Extol him who rides on the clouds: to Yah, his name! Rejoice before him!

A father of the fatherless, and a defender of the widows, is God in his holy habitation.
Luke 8:16
"No one, when he has lit a lamp, covers it with a container, or puts it under a bed; but puts it on a stand, that those who enter in may see the light.
1 Corinthians 1:30
Because of him, you are in Christ Jesus, who was made to us wisdom from God, and righteousness and sanctification, and redemption.
Ezekiel 36:23
I will sanctify my great name, which has been profaned among the nations, which you have profaned among them. Then the nations will know that I am Yahweh," says the Lord Yahweh, "when I am proven holy in you before their eyes.
Psalm 96:9
Worship Yahweh in holy array. Tremble before him, all the earth.
1 John 5:4
For whatever is born of God overcomes the world. This is the victory that has overcome the world: your faith.
Proverbs 16:17
The highway of the upright is to depart from evil. He who keeps his way preserves his soul.
Romans 6:19
I speak in human terms because of the weakness of your flesh, for as you presented your members as servants to uncleanness and to wickedness upon wickedness, even so now present your members as servants to righteousness for sanctification.
1 Thessalonians 4:4
That each one of you know how to control his own body in sanctification and honor.
Psalm 32:7
You are my hiding place. You will preserve me from trouble. You will surround me with songs of deliverance. Selah.
Verses on Holiness and Purity
1 John 3:2-3
Beloved, now we are children of God, and it is not yet revealed what we will be. But we know that when he is revealed, we will be like him; for we will see him just as he is.

Everyone who has this hope set on him purifies himself, even as he is pure.
Psalm 139:23-24
Search me, God, and know my heart. Try me, and know my thoughts.

See if there is any wicked way in me, and lead me in the everlasting way.
Exodus 39:30
They made the plate of the holy crown of pure gold, and wrote on it a writing, like the engravings of a signet: "HOLY TO YAHWEH".
James 1:27
Pure religion and undefiled before our God and Father is this: to visit the fatherless and widows in their affliction, and to keep oneself unstained by the world.
Leviticus 20:7
"'Sanctify yourselves therefore, and be holy; for I am Yahweh your God.
Exodus 28:36
"You shall make a plate of pure gold, and engrave on it, like the engravings of a signet, 'HOLY TO YAHWEH.'
2 Timothy 1:9
Who saved us and called us with a holy calling, not according to our works, but according to his own purpose and grace, which was given to us in Christ Jesus before times eternal,
Ephesians 4:20-24
But you didn't learn Christ that way; if indeed you heard him, and were taught in him, even as truth is in Jesus: that you put away, as concerning your former way of life, the old man, that grows corrupt after the lusts of deceit; and that you be renewed in the spirit of your mind, and put on the new man, who in the likeness of God has been created in righteousness and holiness of truth.
1 Thessalonians 4:3
For this is the will of God: your sanctification, that you abstain from sexual immorality.
Exodus 15:11
Who is like you, Yahweh, among the gods? Who is like you, glorious in holiness, fearful in praises, doing wonders?
3 John 1:11
Beloved, don't imitate that which is evil, but that which is good. He who does good is of God. He who does evil hasn't seen God.
1 John 2:1
My little children, I write these things to you so that you may not sin. If anyone sins, we have a Counselor with the Father, Jesus Christ, the righteous.
Isaiah 52:11
Depart, depart, go out from there; touch no unclean thing! Go out from among her! Cleanse yourselves, you who carry Yahweh's vessels.
Zechariah 14:20
In that day there will be on the bells of the horses, "HOLY TO YAHWEH"; and the pots in Yahweh's house will be like the bowls before the altar.
Psalm 98:1
A Psalm. Sing to Yahweh a new song, for he has done marvelous things! His right hand, and his holy arm, have worked salvation for him.
2 Chronicles 20:21
When he had taken counsel with the people, he appointed those who were to sing to Yahweh, and give praise in holy array, as they go out before the army, and say, "Give thanks to Yahweh; for his loving kindness endures forever."
Leviticus 11:44-47
For I am Yahweh your God. Sanctify yourselves therefore, and be holy; for I am holy. You shall not defile yourselves with any kind of creeping thing that moves on the earth.

For I am Yahweh who brought you up out of the land of Egypt, to be your God. You shall therefore be holy, for I am holy.

"'This is the law of the animal, and of the bird, and of every living creature that moves in the waters, and of every creature that creeps on the earth, to make a distinction between the unclean and the clean, and between the living thing that may be eaten and the living thing that may not be eaten.'"
Romans 16:17
Now I beg you, brothers, look out for those who are causing the divisions and occasions of stumbling, contrary to the doctrine which you learned, and turn away from them.
Revelation 15:4
Who wouldn't fear you, Lord, and glorify your name? For you only are holy. For all the nations will come and worship before you. For your righteous acts have been revealed."
John 17:17
Sanctify them in your truth. Your word is truth.
1 Thessalonians 5:23
May the God of peace himself sanctify you completely. May your whole spirit, soul, and body be preserved blameless at the coming of our Lord Jesus Christ.
What do you think of these Bible Verses about the Holy Spirit? Every decision we make, we must internalize and analyze if it is what seems right to God. Do you have other Bible Verses about the Holy Spirit to contribute to the community? Leave your message in the comments.