We show you the list with Bible Verses about Giving. To understand that as Christians, we should share and be kind, which will make us prosper. Be inspired by these Bible Verses about Giving to understand the accurate word of God.
We know that generosity goes beyond giving money or goods to a third party. Being generous should be born from the deepest part of our hearts; giving a hug, giving advice, being present in unique moments, helping the needy with food and shelter, and sharing our goods will always speak well of our work as Christians. Therefore, we show you these Bible Verses about Giving that will help you understand the task that each of us has in this earthly world and the right way to earn eternal life.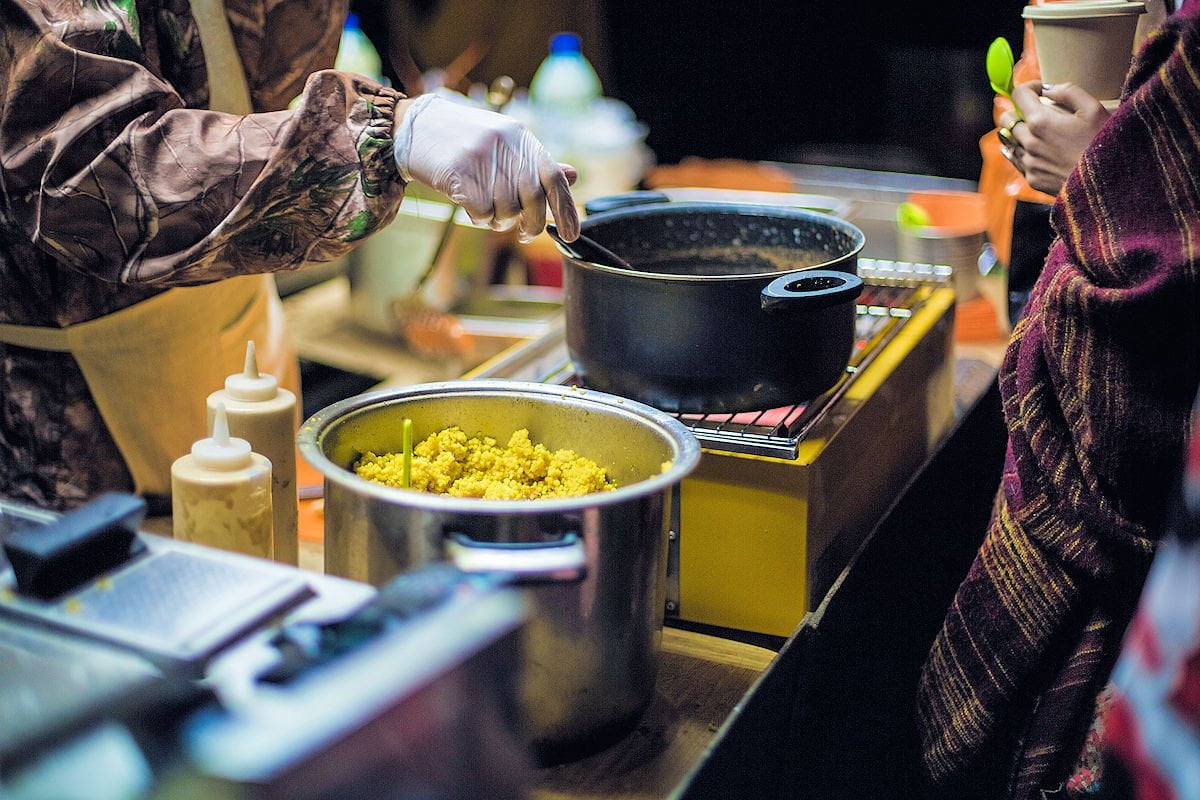 Bible Verses about Giving. Photo by @chibelek. Twenty20.
Bible Verses about Giving
Acts 20:35
In all things I gave you an example, that so laboring you ought to help the weak, and to remember the words of the Lord Jesus, that he himself said, 'It is more blessed to give than to receive.'"
Luke 6:38
"Give, and it will be given to you: good measure, pressed down, shaken together, and running over, will be given to you. For with the same measure you measure it will be measured back to you."
Proverbs 11:24-25
There is one who scatters, and increases yet more. There is one who withholds more than is appropriate, but gains poverty.

The liberal soul shall be made fat. He who waters shall be watered also himself.
Proverbs 19:17
He who has pity on the poor lends to Yahweh; he will reward him.
Luke 21:1-4
He looked up, and saw the rich people who were putting their gifts into the treasury.,2He saw a certain poor widow casting in two small brass coins.

He said, "Truly I tell you, this poor widow put in more than all of them, for all these put in gifts for God from their abundance, but she, out of her poverty, put in all that she had to live on."
Matthew 6:21
For where your treasure is, there your heart will be also.
1 Timothy 6:17-19
Charge those who are rich in this present world that they not be arrogant, nor have their hope set on the uncertainty of riches, but on the living God, who richly provides us with everything to enjoy; that they do good, that they be rich in good works, that they be ready to distribute, willing to share; laying up in store for themselves a good foundation against the time to come, that they may lay hold of eternal life.
2 Corinthians 9:6
Remember this: he who sows sparingly will also reap sparingly. He who sows bountifully will also reap bountifully.
Matthew 10:42
Whoever gives one of these little ones just a cup of cold water to drink in the name of a disciple, most certainly I tell you he will in no way lose his reward."
2 Corinthians 9:7
Let each man give according as he has determined in his heart; not grudgingly, or under compulsion; for God loves a cheerful giver.
Psalm 41:1-3
For the Chief Musician. A Psalm by David. Blessed is he who considers the poor. Yahweh will deliver him in the day of evil.

Yahweh will preserve him, and keep him alive. He shall be blessed on the earth, and he will not surrender him to the will of his enemies.

Yahweh will sustain him on his sickbed, and restore him from his bed of illness.
Mark 12:41-44
Jesus sat down opposite the treasury, and saw how the multitude cast money into the treasury. Many who were rich cast in much.

A poor widow came, and she cast in two small brass coins, which equal a quadrans coin.

He called his disciples to himself, and said to them, "Most certainly I tell you, this poor widow gave more than all those who are giving into the treasury, for they all gave out of their abundance, but she, out of her poverty, gave all that she had to live on."
Luke 6:30
Give to everyone who asks you, and don't ask him who takes away your goods to give them back again.
Hebrews 13:16
But don't forget to be doing good and sharing, for with such sacrifices God is well pleased.
Proverbs 28:27
One who gives to the poor has no lack; but one who closes his eyes will have many curses.
James 2:15-16
And if a brother or sister is naked and in lack of daily food, and one of you tells them, "Go in peace, be warmed and filled;" and yet you didn't give them the things the body needs, what good is it?
Luke 11:13
If you then, being evil, know how to give good gifts to your children, how much more will your heavenly Father give the Holy Spirit to those who ask him?"
Matthew 6:1-4
"Be careful that you don't do your charitable giving before men, to be seen by them, or else you have no reward from your Father who is in heaven.

Therefore when you do merciful deeds, don't sound a trumpet before yourself, as the hypocrites do in the synagogues and in the streets, that they may get glory from men. Most certainly I tell you, they have received their reward.

But when you do merciful deeds, don't let your left hand know what your right hand does, so that your merciful deeds may be in secret, then your Father who sees in secret will reward you openly.
Isaiah 32:8
But the noble devises noble things; and he will continue in noble things.
Proverbs 21:13
Whoever stops his ears at the cry of the poor, he will also cry out, but shall not be heard.
Verses to be Generous and Kind
Deuteronomy 8:18
But you shall remember Yahweh your God, for it is he who gives you power to get wealth; that he may establish his covenant which he swore to your fathers, as it is today.
Psalm 37:26
All day long he deals graciously, and lends. His offspring is blessed.
Acts 2:45
They sold their possessions and goods, and distributed them to all, according as anyone had need.
1 Peter 3:3-4
Let your beauty be not just the outward adorning of braiding the hair, and of wearing jewels of gold, or of putting on fine clothing; but in the hidden person of the heart, in the incorruptible adornment of a gentle and quiet spirit, which is in the sight of God very precious.
Malachi 3:10
Bring the whole tithe into the storehouse, that there may be food in my house, and test me now in this," says Yahweh of Armies, "if I will not open you the windows of heaven, and pour you out a blessing, that there will not be room enough for.
Philippians 4:6
In nothing be anxious, but in everything, by prayer and petition with thanksgiving, let your requests be made known to God.
Matthew 25:21
"His lord said to him, 'Well done, good and faithful servant. You have been faithful over a few things, I will set you over many things. Enter into the joy of your lord.'
James 1:5
But if any of you lacks wisdom, let him ask of God, who gives to all liberally and without reproach; and it will be given to him.
Malachi 3:10-12
Bring the whole tithe into the storehouse, that there may be food in my house, and test me now in this," says Yahweh of Armies, "if I will not open you the windows of heaven, and pour you out a blessing, that there will not be room enough for.

I will rebuke the devourer for your sakes, and he shall not destroy the fruits of your ground; neither shall your vine cast its fruit before its time in the field," says Yahweh of Armies.

"All nations shall call you blessed, for you will be a delightful land," says Yahweh of Armies.
1 John 3:16-18
By this we know love, because he laid down his life for us. And we ought to lay down our lives for the brothers.

But whoever has the world's goods, and sees his brother in need, and closes his heart of compassion against him, how does God's love remain in him?

My little children, let's not love in word only, or with the tongue only, but in deed and truth.
Matthew 10:8
Heal the sick, cleanse the lepers, and cast out demons. Freely you received, so freely give.
Luke 10:20
Nevertheless, don't rejoice in this, that the spirits are subject to you, but rejoice that your names are written in heaven."
Galatians 6:2
Bear one another's burdens, and so fulfill the law of Christ.
2 Corinthians 9:8
And God is able to make all grace abound to you, that you, always having all sufficiency in everything, may abound to every good work.
Matthew 6:33
But seek first God's Kingdom, and his righteousness; and all these things will be given to you as well.
Psalm 119:36
Turn my heart toward your statutes, not toward selfish gain.
Matthew 25:40
"The King will answer them, 'Most certainly I tell you, because you did it to one of the least of these my brothers, you did it to me.'
Verses on Kindness and Generosity
2 Corinthians 8:7
But as you abound in everything, in faith, utterance, knowledge, all earnestness, and in your love to us, see that you also abound in this grace.
James 1:27
Pure religion and undefiled before our God and Father is this: to visit the fatherless and widows in their affliction, and to keep oneself unstained by the world.
Proverbs 22:9
He who has a generous eye will be blessed; for he shares his food with the poor.
Acts 4:32-35
The multitude of those who believed were of one heart and soul. Not one of them claimed that anything of the things which he possessed was his own, but they had all things in common.

With great power, the apostles gave their testimony of the resurrection of the Lord Jesus. Great grace was on them all.

For neither was there among them any who lacked, for as many as were owners of lands or houses sold them, and brought the proceeds of the things that were sold, and laid them at the apostles' feet, and distribution was made to each, according as anyone had need.
2 Corinthians 8:1-5
Moreover, brothers, we make known to you the grace of God which has been given in the assemblies of Macedonia; how that in much proof of affliction the abundance of their joy and their deep poverty abounded to the riches of their generosity.

For according to their power, I testify, yes and beyond their power, they gave of their own accord, begging us with much entreaty to receive this grace and the fellowship in the service to the saints.

This was not as we had expected, but first they gave their own selves to the Lord, and to us through the will of God.
Leviticus 25:35-37
"'If your brother has become poor, and his hand can't support himself among you; then you shall uphold him. He shall live with you like an alien and a temporary resident.

Take no interest from him or profit, but fear your God; that your brother may live among you.

You shall not lend him your money at interest, nor give him your food for profit.
John 3:16
For God so loved the world, that he gave his one and only Son, that whoever believes in him should not perish, but have eternal life.
Deuteronomy 15:10
You shall surely give, and your heart shall not be grieved when you give to him; because that for this thing Yahweh your God will bless you in all your work, and in all that you put your hand to.
Hebrews 13:2
Don't forget to show hospitality to strangers, for in doing so, some have entertained angels without knowing it.
2 Corinthians 8:12-15
For if the readiness is there, it is acceptable according to what you have, not according to what you don't have.

For this is not that others may be eased and you distressed, but for equality. Your abundance at this present time supplies their lack, that their abundance also may become a supply for your lack; that there may be equality.

As it is written, "He who gathered much had nothing left over, and he who gathered little had no lack."
Luke 12:33
Sell that which you have, and give gifts to the needy. Make for yourselves purses which don't grow old, a treasure in the heavens that doesn't fail, where no thief approaches, neither moth destroys.
Luke 3:10-11
The multitudes asked him, "What then must we do?"

He answered them, "He who has two coats, let him give to him who has none. He who has food, let him do likewise."
2 Corinthians 8:9
For you know the grace of our Lord Jesus Christ, that, though he was rich, yet for your sakes he became poor, that you through his poverty might become rich.
Leviticus 19:9-10
"'When you reap the harvest of your land, you shall not wholly reap the corners of your field, neither shall you gather the gleanings of your harvest.

You shall not glean your vineyard, neither shall you gather the fallen grapes of your vineyard. You shall leave them for the poor and for the foreigner. I am Yahweh your God.
Psalm 112:5
It is well with the man who deals graciously and lends. He will maintain his cause in judgment.
Luke 19:8
Zacchaeus stood and said to the Lord, "Behold, Lord, half of my goods I give to the poor. If I have wrongfully exacted anything of anyone, I restore four times as much."
2 Corinthians 9:10-15
Now may he who supplies seed to the sower and bread for food, supply and multiply your seed for sowing, and increase the fruits of your righteousness; you being enriched in everything to all generosity, which produces through us thanksgiving to God.

For this service of giving that you perform not only makes up for lack among the saints, but abounds also through much giving of thanks to God; seeing that through the proof given by this service, they glorify God for the obedience of your confession to the Good News of Christ, and for the generosity of your contribution to them and to all; while they themselves also, with supplication on your behalf, yearn for you by reason of the exceeding grace of God in you.

Now thanks be to God for his unspeakable gift!
What did you think of these Bible Verses about Giving that appear in the Bible? They will help you have a broader understanding of how to be generous and share God's blessings with your neighbor. Do you have other Bible Verses about Giving to contribute to the community? Leave your message in the comments.