We show you the list of Verses of Fear in the Bible. To ask God for His protective shield against any adversity; so that He will keep fear and distrust away from our lives. Be inspired by these Verses about Fear so that God's love is the only important thing in the relationship.
We cannot escape the fact that fear is a result of human existence. Our lives are often in danger, our marriages are under stress, and our children face social pressures that we could not have foreseen when they were younger. The world, let's face it, is a dangerous place. According to the experts, these stresses have given rise to an era of unprecedented concern.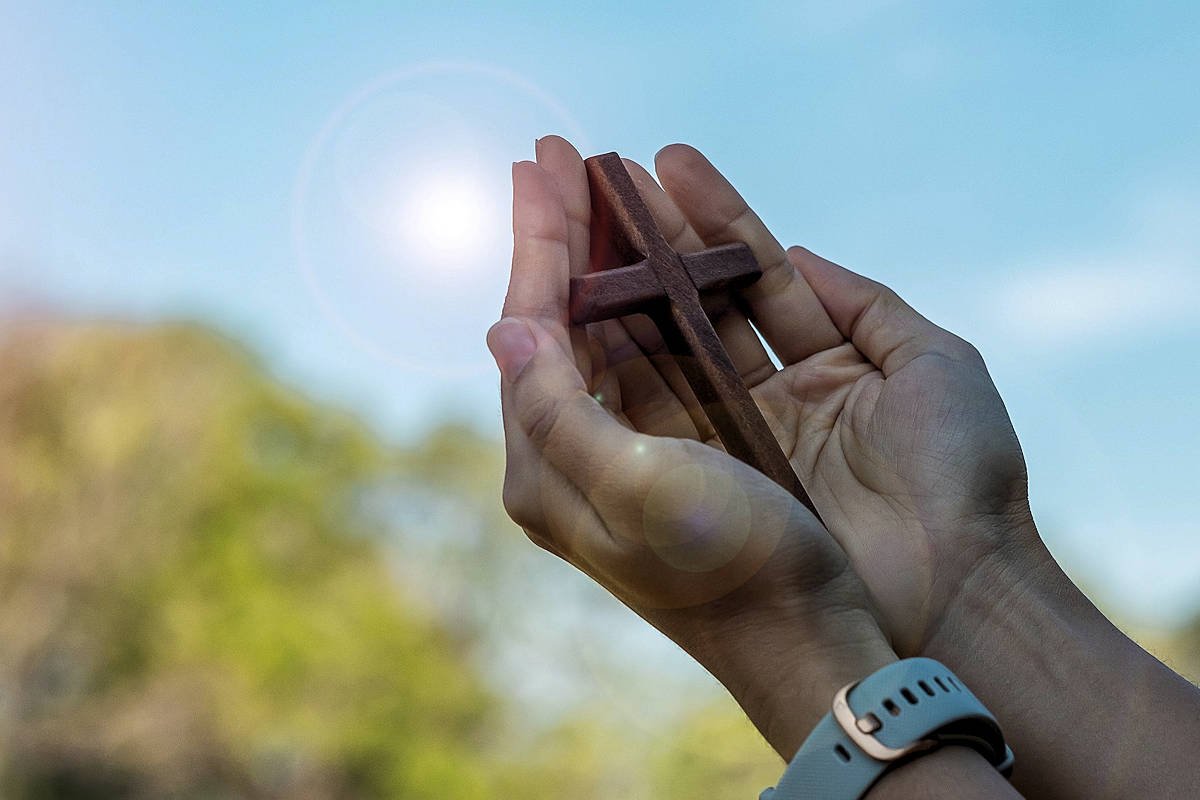 Verses about Fear in the Bible. Photo by @jopanuwatd. Twenty20
Undoubtedly, the Bible remains a source of comfort for believers in difficult times when we are overcome with fear and feel the walls closing in on us.
The characters in the Bible also had to face their fears. The Israelites traveled through the scorching desert for 40 years, facing violent enemies on all sides and often surviving on very little food. During Jesus' life, Jesus' disciples were afraid of persecution. They were sometimes victims of it, but their religion often sustained them and enabled them to cope with the often violent opposition to their new beliefs. To help you overcome your own fear, read and analyze each of these verses on fear, and rejoice in your faith in God.
Verses about Fear in the Bible
Isaiah 41:10
Don't you be afraid, for I am with you. Don't be dismayed, for I am your God. I will strengthen you. Yes, I will help you. Yes, I will uphold you with the right hand of my righteousness.
Philippians 4:6-7
In nothing be anxious, but in everything, by prayer and petition with thanksgiving, let your requests be made known to God.

And the peace of God, which surpasses all understanding, will guard your hearts and your thoughts in Christ Jesus.
Psalm 56:3-4
When I am afraid, I will put my trust in you.

In God, I praise his word. In God, I put my trust. I will not be afraid. What can flesh do to me?
Matthew 6:34
Therefore don't be anxious for tomorrow, for tomorrow will be anxious for itself. Each day's own evil is sufficient.
1 Peter 5:6-7
Humble yourselves therefore under the mighty hand of God, that he may exalt you in due time; casting all your worries on him, because he cares for you.
Joshua 1:9
Haven't I commanded you? Be strong and courageous. Don't be afraid. Don't be dismayed, for Yahweh your God is with you wherever you go."
Psalm 34:4-5
I sought Yahweh, and he answered me, and delivered me from all my fears.

They looked to him, and were radiant. Their faces shall never be covered with shame.
2 Timothy 1:7
For God didn't give us a spirit of fear, but of power, love, and self-control.
Deuteronomy 31:6
Be strong and courageous. Don't be afraid or scared of them; for Yahweh your God himself is who goes with you. He will not fail you nor forsake you."
Isaiah 35:4
Tell those who have a fearful heart, "Be strong. Don't be afraid. Behold, your God will come with vengeance, God's retribution. He will come and save you.
Psalm 115:11
You who fear Yahweh, trust in Yahweh! He is their help and their shield.
Psalm 23:4
Even though I walk through the valley of the shadow of death, I will fear no evil, for you are with me. Your rod and your staff, they comfort me.
1 Chronicles 28:20
David said to Solomon his son, "Be strong and courageous, and do it. Don't be afraid, nor be dismayed; for Yahweh God, even my God, is with you. He will not fail you, nor forsake you, until all the work for the service of Yahweh's house is finished.
Psalm 46:1-3
For the Chief Musician. By the sons of Korah. According to Alamoth. God is our refuge and strength, a very present help in trouble.

Therefore we won't be afraid, though the earth changes, though the mountains are shaken into the heart of the seas; though its waters roar and are troubled, though the mountains tremble with their swelling. Selah.
Romans 8:38-39
For I am persuaded that neither death, nor life, nor angels, nor principalities, nor things present, nor things to come, nor powers, nor height, nor depth, nor any other created thing, will be able to separate us from God's love, which is in Christ Jesus our Lord.
1 Corinthians 16:13
Watch! Stand firm in the faith! Be courageous! Be strong!
Proverbs 29:25
The fear of man proves to be a snare, but whoever puts his trust in Yahweh is kept safe.
Mark 5:36
But Jesus, when he heard the message spoken, immediately said to the ruler of the synagogue, "Don't be afraid, only believe."
Deuteronomy 31:8
Yahweh himself is who goes before you. He will be with you. He will not fail you nor forsake you. Don't be afraid. Don't be discouraged."
1 Peter 3:13-14
Now who is he who will harm you, if you become imitators of that which is good?

But even if you should suffer for righteousness' sake, you are blessed. "Don't fear what they fear, neither be troubled."
Verses on the Fear of God
Psalm 27:3
Though an army should encamp against me, my heart shall not fear. Though war should rise against me, even then I will be confident.
John 14:27
Peace I leave with you. My peace I give to you; not as the world gives, give I to you. Don't let your heart be troubled, neither let it be fearful.
Psalm 27:1
By David. Yahweh is my light and my salvation. Whom shall I fear? Yahweh is the strength of my life. Of whom shall I be afraid?
Isaiah 54:4
"Don't be afraid; for you will not be ashamed. Don't be confounded; for you will not be disappointed. For you will forget the shame of your youth; and the reproach of your widowhood you shall remember no more.
Romans 8:28
We know that all things work together for good for those who love God, to those who are called according to his purpose.
Proverbs 12:25
Anxiety in a man's heart weighs it down, but a kind word makes it glad.
Psalm 112:1
Praise Yah!Blessed is the man who fears Yahweh, who delights greatly in his commandments.
Matthew 10:26
Therefore don't be afraid of them, for there is nothing covered that will not be revealed; and hidden that will not be known.
Hebrews 13:5-6
Be free from the love of money, content with such things as you have, for he has said, "I will in no way leave you, neither will I in any way forsake you."

So that with good courage we say, "The Lord is my helper. I will not fear. What can man do to me?"
Zephaniah 3:17
Yahweh, your God, is among you, a mighty one who will save. He will rejoice over you with joy. He will calm you in his love. He will rejoice over you with singing.
Luke 14:27
Whoever doesn't bear his own cross, and come after me, can't be my disciple.
Psalm 94:19
In the multitude of my thoughts within me, your comforts delight my soul.
Isaiah 43:1
But now Yahweh who created you, Jacob, and he who formed you, Israel says: "Don't be afraid, for I have redeemed you. I have called you by your name. You are mine.
Psalm 103:17
But Yahweh's loving kindness is from everlasting to everlasting with those who fear him, his righteousness to children's children.
Joshua 8:1
Yahweh said to Joshua, "Don't be afraid, and don't be dismayed. Take all the warriors with you, and arise, go up to Ai. Behold, I have given into your hand the king of Ai, with his people, his city, and his land.
Matthew 10:31
Therefore don't be afraid. You are of more value than many sparrows.
Luke 12:22-26
He said to his disciples, "Therefore I tell you, don't be anxious for your life, what you will eat, nor yet for your body, what you will wear.

Life is more than food, and the body is more than clothing.

Consider the ravens: they don't sow, they don't reap, they have no warehouse or barn, and God feeds them. How much more valuable are you than birds!

Which of you by being anxious can add a cubit to his height?

If then you aren't able to do even the least things, why are you anxious about the rest?
Mark 4:39-40
He awoke, and rebuked the wind, and said to the sea, "Peace! Be still!" The wind ceased, and there was a great calm.

He said to them, "Why are you so afraid? How is it that you have no faith?"
Luke 2:10
The angel said to them, "Don't be afraid, for behold, I bring you good news of great joy which will be to all the people.
Verses for facing Fear
Romans 8:15
For you didn't receive the spirit of bondage again to fear, but you received the Spirit of adoption, by whom we cry, "Abba! Father!"
Mark 6:50
For they all saw him, and were troubled. But he immediately spoke with them, and said to them, "Cheer up! It is I! Don't be afraid."
1 John 4:18
There is no fear in love; but perfect love casts out fear, because fear has punishment. He who fears is not made perfect in love.
Matthew 10:28
Don't be afraid of those who kill the body, but are not able to kill the soul. Rather, fear him who is able to destroy both soul and body in Gehenna.
Genesis 50:21
Now therefore don't be afraid. I will provide for you and your little ones." He comforted them, and spoke kindly to them.
Deuteronomy 3:22
You shall not fear them; for Yahweh your God himself fights for you."
Proverbs 3:5-6
Trust in Yahweh with all your heart, and don't lean on your own understanding.

In all your ways acknowledge him, and he will make your paths straight.
Psalm 118:6-7
Yahweh is on my side. I will not be afraid. What can man do to me?

Yahweh is on my side among those who help me. Therefore I will look in triumph at those who hate me.
Psalm 34:7
Yahweh's angel encamps around those who fear him, and delivers them.
Lamentations 3:57
You came near in the day that I called on you. You said, "Don't be afraid."
Revelation 1:17
When I saw him, I fell at his feet like a dead man. He laid his right hand on me, saying, "Don't be afraid. I am the first and the last,
Jeremiah 46:27
"But don't you be afraid, Jacob my servant. Don't be dismayed, Israel; for, behold, I will save you from afar, and your offspring from the land of their captivity. Jacob will return, and will be quiet and at ease. No one will make him afraid.
Philippians 2:12
So then, my beloved, even as you have always obeyed, not only in my presence, but now much more in my absence, work out your own salvation with fear and trembling.
Joel 2:21
Land, don't be afraid. Be glad and rejoice, for Yahweh has done great things.
Jeremiah 29:11
For I know the thoughts that I think toward you," says Yahweh, "thoughts of peace, and not of evil, to give you hope and a future.
Isaiah 41:13-14
For I, Yahweh your God, will hold your right hand, saying to you, 'Don't be afraid. I will help you.'

Don't be afraid, you worm Jacob, and you men of Israel. I will help you," says Yahweh, "and your Redeemer is the Holy One of Israel.
Psalm 91:4-5
He will cover you with his feathers. Under his wings you will take refuge. His faithfulness is your shield and rampart.

You shall not be afraid of the terror by night, nor of the arrow that flies by day.
Psalm 55:22
Cast your burden on Yahweh, and he will sustain you. He will never allow the righteous to be moved.
Jeremiah 42:11
Don't be afraid of the king of Babylon, of whom you are afraid. Don't be afraid of him,' says Yahweh: 'for I am with you to save you, and to deliver you from his hand.
What did you think of these Verses about Fear in the Bible? Remember that God asks you for strength and, above all, to be patient. He knows what is best for each of His children, and His timing is perfect. Do you have any other Verses about Fear in the Bible to contribute to the community? Leave your message in the comments.