We show you the list with Verses about Offering in the Bible. God's word tells us to love our neighbor as ourselves and always be thankful. Find your spirit and magnify God's name through giving. Be inspired by these messages of God's Offering.
When we go to mass and praise God's word, we give ourselves to his mercy. The offering is a form of thanksgiving and total trust that God will always be there to provide us with his protective hand. The mass, the Creed, singing the hymns of praise and prayer is a form of offering.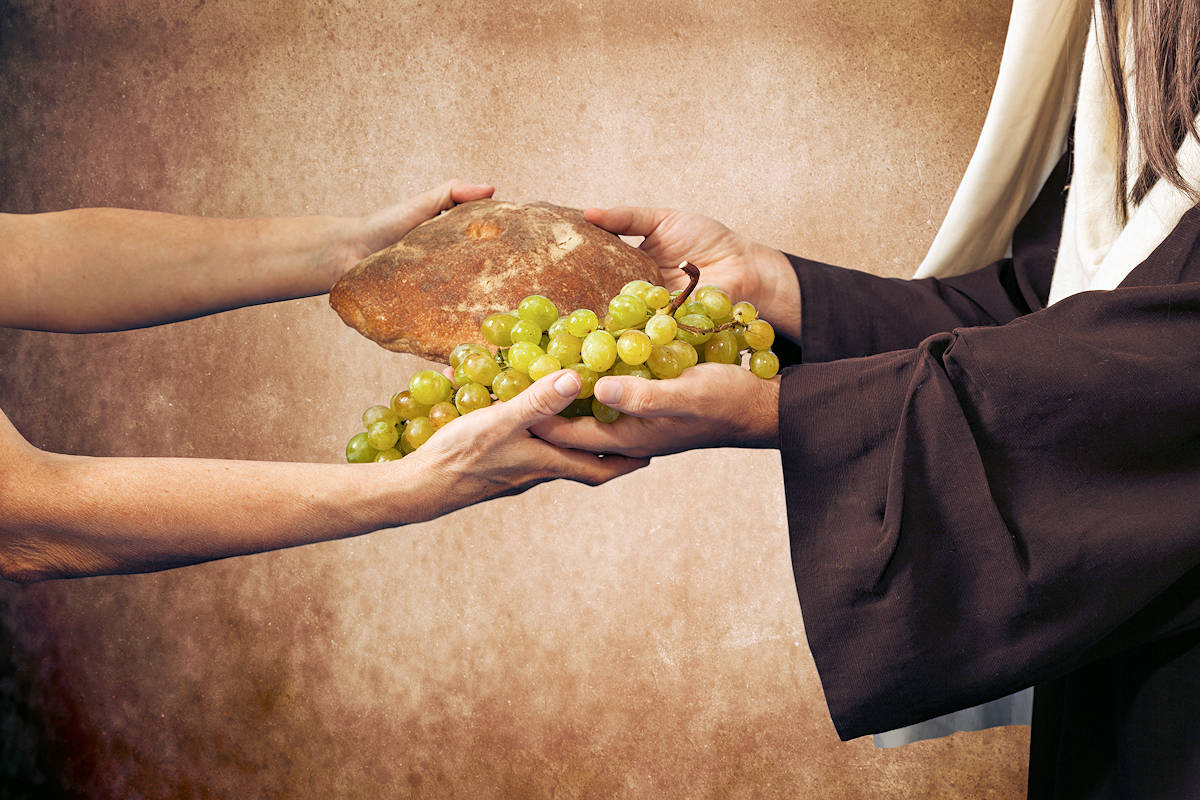 Verses about Offering in the Bible. Photo by AntonioGravante. Envato.
Let us remember that tithing is not the same as an offering. The difference is that the offering is a voluntary donation to the church and all that it beneficially helps. It is about giving to those who need it most. That is why it is necessary to understand the scriptures and that we offer God's help to our neighbor, waiting for his understanding and love. The following verses will help us to understand the importance of offering in the eyes of God.
Verses about Offering in the Bible
Acts 20:35
In all things I gave you an example, that so laboring you ought to help the weak, and to remember the words of the Lord Jesus, that he himself said, 'It is more blessed to give than to receive.'
Psalm 4:5
Offer the sacrifices of righteousness. Put your trust in Yahweh.
Proverbs 3:9-10
Honor Yahweh with your substance, with the first fruits of all your increase: so your barns will be filled with plenty, and your vats will overflow with new wine.
Matthew 6:31-33
"Therefore don't be anxious, saying, 'What will we eat?', 'What will we drink?' or, 'With what will we be clothed?'

For the Gentiles seek after all these things; for your heavenly Father knows that you need all these things.

But seek first God's Kingdom, and his righteousness; and all these things will be given to you as well.
Mark 12:41-44
Jesus sat down opposite the treasury, and saw how the multitude cast money into the treasury. Many who were rich cast in much.

A poor widow came, and she cast in two small brass coins, which equal a quadrans coin.

He called his disciples to himself, and said to them, "Most certainly I tell you, this poor widow gave more than all those who are giving into the treasury, for they all gave out of their abundance, but she, out of her poverty, gave all that she had to live on."
Deuteronomy 16:17
Every man shall give as he is able, according to Yahweh your God's blessing which he has given you.
Malachi 3:8-12
Will a man rob God? Yet you rob me! But you say, 'How have we robbed you?' In tithes and offerings.

You are cursed with the curse; for you rob me, even this whole nation.

Bring the whole tithe into the storehouse, that there may be food in my house, and test me now in this," says Yahweh of Armies, "if I will not open you the windows of heaven, and pour you out a blessing, that there will not be room enough for.

I will rebuke the devourer for your sakes, and he shall not destroy the fruits of your ground; neither shall your vine cast its fruit before its time in the field," says Yahweh of Armies.

"All nations shall call you blessed, for you will be a delightful land," says Yahweh of Armies.
Luke 6:38
"Give, and it will be given to you: good measure, pressed down, shaken together, and running over, will be given to you. For with the same measure you measure it will be measured back to you."
2 Corinthians 9:7
Let each man give according as he has determined in his heart; not grudgingly, or under compulsion; for God loves a cheerful giver.
Luke 21:1-4
He looked up, and saw the rich people who were putting their gifts into the treasury.

He saw a certain poor widow casting in two small brass coins.

He said, "Truly I tell you, this poor widow put in more than all of them, for all these put in gifts for God from their abundance, but she, out of her poverty, put in all that she had to live on."
Proverbs 28:27
One who gives to the poor has no lack; but one who closes his eyes will have many curses.
Deuteronomy 12:11
then it shall happen that to the place which Yahweh your God shall choose, to cause his name to dwell there, there you shall bring all that I command you: your burnt offerings, your sacrifices, your tithes, the wave offering of your hand, and all your choice vows which you vow to Yahweh.
Hebrews 7:9
We can say that through Abraham even Levi, who receives tithes, has paid tithes.
Matthew 6:1-4
"Be careful that you don't do your charitable giving before men, to be seen by them, or else you have no reward from your Father who is in heaven.

Therefore when you do merciful deeds, don't sound a trumpet before yourself, as the hypocrites do in the synagogues and in the streets, that they may get glory from men. Most certainly I tell you, they have received their reward.

But when you do merciful deeds, don't let your left hand know what your right hand does, so that your merciful deeds may be in secret, then your Father who sees in secret will reward you openly.
Deuteronomy 12:5-6
But to the place which Yahweh your God shall choose out of all your tribes, to put his name there, you shall seek his habitation, and there you shall come.

There you shall bring your burnt offerings, your sacrifices, your tithes, the wave offering of your hand, your vows, your freewill offerings, and the firstborn of your herd and of your flock.
Genesis 8:20
Noah built an altar to Yahweh, and took of every clean animal, and of every clean bird, and offered burnt offerings on the altar.
Numbers 18:28
Thus you also shall offer a wave offering to Yahweh of all your tithes, which you receive of the children of Israel; and of it you shall give Yahweh's wave offering to Aaron the priest.
2 Corinthians 8:9
For you know the grace of our Lord Jesus Christ, that, though he was rich, yet for your sakes he became poor, that you through his poverty might become rich.
Luke 3:11
He answered them, "He who has two coats, let him give to him who has none. He who has food, let him do likewise."
Psalm 54:7
For he has delivered me out of all trouble. My eye has seen triumph over my enemies.
Hebrews 7:5
They indeed of the sons of Levi who receive the priest's office have a commandment to take tithes of the people according to the law, that is, of their brothers, though these have come out of the body of Abraham.
Matthew 23:23
"Woe to you, scribes and Pharisees, hypocrites! For you tithe mint, dill, and cumin, and have left undone the weightier matters of the law: justice, mercy, and faith. But you ought to have done these, and not to have left the other undone.
Matthew 6:19-21
"Don't lay up treasures for yourselves on the earth, where moth and rust consume, and where thieves break through and steal; but lay up for yourselves treasures in heaven, where neither moth nor rust consume, and where thieves don't break through and steal; for where your treasure is, there your heart will be also.
2 Corinthians 8:12-13
For if the readiness is there, it is acceptable according to what you have, not according to what you don't have.

For this is not that others may be eased and you distressed.
1 Corinthians 16:2-4
On the first day of every week, let each one of you save, as he may prosper, that no collections are made when I come.

When I arrive, I will send whoever you approve with letters to carry your gracious gift to Jerusalem.

If it is appropriate for me to go also, they will go with me.
Leviticus 27:30-34
"'All the tithe of the land, whether of the seed of the land or of the fruit of the trees, is Yahweh's. It is holy to Yahweh.

If a man redeems anything of his tithe, he shall add a fifth part to it.

All the tithe of the herds or the flocks, whatever passes under the rod, the tenth shall be holy to Yahweh.

He shall not search whether it is good or bad, neither shall he change it. If he changes it at all, then both it and that for which it is changed shall be holy. It shall not be redeemed.'"

These are the commandments which Yahweh commanded Moses for the children of Israel on Mount Sinai.
Deuteronomy 14:22-23
You shall surely tithe all the increase of your seed, that which comes out of the field year by year.

You shall eat before Yahweh your God, in the place which he chooses, to cause his name to dwell there, the tithe of your grain, of your new wine, and of your oil, and the firstborn of your herd and of your flock; that you may learn to fear Yahweh your God always.
Ephesians 5:1-2
Be therefore imitators of God, as beloved children.

Walk in love, even as Christ also loved you, and gave himself up for us, an offering and a sacrifice to God for a sweet-smelling fragrance.
James 2:15-16
And if a brother or sister is naked and in lack of daily food, and one of you tells them, "Go in peace, be warmed and filled;" and yet you didn't give them the things the body needs, what good is it?
Romans 12:1
Therefore I urge you, brothers, by the mercies of God, to present your bodies a living sacrifice, holy, acceptable to God, which is your spiritual service.
Luke 12:48
But he who didn't know, and did things worthy of stripes, will be beaten with few stripes. To whomever much is given, of him will much be required; and to whom much was entrusted, of him more will be asked.
2 Corinthians 8:3-5
For according to their power, I testify, yes and beyond their power, they gave of their own accord, begging us with much entreaty to receive this grace and the fellowship in the service to the saints.

This was not as we had expected, but first they gave their own selves to the Lord, and to us through the will of God.
Exodus 35:4-6
Moses spoke to all the congregation of the children of Israel, saying, "This is the thing which Yahweh commanded, saying, 'Take from among you an offering to Yahweh. Whoever is of a willing heart, let him bring it, Yahweh's offering: gold, silver, brass, blue, purple, scarlet, fine linen, goats' hair.
Psalm 110:3
Your people offer themselves willingly in the day of your power, in holy array. Out of the womb of the morning, you have the dew of your youth.
Mark 8:35-36
For whoever wants to save his life will lose it; and whoever will lose his life for my sake and the sake of the Good News will save it.

For what does it profit a man, to gain the whole world, and forfeit his life?
Bible Verses of Tithing and Offering
2 Corinthians 9:15
Now thanks be to God for his unspeakable gift!
Psalm 56:12
Your vows are on me, God. I will give thank offerings to you.
James 1:17
Every good gift and every perfect gift is from above, coming down from the Father of lights, with whom can be no variation, nor turning shadow.
Genesis 4:3-7
As time passed, Cain brought an offering to Yahweh from the fruit of the ground.

Abel also brought some of the firstborn of his flock and of its fat. Yahweh respected Abel and his offering, but he didn't respect Cain and his offering. Cain was very angry, and the expression on his face fell.

Yahweh said to Cain, "Why are you angry? Why has the expression of your face fallen?

If you do well, won't it be lifted up? If you don't do well, sin crouches at the door. Its desire is for you, but you are to rule over it."
Luke 18:12
I fast twice a week. I give tithes of all that I get.'
Isaiah 55:10-11
For as the rain comes down and the snow from the sky, and doesn't return there, but waters the earth, and makes it grow and bud, and gives seed to the sower and bread to the eater; so is my word that goes out of my mouth: it will not return to me void, but it will accomplish that which I please, and it will prosper in the thing I sent it to do.
2 Corinthians 9:6
Remember this: he who sows sparingly will also reap sparingly. He who sows bountifully will also reap bountifully.
Proverbs 11:24-26
There is one who scatters, and increases yet more. There is one who withholds more than is appropriate, but gains poverty.

The liberal soul shall be made fat. He who waters shall be watered also himself.

People curse someone who withholds grain, but blessing will be on the head of him who sells it.
Acts 4:32-35
The multitude of those who believed were of one heart and soul. Not one of them claimed that anything of the things which he possessed was his own, but they had all things in common.

With great power, the apostles gave their testimony of the resurrection of the Lord Jesus. Great grace was on them all.

For neither was there among them any who lacked, for as many as were owners of lands or houses sold them, and brought the proceeds of the things that were sold, and laid them at the apostles' feet, and distribution was made to each, according as anyone had need.
Leviticus 1:3
"'If his offering is a burnt offering from the herd, he shall offer a male without defect. He shall offer it at the door of the Tent of Meeting, that he may be accepted before Yahweh.
Luke 12:33-34
Sell that which you have, and give gifts to the needy. Make for yourselves purses which don't grow old, a treasure in the heavens that doesn't fail, where no thief approaches, neither moth destroys.

For where your treasure is, there will your heart be also.
Deuteronomy 8:18
But you shall remember Yahweh your God, for it is he who gives you power to get wealth; that he may establish his covenant which he swore to your fathers, as it is today.
Matthew 10:8
Heal the sick, cleanse the lepers, and cast out demons. Freely you received, so freely give.
2 Corinthians 9:10-12
Now may he who supplies seed to the sower and bread for food, supply and multiply your seed for sowing, and increase the fruits of your righteousness; you being enriched in everything to all generosity, which produces through us thanksgiving to God.

For this service of giving that you perform not only makes up for lack among the saints, but abounds also through much giving of thanks to God.
Deuteronomy 15:10
You shall surely give, and your heart shall not be grieved when you give to him; because that for this thing Yahweh your God will bless you in all your work, and in all that you put your hand to.
Luke 7:36-38
One of the Pharisees invited him to eat with him. He entered into the Pharisee's house, and sat at the table.

Behold, a woman in the city who was a sinner, when she knew that he was reclining in the Pharisee's house, brought an alabaster jar of ointment.

Standing behind at his feet weeping, she began to wet his feet with her tears, and she wiped them with the hair of her head, kissed his feet, and anointed them with the ointment.
Psalm 61:8
So I will sing praise to your name forever, that I may fulfill my vows daily.
Deuteronomy 26:12
When you have finished tithing all the tithe of your increase in the third year, which is the year of tithing, then you shall give it to the Levite, to the foreigner, to the fatherless, and to the widow, that they may eat within your gates, and be filled.
1 Chronicles 29:14
But who am I, and what is my people, that we should be able to offer so willingly as this? For all things come from you, and of your own have we given you.
Psalm 24:1
A Psalm by David. The earth is Yahweh's, with its fullness; the world, and those who dwell therein.
2 Chronicles 31:4-5
Moreover he commanded the people who lived in Jerusalem to give the portion of the priests and the Levites, that they might give themselves to Yahweh's law.

As soon as the commandment went out, the children of Israel gave in abundance the first fruits of grain, new wine, oil, honey, and of all the increase of the field; and they brought in the tithe of all things abundantly.
1 Corinthians 6:19-20
Or don't you know that your body is a temple of the Holy Spirit who is in you, whom you have from God? You are not your own, for you were bought with a price. Therefore glorify God in your body and in your spirit, which are God's.
Philippians 4:18
But I have all things, and abound. I am filled, having received from Epaphroditus the things that came from you, a sweet-smelling fragrance, an acceptable and well-pleasing sacrifice to God.
1 Timothy 6:10-11
For the love of money is a root of all kinds of evil. Some have been led astray from the faith in their greed, and have pierced themselves through with many sorrows.

But you, man of God, flee these things, and follow after righteousness, godliness, faith, love, perseverance, and gentleness.
Psalm 96:7-9
Ascribe to Yahweh, you families of nations, ascribe to Yahweh glory and strength.

Ascribe to Yahweh the glory due to his name. Bring an offering, and come into his courts.

Worship Yahweh in holy array. Tremble before him, all the earth.
Mark 12:17
Jesus answered them, "Render to Caesar the things that are Caesar's, and to God the things that are God's." They marveled greatly at him.
1 Timothy 6:17-18
Charge those who are rich in this present world that they not be arrogant, nor have their hope set on the uncertainty of riches, but on the living God, who richly provides us with everything to enjoy; that they do good, that they be rich in good works, that they be ready to distribute, willing to share.
Genesis 14:18-20
Melchizedek king of Salem brought out bread and wine. He was priest of God Most High.

He blessed him, and said, "Blessed be Abram of God Most High, possessor of heaven and earth.

Blessed be God Most High, who has delivered your enemies into your hand." Abram gave him a tenth of all.
Galatians 6:9-10
Let's not be weary in doing good, for we will reap in due season, if we don't give up.

So then, as we have opportunity, let's do what is good toward all men, and especially toward those who are of the household of the faith.
Hebrews 13:15-16
Through him, then, let's offer up a sacrifice of praise to God continually, that is, the fruit of lips which proclaim allegiance to his name.

But don't forget to be doing good and sharing, for with such sacrifices God is well pleased.
Matthew 7:12
Therefore whatever you desire for men to do to you, you shall also do to them; for this is the law and the prophets.
Psalm 100:4
Enter into his gates with thanksgiving, into his courts with praise. Give thanks to him, and bless his name.
Matthew 25:40
"The King will answer them, 'Most certainly I tell you, because you did it to one of the least of these my brothers, you did it to me.'
Numbers 18:24
For the tithe of the children of Israel, which they offer as a wave offering to Yahweh, I have given to the Levites for an inheritance. Therefore I have said to them, 'Among the children of Israel they shall have no inheritance.'
Malachi 1:14
"But the deceiver is cursed, who has in his flock a male, and vows, and sacrifices to the Lord a defective thing; for I am a great King," says Yahweh of Armies, "and my name is awesome among the nations."
Bible Verses about Offering and Hope
Psalm 116:12-14
What will I give to Yahweh for all his benefits toward me?

I will take the cup of salvation, and call on Yahweh's name.

I will pay my vows to Yahweh, yes, in the presence of all his people.
Numbers 18:26
"Moreover you shall speak to the Levites, and tell them, 'When you take of the children of Israel the tithe which I have given you from them for your inheritance, then you shall offer up a wave offering of it for Yahweh, a tithe of the tithe.
Hebrews 7:8
Here people who die receive tithes, but there one receives tithes of whom it is testified that he lives.
Matthew 10:42
Whoever gives one of these little ones just a cup of cold water to drink in the name of a disciple, most certainly I tell you he will in no way lose his reward."
Acts 2:44-45
All who believed were together, and had all things in common.

They sold their possessions and goods, and distributed them to all, according as anyone had need.
Proverbs 3:27
Don't withhold good from those to whom it is due, when it is in the power of your hand to do it.
Exodus 25:1-2
Yahweh spoke to Moses, saying, "Speak to the children of Israel, that they take an offering for me. From everyone whose heart makes him willing you shall take my offering.
2 Corinthians 8:7
But as you abound in everything, in faith, utterance, knowledge, all earnestness, and in your love to us, see that you also abound in this grace.
Luke 11:13
If you then, being evil, know how to give good gifts to your children, how much more will your heavenly Father give the Holy Spirit to those who ask him?"
1 Peter 4:10
As each has received a gift, employ it in serving one another, as good managers of the grace of God in its various forms.
Luke 16:10-11
He who is faithful in a very little is faithful also in much. He who is dishonest in a very little is also dishonest in much.

If therefore you have not been faithful in the unrighteous mammon, who will commit to your trust the true riches?
2 Peter 3:9
The Lord is not slow concerning his promise, as some count slowness; but is patient with us, not wishing that any should perish, but that all should come to repentance.
Luke 6:30
Give to everyone who asks you, and don't ask him who takes away your goods to give them back again.
1 Peter 4:10
As each has received a gift, employ it in serving one another, as good managers of the grace of God in its various forms.
Genesis 28:20-22
Jacob vowed a vow, saying, "If God will be with me, and will keep me in this way that I go, and will give me bread to eat, and clothing to put on, so that I come again to my father's house in peace, and Yahweh will be my God, then this stone, which I have set up for a pillar, will be God's house. Of all that you will give me I will surely give a tenth to you."
John 3:16-17
For God so loved the world, that he gave his one and only Son, that whoever believes in him should not perish, but have eternal life.

For God didn't send his Son into the world to judge the world, but that the world should be saved through him.
Romans 12:13
contributing to the needs of the saints; given to hospitality.
Exodus 23:19
The first of the first fruits of your ground you shall bring into the house of Yahweh your God. "You shall not boil a young goat in its mother's milk.
Proverbs 22:9
He who has a generous eye will be blessed; for he shares his food with the poor.
Nehemiah 12:44
On that day were men appointed over the rooms for the treasures, for the wave offerings, for the first fruits, and for the tithes, to gather into them, according to the fields of the cities, the portions appointed by the law for the priests and Levites; for Judah rejoiced for the priests and for the Levites who waited.
Amos 4:4-5
"Go to Bethel, and sin; to Gilgal, and sin more. Bring your sacrifices every morning, your tithes every three days, offer a sacrifice of thanksgiving of that which is leavened, and proclaim free will offerings and brag about them: for this pleases you, you children of Israel," says the Lord Yahweh.
John 4:23-24
But the hour comes, and now is, when the true worshipers will worship the Father in spirit and truth, for the Father seeks such to be his worshipers.

God is spirit, and those who worship him must worship in spirit and truth."
2 Corinthians 9:6-8
Remember this: he who sows sparingly will also reap sparingly. He who sows bountifully will also reap bountifully.

Let each man give according as he has determined in his heart; not grudgingly, or under compulsion; for God loves a cheerful giver.

And God is able to make all grace abound to you, that you, always having all sufficiency in everything, may abound to every good work.
Luke 11:42
But woe to you Pharisees! For you tithe mint and rue and every herb, but you bypass justice and God's love. You ought to have done these, and not to have left the other undone.
Nehemiah 10:35-37
And to bring the first fruits of our ground, and the first fruits of all fruit of all kinds of trees, year by year, to Yahweh's house; also the firstborn of our sons, and of our livestock, as it is written in the law, and the firstborn of our herds and of our flocks, to bring to the house of our God, to the priests who minister in the house of our God; and that we should bring the first fruits of our dough, our wave offerings, the fruit of all kinds of trees, and the new wine and the oil, to the priests, to the rooms of the house of our God; and the tithes of our ground to the Levites; for they, the Levites, take the tithes in all the cities of our tillage.
Hebrews 6:10
For God is not unrighteous, so as to forget your work and the labor of love which you showed toward his name, in that you served the saints, and still do serve them.
1 Samuel 6:3
They said, "If you send away the ark of the God of Israel, don't send it empty; but by all means return a trespass offering to him. Then you will be healed, and it will be known to you why his hand is not removed from you."
Numbers 18:21
"To the children of Levi, behold, I have given all the tithe in Israel for an inheritance, in return for their service which they serve, even the service of the Tent of Meeting.
1 Chronicles 29:9-11
Then the people rejoiced, because they offered willingly, because with a perfect heart they offered willingly to Yahweh; and David the king also rejoiced with great joy.

Therefore David blessed Yahweh before all the assembly; and David said, "You are blessed, Yahweh, the God of Israel our father, forever and ever.

Yours, Yahweh, is the greatness, the power, the glory, the victory, and the majesty! For all that is in the heavens and in the earth is yours. Yours is the kingdom, Yahweh, and you are exalted as head above all.
James 1:25
But he who looks into the perfect law of freedom, and continues, not being a hearer who forgets, but a doer of the work, this man will be blessed in what he does.
Matthew 6:25
Therefore I tell you, don't be anxious for your life: what you will eat, or what you will drink; nor yet for your body, what you will wear. Isn't life more than food, and the body more than clothing?
1 John 3:17
But whoever has the world's goods, and sees his brother in need, and closes his heart of compassion against him, how does God's love remain in him?
Matthew 5:23-24
"If therefore you are offering your gift at the altar, and there remember that your brother has anything against you, leave your gift there before the altar, and go your way. First be reconciled to your brother, and then come and offer your gift.
Exodus 35:21
They came, everyone whose heart stirred him up, and everyone whom his spirit made willing, and brought Yahweh's offering, for the work of the Tent of Meeting, and for all of its service, and for the holy garments.
Deuteronomy 14:28-29
At the end of every three years you shall bring all the tithe of your increase in the same year, and shall store it within your gates.

The Levite, because he has no portion nor inheritance with you, and the foreigner living among you, and the fatherless, and the widow, who are within your gates, shall come, and shall eat and be satisfied; that Yahweh your God may bless you in all the work of your hand which you do.
Matthew 5:16
Even so, let your light shine before men; that they may see your good works, and glorify your Father who is in heaven.
Luke 12:15
He said to them, "Beware! Keep yourselves from covetousness, for a man's life doesn't consist of the abundance of the things which he possesses."
What do you think of these Verses about Offering in the Bible? We must never forget that God's blessings are enormous and that in every breath, he reminds us of his vast love; we must have faith and be very grateful. Do you have any other Offering Bible verses to contribute to the community? Leave your message in the comments.