We show you the list with Bible Verses about Faith so that you understand God's message and that your faith does not waver so that you can focus on his word and be inspired thanks to these messages about religion in the Bible.
We have all experienced moments of anguish when our confidence falters or is depleted. Job loss, health problems, and death occur, and we are left wondering where God is and why it happened. Christians find security and hope in God and follow His commandments, according to the Bible. Faith describes as "belief in, trust in, and loyalty to God." But sometimes, this faith hangs by a thread, and we don't know how to get back on the right path.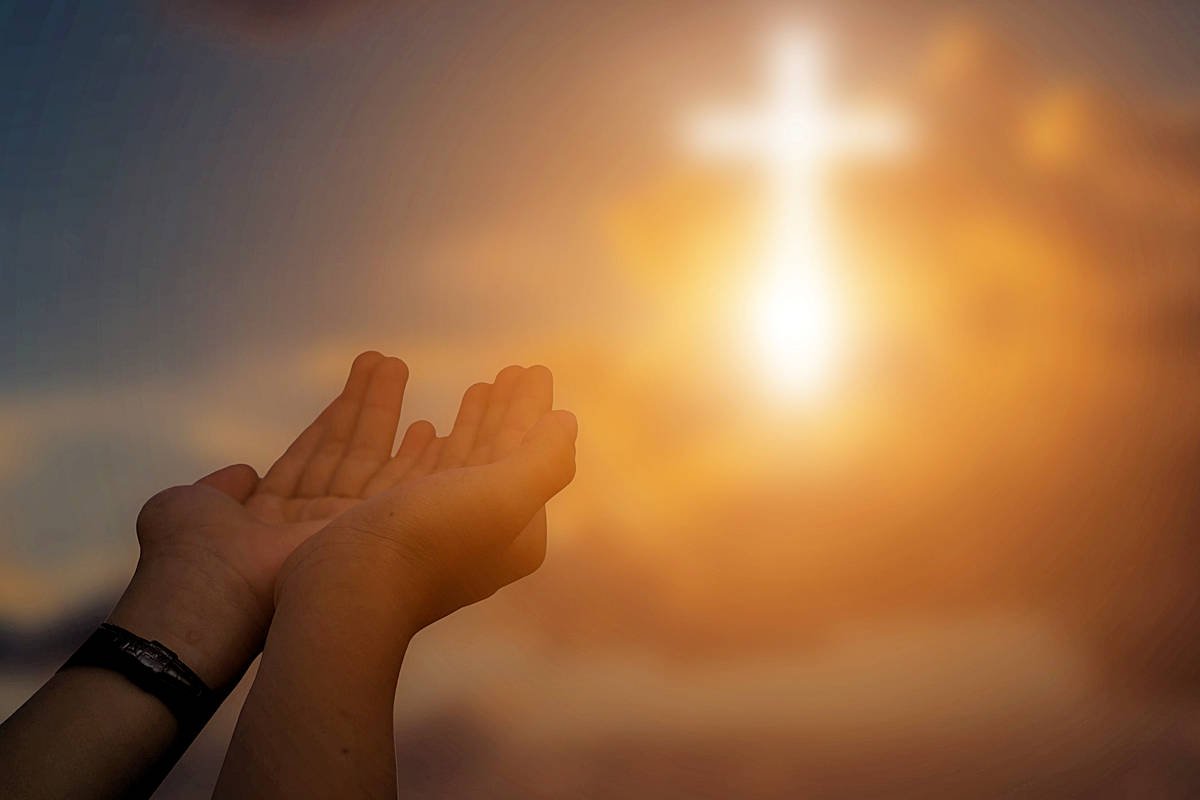 Bible Verses about Faith. Photo by @porstocker. Twenty20.
Turn to Scripture for guidance and motivation when faith struggles to keep believing.
We've compiled a list of our favorite Bible verses about faith to help you find courage, hope, and trust in God during life's challenges. God warns us that we will face hardships in this world and that we will face unknown and challenging times. But that His hand will never leave us.
Bible Verses about Faith
Matthew 21:21-22
Jesus answered them, "Most certainly I tell you, if you have faith, and don't doubt, you will not only do what was done to the fig tree, but even if you told this mountain, 'Be taken up and cast into the sea,' it would be done.

All things, whatever you ask in prayer, believing, you will receive."
Hebrews 11:6
Without faith it is impossible to be well pleasing to him, for he who comes to God must believe that he exists, and that he is a rewarder of those who seek him.
Romans 10:17
So faith comes by hearing, and hearing by the word of God.
Mark 11:22
Jesus answered them, "Have faith in God.
Mark 11:24
Therefore I tell you, all things whatever you pray and ask for, believe that you have received them, and you shall have them.
Ephesians 2:8-9
For by grace you have been saved through faith, and that not of yourselves; it is the gift of God, not of works, that no one would boast.
Proverbs 3:5
Trust in Yahweh with all your heart, and don't lean on your own understanding.
Proverbs 3:6
In all your ways acknowledge him, and he will make your paths straight.
2 Corinthians 5:6-7
Therefore we are always confident and know that while we are at home in the body, we are absent from the Lord; for we walk by faith, not by sight.
1 Peter 1:3
Blessed be the God and Father of our Lord Jesus Christ, who according to his great mercy caused us to be born again to a living hope through the resurrection of Jesus Christ from the dead.
Romans 10:9
that if you will confess with your mouth that Jesus is Lord, and believe in your heart that God raised him from the dead, you will be saved.
Galatians 2:20
I have been crucified with Christ, and it is no longer I that live, but Christ lives in me. That life which I now live in the flesh, I live by faith in the Son of God, who loved me, and gave himself up for me.
Romans 8:31
What then shall we say about these things? If God is for us, who can be against us?
James 2:20-26
But do you want to know, vain man, that faith apart from works is dead?

Wasn't Abraham our father justified by works, in that he offered up Isaac his son on the altar?

You see that faith worked with his works, and by works faith was perfected; and the Scripture was fulfilled which says, "Abraham believed God, and it was accounted to him as righteousness;" and he was called the friend of God.

You see then that by works, a man is justified, and not only by faith.

In the same way, wasn't Rahab the prostitute also justified by works, in that she received the messengers, and sent them out another way?

For as the body apart from the spirit is dead, even so faith apart from works is dead.
James 2:17
Even so faith, if it has no works, is dead in itself.
Romans 15:13
Now may the God of hope fill you with all joy and peace in believing, that you may abound in hope, in the power of the Holy Spirit.
Hebrews 10:38
But the righteous will live by faith. If he shrinks back, my soul has no pleasure in him."
Philippians 4:13
I can do all things through Christ, who strengthens me.
Mark 9:35
He sat down, and called the twelve; and he said to them, "If any man wants to be first, he shall be last of all, and servant of all."
John 20:29
Jesus said to him, "Because you have seen me, you have believed. Blessed are those who have not seen, and have believed."
1 Peter 5:7
casting all your worries on him, because he cares for you.
1 Corinthians 13:13
But now faith, hope, and love remain—these three. The greatest of these is love.
Mark 10:52
Jesus said to him, "Go your way. Your faith has made you well." Immediately he received his sight, and followed Jesus on the way.
Romans 5:1-5
Being therefore justified by faith, we have peace with God through our Lord Jesus Christ; through whom we also have our access by faith into this grace in which we stand. We rejoice in hope of the glory of God.

Not only this, but we also rejoice in our sufferings, knowing that suffering produces perseverance; and perseverance, proven character; and proven character, hope: and hope doesn't disappoint us, because God's love has been poured out into our hearts through the Holy Spirit who was given to us.
Matthew 15:28
Then Jesus answered her, "Woman, great is your faith! Be it done to you even as you desire." And her daughter was healed from that hour.
1 Corinthians 10:13
No temptation has taken you except what is common to man. God is faithful, who will not allow you to be tempted above what you are able, but will with the temptation also make the way of escape, that you may be able to endure it.
Psalm 46:10
"Be still, and know that I am God. I will be exalted among the nations. I will be exalted in the earth."
Matthew 6:24
"No one can serve two masters, for either he will hate the one and love the other; or else he will be devoted to one and despise the other. You can't serve both God and Mammon.
2 Peter 1:20-21
Knowing this first, that no prophecy of Scripture is of private interpretation.

For no prophecy ever came by the will of man: but holy men of God spoke, being moved by the Holy Spirit.
James 1:3
knowing that the testing of your faith produces endurance.
Bible Verses about Faith and Hope
Luke 17:5
The apostles said to the Lord, "Increase our faith."
John 3:36
One who believes in the Son has eternal life, but one who disobeys the Son won't see life, but the wrath of God remains on him."
1 John 4:1
Beloved, don't believe every spirit, but test the spirits, whether they are of God, because many false prophets have gone out into the world.
Matthew 17:20
He said to them, "Because of your unbelief. For most certainly I tell you, if you have faith as a grain of mustard seed, you will tell this mountain, 'Move from here to there,' and it will move; and nothing will be impossible for you.
2 Timothy 4:7
I have fought the good fight. I have finished the course. I have kept the faith.
Galatians 2:16
yet knowing that a man is not justified by the works of the law but through faith in Jesus Christ, even we believed in Christ Jesus, that we might be justified by faith in Christ, and not by the works of the law, because no flesh will be justified by the works of the law.
Romans 1:16-17
For I am not ashamed of the Good News of Christ, because it is the power of God for salvation for everyone who believes; for the Jew first, and also for the Greek.

For in it is revealed God's righteousness from faith to faith. As it is written, "But the righteous shall live by faith."
Ephesians 4:29
Let no corrupt speech proceed out of your mouth, but only what is good for building others up as the need may be, that it may give grace to those who hear.
Hebrews 12:2
looking to Jesus, the author and perfecter of faith, who for the joy that was set before him endured the cross, despising its shame, and has sat down at the right hand of the throne of God.
Luke 1:37
For nothing spoken by God is impossible."
Hebrews 10:24-25
Let's consider how to provoke one another to love and good works, not forsaking our own assembling together, as the custom of some is, but exhorting one another; and so much the more, as you see the Day approaching.
Romans 8:28
We know that all things work together for good for those who love God, to those who are called according to his purpose.
1 Thessalonians 1:3
remembering without ceasing your work of faith and labor of love and perseverance of hope in our Lord Jesus Christ, before our God and Father.
Hebrews 11:7
By faith, Noah, being warned about things not yet seen, moved with godly fear, prepared a ship for the saving of his house, through which he condemned the world, and became heir of the righteousness which is according to faith.
John 16:13
However when he, the Spirit of truth, has come, he will guide you into all truth, for he will not speak from himself; but whatever he hears, he will speak. He will declare to you things that are coming.
Josue 1:9
Haven't I commanded you? Be strong and courageous. Don't be afraid. Don't be dismayed, for Yahweh your God is with you wherever you go.
Galatians 5:22
But the fruit of the Spirit is love, joy, peace, patience, kindness, goodness, faith.
John 11:25-26
Jesus said to her, "I am the resurrection and the life. He who believes in me will still live, even if he dies.

Whoever lives and believes in me will never die. Do you believe this?"
1 Thessalonians 5:11
Therefore exhort one another, and build each other up, even as you also do.
1 Corinthians 13:2
If I have the gift of prophecy, and know all mysteries and all knowledge; and if I have all faith, so as to remove mountains, but don't have love, I am nothing.
John 20:31
but these are written, that you may believe that Jesus is the Christ, the Son of God, and that believing you may have life in his name.
2 Timothy 3:16-17
Every Scripture is God-breathed and profitable for teaching, for reproof, for correction, and for instruction in righteousness, that each person who belongs to God may be complete, thoroughly equipped for every good work.
Philippians 4:19
My God will supply every need of yours according to his riches in glory in Christ Jesus.
John 1:1
In the beginning was the Word, and the Word was with God, and the Word was God.
Luke 17:6
The Lord said, "If you had faith like a grain of mustard seed, you would tell this sycamore tree, 'Be uprooted, and be planted in the sea,' and it would obey you.
Bible Verses of Trust and Faith in God
Romans 14:23
But he who doubts is condemned if he eats, because it isn't of faith; and whatever is not of faith is sin.
Galatians 3:26-27
For you are all children of God, through faith in Christ Jesus.

For as many of you as were baptized into Christ have put on Christ.
Psalm 119:30
I have chosen the way of truth. I have set your ordinances before me.
1 Timothy 6:11
But you, man of God, flee these things, and follow after righteousness, godliness, faith, love, perseverance, and gentleness.
Mark 5:36
But Jesus, when he heard the message spoken, immediately said to the ruler of the synagogue, "Don't be afraid, only believe."
Romans 12:3
For I say, through the grace that was given me, to every man who is among you, not to think of himself more highly than he ought to think; but to think reasonably, as God has apportioned to each person a measure of faith.
Hebrews 11:2
For by this, the elders obtained testimony.
Philippians 4:6-8
In nothing be anxious, but in everything, by prayer and petition with thanksgiving, let your requests be made known to God.

And the peace of God, which surpasses all understanding, will guard your hearts and your thoughts in Christ Jesus.

Finally, brothers, whatever things are true, whatever things are honorable, whatever things are just, whatever things are pure, whatever things are lovely, whatever things are of good report; if there is any virtue, and if there is any praise, think about these things.
Ephesians 6:16
above all, taking up the shield of faith, with which you will be able to quench all the fiery darts of the evil one.
Luke 7:50
He said to the woman, "Your faith has saved you. Go in peace."
Galatians 3:26
For you are all children of God, through faith in Christ Jesus.
Romans 8:24-25
For we were saved in hope, but hope that is seen is not hope. For who hopes for that which he sees?

But if we hope for that which we don't see, we wait for it with patience.
Hebrews 11:1
Now faith is assurance of things hoped for, proof of things not seen.
Romans 12:12
rejoicing in hope; enduring in troubles; continuing steadfastly in prayer.
1 Peter 1:8-9
Whom not having known you love; in whom, though now you don't see him, yet believing, you rejoice greatly with joy unspeakable and full of glory—receiving the result of your faith, the salvation of your souls.
Ephesians 3:16-17
That he would grant you, according to the riches of his glory, that you may be strengthened with power through his Spirit in the inward man; that Christ may dwell in your hearts through faith; to the end that you, being rooted and grounded in love.
Mark 9:24
Immediately the father of the child cried out with tears, "I believe. Help my unbelief!"
John 3:16
For God so loved the world, that he gave his one and only Son, that whoever believes in him should not perish, but have eternal life.
1 John 5:5
Who is he who overcomes the world, but he who believes that Jesus is the Son of God?
Isaiah 41:10
Don't you be afraid, for I am with you. Don't be dismayed, for I am your God. I will strengthen you. Yes, I will help you. Yes, I will uphold you with the right hand of my righteousness.
Isaiah 40:31
But those who wait for Yahweh will renew their strength. They will mount up with wings like eagles. They will run, and not be weary. They will walk, and not faint.
Psalm 23:1-6
A Psalm by David. Yahweh is my shepherd: I shall lack nothing.

He makes me lie down in green pastures. He leads me beside still waters.

He restores my soul. He guides me in the paths of righteousness for his name's sake.

Even though I walk through the valley of the shadow of death, I will fear no evil, for you are with me. Your rod and your staff, they comfort me.

You prepare a table before me in the presence of my enemies. You anoint my head with oil. My cup runs over.

Surely goodness and loving kindness shall follow me all the days of my life, and I will dwell in Yahweh's house forever.
James 1:6
But let him ask in faith, without any doubting, for he who doubts is like a wave of the sea, driven by the wind and tossed.
John 6:35
Jesus said to them, "I am the bread of life. Whoever comes to me will not be hungry, and whoever believes in me will never be thirsty.
John 7:38
He who believes in me, as the Scripture has said, from within him will flow rivers of living water."
Verses to Improve our Faith
John 1:12
But as many as received him, to them he gave the right to become God's children, to those who believe in his name.
Habakkuk 2:4
Behold, his soul is puffed up. It is not upright in him, but the righteous will live by his faith.
Romans 12:2
Don't be conformed to this world, but be transformed by the renewing of your mind, so that you may prove what is the good, well-pleasing, and perfect will of God.
Luke 18:27
But he said, "The things which are impossible with men are possible with God."
James 2:24
You see then that by works, a man is justified, and not only by faith.
1 Peter 3:15
But sanctify the Lord God in your hearts; and always be ready to give an answer to everyone who asks you a reason concerning the hope that is in you, with humility and fear.
James 2:18
Yes, a man will say, "You have faith, and I have works." Show me your faith without works, and I by my works will show you my faith.
James 1:5-8
But if any of you lacks wisdom, let him ask of God, who gives to all liberally and without reproach; and it will be given to him.

But let him ask in faith, without any doubting, for he who doubts is like a wave of the sea, driven by the wind and tossed.

For that man shouldn't think that he will receive anything from the Lord.

He is a double-minded man, unstable in all his ways.
Romans 14:1
Now accept one who is weak in faith, but not for disputes over opinions.
John 11:40
Jesus said to her, "Didn't I tell you that if you believed, you would see God's glory?"
James 2:19
You believe that God is one. You do well. The demons also believe, and shudder.
Mark 16:16
He who believes and is baptized will be saved; but he who disbelieves will be condemned.
Hebrews 11:11
By faith, even Sarah herself received power to conceive, and she bore a child when she was past age, since she counted him faithful who had promised.
John 6:47
Most certainly, I tell you, he who believes in me has eternal life.
Romans 4:20-21
Yet, looking to the promise of God, he didn't waver through unbelief, but grew strong through faith, giving glory to God, and being fully assured that what he had promised, he was also able to perform.
1 Corinthians 16:13
Watch! Stand firm in the faith! Be courageous! Be strong!
Jeremiah 29:11
For I know the thoughts that I think toward you," says Yahweh, "thoughts of peace, and not of evil, to give you hope and a future.
Matthew 9:22
But Jesus, turning around and seeing her, said, "Daughter, cheer up! Your faith has made you well." And the woman was made well from that hour.
John 8:24
I said therefore to you that you will die in your sins; for unless you believe that I am he, you will die in your sins."
Mark 9:23
Jesus said to him, "If you can believe, all things are possible to him who believes."
1 John 5:4
For whatever is born of God overcomes the world. This is the victory that has overcome the world: your faith.
Galatians 5:6
For in Christ Jesus neither circumcision amounts to anything, nor uncircumcision, but faith working through love.
John 14:6
Jesus said to him, "I am the way, the truth, and the life. No one comes to the Father, except through me.
1 Timothy 1:19
holding faith and a good conscience; which some having thrust away made a shipwreck concerning the faith.
1 Corinthians 2:5
that your faith wouldn't stand in the wisdom of men, but in the power of God.
1 John 5:1
Whoever believes that Jesus is the Christ has been born of God. Whoever loves the Father also loves the child who is born of him.
Romans 15:4
For whatever things were written before were written for our learning, that through perseverance and through encouragement of the Scriptures we might have hope.
Romans 10:10
For with the heart, one believes unto righteousness; and with the mouth confession is made unto salvation.
1 John 5:13
These things I have written to you who believe in the name of the Son of God, that you may know that you have eternal life, and that you may continue to believe in the name of the Son of God.
Psalm 28:7
Yahweh is my strength and my shield. My heart has trusted in him, and I am helped. Therefore my heart greatly rejoices. With my song I will thank him.
1 Peter 1:7
that the proof of your faith, which is more precious than gold that perishes even though it is tested by fire, may be found to result in praise, glory, and honor at the revelation of Jesus Christ.
1 Timothy 6:12
Fight the good fight of faith. Take hold of the eternal life to which you were called, and you confessed the good confession in the sight of many witnesses.
Romans 8:18
For I consider that the sufferings of this present time are not worthy to be compared with the glory which will be revealed toward us.
What did you think of these Bible Verses about Faith? In the most challenging moments is when faith should inspire our actions. Do you have other Bible verses about faith to contribute to the community? Leave your message in the comments.