We show you the list with Bible Verses for Women. Ask God for patience, tolerance, and love to overcome the problems of life. Be inspired by these verses for women so that your strength will help your loved ones and that God will be merciful to you and yours.
We humans have been created in the image and likeness of the Creator Father, that is why we should always feel powerful and brave, but many times it is not so. The Virgin Mary has been the mother example, the strong and loving woman; she is the image that women should follow. Her teachings, values, and fortitude are proof that women are strong and not only beautiful.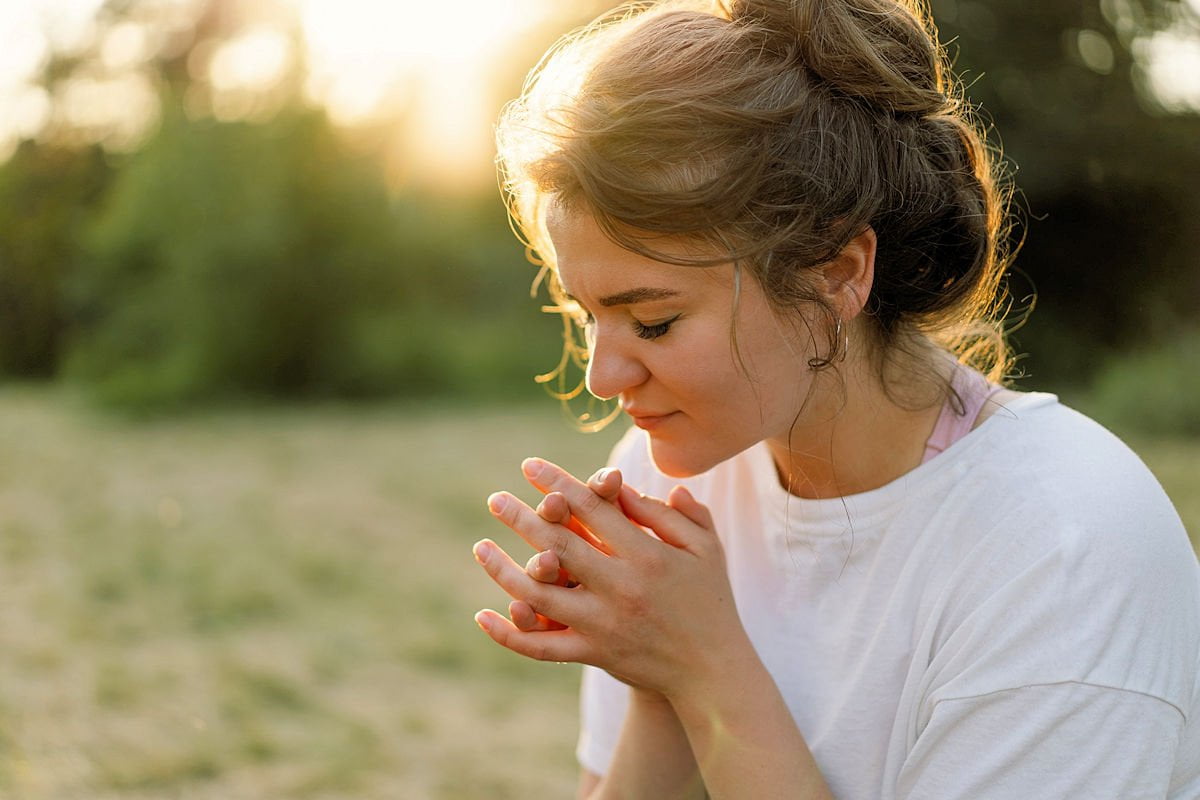 Bible Verses for Women. Photo by @Nastyaofly. Twenty20.
We must be guided by the word of God in order to always maintain harmony, love, and respect for our family. We are the main pillar of a family, and therefore, this requires a lot of commitment. But in order to carry all this responsibility on our shoulders, we have the Father, the Son, and the Holy Spirit to help us at all times. With these verses about women, you will be clearer about the strength that God has given to women and how you can remind yourself that you are: Beautiful, courageous, strong, and worthy.
Bible Verses for Women
1 Chronicles 16:11
Seek Yahweh and his strength. Seek his face forever more.
Proverbs 21:19
It is better to dwell in a desert land, than with a contentious and fretful woman.
Romans 16:1-2
I commend to you Phoebe, our sister, who is a servant of the assembly that is at Cenchreae, that you receive her in the Lord, in a way worthy of the saints, and that you assist her in whatever matter she may need from you, for she herself also has been a helper of many, and of my own self.
Titus 2:3-5
And that older women likewise be reverent in behavior, not slanderers nor enslaved to much wine, teachers of that which is good; that they may train the young wives to love their husbands, to love their children, to be sober minded, chaste, workers at home, kind, being in subjection to their own husbands, that God's word may not be blasphemed.
Ephesians 2:10
For we are his workmanship, created in Christ Jesus for good works, which God prepared before that we would walk in them.
Song of Solomon 2:10
My beloved spoke, and said to me, rise up, my love, my beautiful one, and come away.
Proverbs 19:13
A foolish son is the calamity of his father. A wife's quarrels are a continual dripping.
Galatians 3:8
The Scripture, foreseeing that God would justify the Gentiles by faith, preached the Good News beforehand to Abraham, saying, "In you all the nations will be blessed."
Romans 5:8
But God commends his own love toward us, in that while we were yet sinners, Christ died for us.
Proverbs 31:25-26
Strength and dignity are her clothing. She laughs at the time to come.

She opens her mouth with wisdom. Faithful instruction is on her tongue.
1 Timothy 2:9-10
In the same way, that women also adorn themselves in decent clothing, with modesty and propriety; not just with braided hair, gold, pearls, or expensive clothing; but (which becomes women professing godliness) with good works.
Romans 5:6
For while we were yet weak, at the right time Christ died for the ungodly.
Proverbs 31:10
Who can find a worthy woman? For her price is far above rubies.
1 Peter 3:7
You husbands, in the same way, live with your wives according to knowledge, giving honor to the woman, as to the weaker vessel, as being also joint heirs of the grace of life; that your prayers may not be hindered.
Proverbs 3:15-18
She is more precious than rubies. None of the things you can desire are to be compared to her.

Length of days is in her right hand. In her left hand are riches and honor.

Her ways are ways of pleasantness. All her paths are peace.

She is a tree of life to those who lay hold of her. Happy is everyone who retains her.
Verses for Courageous Women
Song of Solomon 4:7
You are all beautiful, my love. There is no spot in you.
Deuteronomy 22:5
A woman shall not wear men's clothing, neither shall a man put on women's clothing; for whoever does these things is an abomination to Yahweh your God.
Genesis 2:24
Therefore a man will leave his father and his mother, and will join with his wife, and they will be one flesh.
1 Corinthians 16:14
Let all that you do be done in love.
Luke 10:38-42
As they went on their way, he entered into a certain village, and a certain woman named Martha received him into her house.

She had a sister called Mary, who also sat at Jesus' feet, and heard his word.

But Martha was distracted with much serving, and she came up to him, and said, "Lord, don't you care that my sister left me to serve alone? Ask her therefore to help me."

Jesus answered her, "Martha, Martha, you are anxious and troubled about many things, but one thing is needed. Mary has chosen the good part, which will not be taken away from her."
Psalm 143:8
Cause me to hear your loving kindness in the morning, for I trust in you. Cause me to know the way in which I should walk, for I lift up my soul to you.
Psalm 46:5
God is within her. She shall not be moved. God will help her at dawn.
2 Timothy 1:7
For God didn't give us a spirit of fear, but of power, love, and self-control.
Proverbs 31:20-21
She opens her arms to the poor; yes, she extends her hands to the needy.

She is not afraid of the snow for her household; for all her household are clothed with scarlet.
1 Corinthians 15:10
But by the grace of God I am what I am. His grace which was given to me was not futile, but I worked more than all of them; yet not I, but the grace of God which was with me.
Psalm 93:4
Above the voices of many waters, the mighty breakers of the sea, Yahweh on high is mighty.
Joshua 1:5
No man will be able to stand before you all the days of your life. As I was with Moses, so I will be with you. I will not fail you nor forsake you.
Matthew 27:55-56
Many women were there watching from afar, who had followed Jesus from Galilee, serving him.

Among them were Mary Magdalene, Mary the mother of James and Joses, and the mother of the sons of Zebedee.
Proverbs 12:4
A worthy woman is the crown of her husband, but a disgraceful wife is as rottenness in his bones.
Luke 8:1-3
Soon afterwards, he went about through cities and villages, preaching and bringing the good news of God's Kingdom. With him were the twelve, and certain women who had been healed of evil spirits and infirmities: Mary who was called Magdalene, from whom seven demons had gone out; and Joanna, the wife of Chuzas, Herod's steward; Susanna; and many others; who served them from their possessions.
Psalm 9:1
For the Chief Musician. Set to "The Death of the Son." A Psalm by David. I will give thanks to Yahweh with my whole heart. I will tell of all your marvelous works.
Proverbs 18:22
Whoever finds a wife finds a good thing, and obtains favor of Yahweh.
Genesis 5:1-2
This is the book of the generations of Adam. In the day that God created man, he made him in God's likeness.

He created them male and female, and blessed them. On the day they were created, he named them Adam.
1 Corinthians 11:3-5
But I would have you know that the head of every man is Christ, and the head of the woman is man, and the head of Christ is God.

Every man praying or prophesying, having his head covered, dishonors his head.

But every woman praying or prophesying with her head uncovered dishonors her head. For it is one and the same thing as if she were shaved.
Philippians 4:6-8
In nothing be anxious, but in everything, by prayer and petition with thanksgiving, let your requests be made known to God.

And the peace of God, which surpasses all understanding, will guard your hearts and your thoughts in Christ Jesus.

Finally, brothers, whatever things are true, whatever things are honorable, whatever things are just, whatever things are pure, whatever things are lovely, whatever things are of good report; if there is any virtue, and if there is any praise, think about these things.
Verses for Women Warriors and Virtuous Women
Song of Solomon 4:1
Behold, you are beautiful, my love.

Behold, you are beautiful.

Your eyes are like doves behind your veil.

Your hair is as a flock of goats, that descend from Mount Gilead.
Psalm 139:13-16
For you formed my inmost being. You knit me together in my mother's womb.

I will give thanks to you, for I am fearfully and wonderfully made. Your works are wonderful. My soul knows that very well.

My frame wasn't hidden from you, when I was made in secret, woven together in the depths of the earth.

Your eyes saw my body. In your book they were all written, the days that were ordained for me, when as yet there were none of them.
Genesis 1:27
God created man in his own image. In God's image he created him; male and female he created them.
Galatians 3:26-29
For you are all children of God, through faith in Christ Jesus.

For as many of you as were baptized into Christ have put on Christ.

There is neither Jew nor Greek, there is neither slave nor free man, there is neither male nor female; for you are all one in Christ Jesus.

If you are Christ's, then you are Abraham's offspring and heirs according to promise.
Proverbs 6:20
My son, keep your father's commandment, and don't forsake your mother's teaching.
1 Peter 2:13-17
Therefore subject yourselves to every ordinance of man for the Lord's sake: whether to the king, as supreme; or to governors, as sent by him for vengeance on evildoers and for praise to those who do well.

For this is the will of God, that by well-doing you should put to silence the ignorance of foolish men: as free, and not using your freedom for a cloak of wickedness, but as bondservants of God.

Honor all men. Love the brotherhood. Fear God. Honor the king.
1 Timothy 2:15
But she will be saved through her childbearing, if they continue in faith, love, and sanctification with sobriety.
Exodus 14:14
Yahweh will fight for you, and you shall be still."
1 Peter 3:1-2
In the same way, wives, be in subjection to your own husbands; so that, even if any don't obey the Word, they may be won by the behavior of their wives without a word; seeing your pure behavior in fear.
1 Timothy 5:1-2
Don't rebuke an older man, but exhort him as a father; the younger men as brothers; the elder women as mothers; the younger as sisters, in all purity.
Proverbs 3:5-6
Trust in Yahweh with all your heart, and don't lean on your own understanding.

In all your ways acknowledge him, and he will make your paths straight.
Luke 1:45
Blessed is she who believed, for there will be a fulfillment of the things which have been spoken to her from the Lord!"
1 Timothy 5:14
I desire therefore that the younger widows marry, bear children, rule the household, and give no occasion to the adversary for insulting.
John 3:16-17
For God so loved the world, that he gave his one and only Son, that whoever believes in him should not perish, but have eternal life.

For God didn't send his Son into the world to judge the world, but that the world should be saved through him.
Esther 4:14
For if you remain silent now, then relief and deliverance will come to the Jews from another place, but you and your father's house will perish. Who knows if you haven't come to the kingdom for such a time as this?"
What did you think of these Bible Verses for Women? Being a woman is a huge responsibility that God gave us; the gift of giving life is not just anything, so we must be brave and strong; these verses will help us. Do you have any other Bible verses for Women to contribute to the community? Leave your message in the comments.