We show you the list with Verses on Anger in the Bible. We are all humans as well as children of God, so it is normal to feel anger in certain moments of enormous stress, but we must know how to control it and follow God's commandments. Get inspired by these Verses of Anger in the Bible, so you know how to control those bad feelings.
It's been one of those bad days for you. You are familiar with them. The kind where you're late for work because you have nothing to wear. Your boss is all over you about a project you found out about this morning; you're stopped in traffic on your way home, and then your house is a whirlwind of demands and noises, all of which push you over the edge. Your anger is mounting, and you have a sneaking suspicion that the next person who asks you for something will make you explode. You feel bad and wonder how you got into this situation. Where can you turn when you are faced with anger and rage?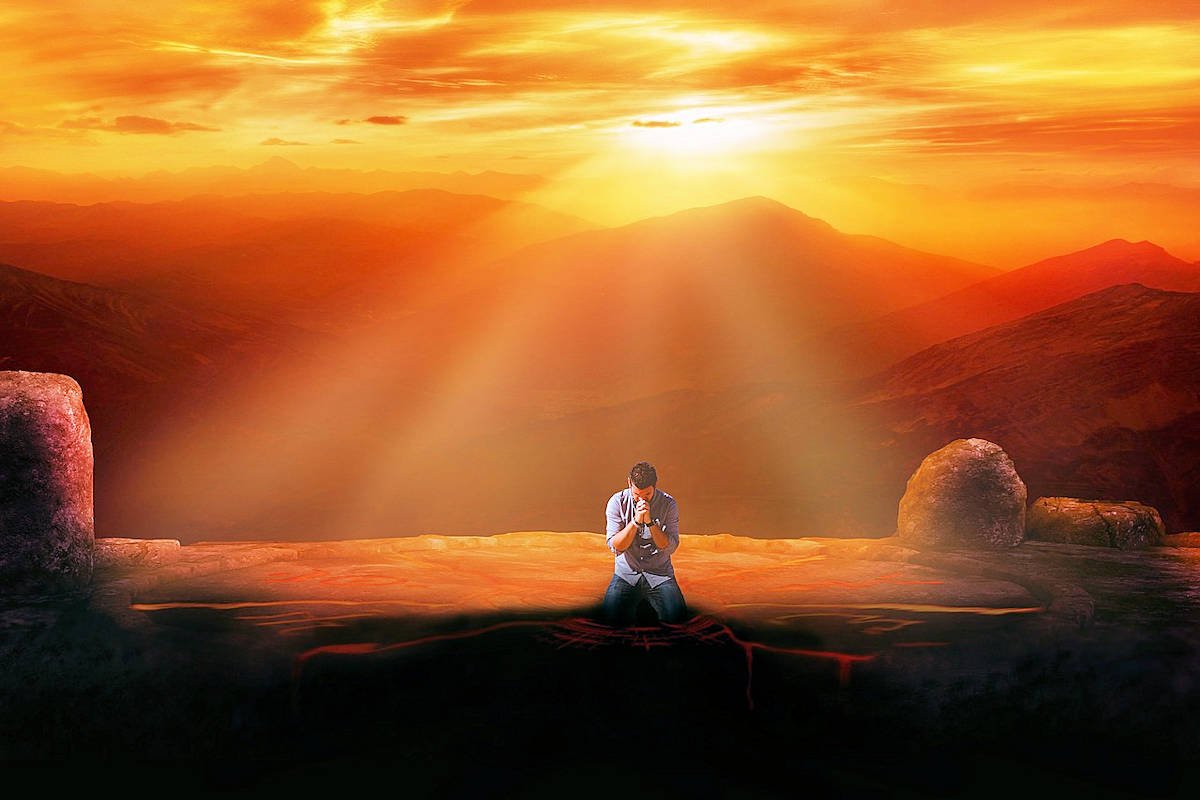 Verses on Anger in the Bible. Photo by Junnifer Baya. Pixabay.
The answer will always be the word of God; the Bible is the Word of God! Bible verses about peace, stress, and perseverance warn us about the dangers and folly of anger, but they also direct us to Bible passages about peace and patience. And not all anger is negative. Jesus did get angry, but for the right reasons: things that dishonored God and people who exploited others. Let these verses guide you to healing, calm, and self-control.
Verses on Anger in the Bible
Psalm 37:8-9
Cease from anger, and forsake wrath. Don't fret, it leads only to evildoing.

For evildoers shall be cut off, but those who wait for Yahweh shall inherit the land.
Proverbs 14:29
He who is slow to anger has great understanding, but he who has a quick temper displays folly.
Ecclesiastes 7:9
Don't be hasty in your spirit to be angry, for anger rests in the bosom of fools.
James 1:19
So, then, my beloved brothers, let every man be swift to hear, slow to speak, and slow to anger.
Ephesians 4:26
"Be angry, and don't sin." Don't let the sun go down on your wrath.
James 1:20
For the anger of man doesn't produce the righteousness of God.
Proverbs 19:11
The discretion of a man makes him slow to anger. It is his glory to overlook an offense.
James 1:19-20
So, then, my beloved brothers, let every man be swift to hear, slow to speak, and slow to anger; for the anger of man doesn't produce the righteousness of God.
Proverbs 15:1
A gentle answer turns away wrath, but a harsh word stirs up anger.
Ephesians 4:27-32
And don't give place to the devil.

Let him who stole steal no more; but rather let him labor, producing with his hands something that is good, that he may have something to give to him who has need.

Let no corrupt speech proceed out of your mouth, but only what is good for building others up as the need may be, that it may give grace to those who hear.

Don't grieve the Holy Spirit of God, in whom you were sealed for the day of redemption.

Let all bitterness, wrath, anger, outcry, and slander, be put away from you, with all malice.

And be kind to one another, tender hearted, forgiving each other, just as God also in Christ forgave you.
1 Timothy 2:8
I desire therefore that the men in every place pray, lifting up holy hands without anger and doubting.
1 Corinthians 1:10
Now I beg you, brothers, through the name of our Lord, Jesus Christ, that you all speak the same thing, and that there be no divisions among you, but that you be perfected together in the same mind and in the same judgment.
Proverbs 16:32
One who is slow to anger is better than the mighty; one who rules his spirit, than he who takes a city.
Proverbs 30:33
For as the churning of milk produces butter, and the wringing of the nose produces blood; so the forcing of wrath produces strife."
1 John 3:15
Whoever hates his brother is a murderer, and you know that no murderer has eternal life remaining in him.
1 Timothy 2:8
I desire therefore that the men in every place pray, lifting up holy hands without anger and doubting.
Colossians 3:12-13
Put on therefore, as God's chosen ones, holy and beloved, a heart of compassion, kindness, lowliness, humility, and perseverance; bearing with one another, and forgiving each other, if any man has a complaint against any; even as Christ forgave you, so you also do.
John 3:16-17
For God so loved the world, that he gave his one and only Son, that whoever believes in him should not perish, but have eternal life.

For God didn't send his Son into the world to judge the world, but that the world should be saved through him.
Proverbs 25:28
Like a city that is broken down and without walls is a man whose spirit is without restraint.
Psalm 34:14
Depart from evil, and do good. seek peace, and pursue it.
Romans 1:18
For the wrath of God is revealed from heaven against all ungodliness and unrighteousness of men, who suppress the truth in unrighteousness.
Proverbs 29:8
Mockers stir up a city, but wise men turn away anger.
Jeremiah 33:5
While men come to fight with the Chaldeans, and to fill them with the dead bodies of men, whom I have killed in my anger and in my wrath, and for all whose wickedness I have hidden my face from this city.
Mark 7:20-23
He said, "That which proceeds out of the man, that defiles the man.

For from within, out of the hearts of men, proceed evil thoughts, adulteries, sexual sins, murders, thefts, covetings, wickedness, deceit, lustful desires, an evil eye, blasphemy, pride, and foolishness.

All these evil things come from within, and defile the man."
Proverbs 27:3
A stone is heavy, and sand is a burden; but a fool's provocation is heavier than both.
Galatians 2:20
I have been crucified with Christ, and it is no longer I that live, but Christ lives in me. That life which I now live in the flesh, I live by faith in the Son of God, who loved me, and gave himself up for me.
2 Timothy 2:22
Flee from youthful lusts; but pursue righteousness, faith, love, and peace with those who call on the Lord out of a pure heart.
Isaiah 57:17
I was angry because of the iniquity of his covetousness, and struck him; I hid myself and was angry; and he went on backsliding in the way of his heart.
Psalm 110:5
The Lord is at your right hand. He will crush kings in the day of his wrath.
Proverbs 17:27
He who spares his words has knowledge. He who is even tempered is a man of understanding.
Psalm 30:5
For his anger is but for a moment. His favor is for a lifetime. Weeping may stay for the night, but joy comes in the morning.
Ephesians 6:4
You fathers, don't provoke your children to wrath, but nurture them in the discipline and instruction of the Lord.
Titus 1:7
For the overseer must be blameless, as God's steward; not self-pleasing, not easily angered, not given to wine, not violent, not greedy for dishonest gain.
Ecclesiastes 10:4
If the spirit of the ruler rises up against you, don't leave your place; for gentleness lays great offenses to rest.
Proverbs 21:19
It is better to dwell in a desert land, than with a contentious and fretful woman.
Verses to control Anger
Numbers 11:1
The people were complaining in the ears of Yahweh. When Yahweh heard it, his anger burned; and Yahweh's fire burned among them, and consumed some of the outskirts of the camp.
Proverbs 22:25
Lest you learn his ways, and ensnare your soul.
Psalm 7:11
God is a righteous judge, yes, a God who has indignation every day.
Ephesians 5:6
Let no one deceive you with empty words. For because of these things, the wrath of God comes on the children of disobedience.
Proverbs 10:12
Hatred stirs up strife, but love covers all wrongs.
Colossians 3:6
For which things' sake the wrath of God comes on the children of disobedience.
Nahum 1:6
Who can stand before his indignation? Who can endure the fierceness of his anger? His wrath is poured out like fire, and the rocks are broken apart by him.
Proverbs 12:16
A fool shows his annoyance the same day, but one who overlooks an insult is prudent.
Galatians 5:16
But I say, walk by the Spirit, and you won't fulfill the lust of the flesh.
Philippians 2:13
For it is God who works in you both to will and to work, for his good pleasure.
Proverbs 16:14
The king's wrath is a messenger of death, but a wise man will pacify it.
Colossians 3:15
And let the peace of God rule in your hearts, to which also you were called in one body; and be thankful.
Galatians 5:12
I wish that those who disturb you would cut themselves off.
Proverbs 15:18
A wrathful man stirs up contention, but one who is slow to anger appeases strife.
Philippians 2:14
Do all things without complaining and arguing.
Nahum 1:3
Yahweh is slow to anger, and great in power, and will by no means leave the guilty unpunished. Yahweh has his way in the whirlwind and in the storm, and the clouds are the dust of his feet.
2 Kings 17:18
Therefore Yahweh was very angry with Israel, and removed them out of his sight. There was none left but the tribe of Judah only.
Proverbs 29:9
If a wise man goes to court with a foolish man, the fool rages or scoffs, and there is no peace.
Romans 2:5
But according to your hardness and unrepentant heart you are treasuring up for yourself wrath in the day of wrath, revelation, and of the righteous judgment of God.
Mark 3:5
When he had looked around at them with anger, being grieved at the hardening of their hearts, he said to the man, "Stretch out your hand." He stretched it out, and his hand was restored as healthy as the other.
Proverbs 4:23
Keep your heart with all diligence, for out of it is the wellspring of life.
Hebrews 3:12
Beware, brothers, lest perhaps there be in any one of you an evil heart of unbelief, in falling away from the living God.
Jonah 4:4
Yahweh said, "Is it right for you to be angry?"
Romans 12:21
Don't be overcome by evil, but overcome evil with good.
Proverbs 16:29
A man of violence entices his neighbor, and leads him in a way that is not good.
Hebrews 3:11
As I swore in my wrath, 'They will not enter into my rest.'"
Isaiah 57:21
"There is no peace", says my God, "for the wicked."
Psalm 103:8
Yahweh is merciful and gracious, slow to anger, and abundant in loving kindness.
Galatians 5:19-21
Now the deeds of the flesh are obvious, which are: adultery, sexual immorality, uncleanness, lustfulness, idolatry, sorcery, hatred, strife, jealousies, outbursts of anger, rivalries, divisions, heresies, envy, murders, drunkenness, orgies, and things like these; of which I forewarn you, even as I also forewarned you, that those who practice such things will not inherit God's Kingdom.
Psalm 4:4
Stand in awe, and don't sin. Search your own heart on your bed, and be still. Selah.
Job 19:29
Be afraid of the sword, for wrath brings the punishments of the sword, that you may know there is a judgment."
Proverbs 6:34
For jealousy arouses the fury of the husband. He won't spare in the day of vengeance.
2 Timothy 2:23-25
But refuse foolish and ignorant questionings, knowing that they generate strife.

The Lord's servant must not quarrel, but be gentle towards all, able to teach, patient, in gentleness correcting those who oppose him: perhaps God may give them repentance leading to a full knowledge of the truth.
Genesis 4:5-8
But he didn't respect Cain and his offering. Cain was very angry, and the expression on his face fell.

Yahweh said to Cain, "Why are you angry? Why has the expression of your face fallen?

If you do well, won't it be lifted up? If you don't do well, sin crouches at the door. Its desire is for you, but you are to rule over it."

Cain said to Abel, his brother, "Let's go into the field." While they were in the field, Cain rose up against Abel, his brother, and killed him.
2 Kings 11:9-10
The captains over hundreds did according to all that Jehoiada the priest commanded; and they each took his men, those who were to come in on the Sabbath, with those who were to go out on the Sabbath, and came to Jehoiada the priest.

The priest delivered to the captains over hundreds the spears and shields that had been king David's, which were in Yahweh's house.
Verses on Anger and Rage Control
Job 5:2
For resentment kills the foolish man, and jealousy kills the simple.
Proverbs 29:22
An angry man stirs up strife, and a wrathful man abounds in sin.
Leviticus 19:17-18
"'You shall not hate your brother in your heart. You shall surely rebuke your neighbor, and not bear sin because of him.

"'You shall not take vengeance, nor bear any grudge against the children of your people; but you shall love your neighbor as yourself. I am Yahweh.
1 Kings 11:9
Yahweh was angry with Solomon, because his heart was turned away from Yahweh, the God of Israel, who had appeared to him twice.
Jeremiah 51:45
"My people, go away from the middle of her, and each of you save yourselves from Yahweh's fierce anger.
Proverbs 22:24
Don't befriend a hot-tempered man, and don't associate with one who harbors anger.
Isaiah 48:9
For my name's sake, I will defer my anger, and for my praise I hold it back for you, so that I don't cut you off.
2 Corinthians 12:20
For I am afraid that by any means, when I come, I might find you not the way I want to, and that I might be found by you as you don't desire; that by any means there would be strife, jealousy, outbursts of anger, factions, slander, whisperings, proud thoughts, riots.
Proverbs 29:11
A fool vents all of his anger, but a wise man brings himself under control.
1 Peter 3:9
Not rendering evil for evil, or insult for insult; but instead blessing; knowing that to this were you called, that you may inherit a blessing.
Revelation 15:1
I saw another great and marvelous sign in the sky: seven angels having the seven last plagues, for in them God's wrath is finished.
Psalm 86:15
But you, Lord, are a merciful and gracious God, slow to anger, and abundant in loving kindness and truth.
Proverbs 14:16-17
A wise man fears and shuns evil, but the fool is hot headed and reckless.

He who is quick to become angry will commit folly, and a crafty man is hated.
1 Peter 5:7
Casting all your worries on him, because he cares for you.
1 Corinthians 13:4-5
Love is patient and is kind; love doesn't envy. Love doesn't brag, is not proud, doesn't behave itself inappropriately, doesn't seek its own way, is not provoked, takes no account of evil.
Isaiah 57:16
For I will not contend forever, neither will I always be angry; for the spirit would faint before me, and the souls whom I have made.
Exodus 34:6
Yahweh passed by before him, and proclaimed, "Yahweh! Yahweh, a merciful and gracious God, slow to anger, and abundant in loving kindness and truth.
Proverbs 19:19
A hot-tempered man must pay the penalty, for if you rescue him, you must do it again.
Jeremiah 3:12
Go, and proclaim these words toward the north, and say, 'Return, you backsliding Israel,' says Yahweh; 'I will not look in anger on you; for I am merciful,' says Yahweh. 'I will not keep anger forever.
Luke 6:31
"As you would like people to do to you, do exactly so to them.
Proverbs 13:10
Pride only breeds quarrels, but wisdom is with people who take advice.
Galatians 5:22-23
But the fruit of the Spirit is love, joy, peace, patience, kindness, goodness, faith, gentleness, and self-control. Against such things there is no law.
Colossians 3:8
But now you also put them all away: anger, wrath, malice, slander, and shameful speaking out of your mouth.
Romans 12:19
Don't seek revenge yourselves, beloved, but give place to God's wrath. For it is written, "Vengeance belongs to me; I will repay, says the Lord."
Matthew 5:21-24
"You have heard that it was said to the ancient ones, 'You shall not murder;' and 'Whoever murders will be in danger of the judgment.'

But I tell you, that everyone who is angry with his brother without a cause will be in danger of the judgment; and whoever says to his brother, 'Raca!' will be in danger of the council; and whoever says, 'You fool!' will be in danger of the fire of Gehenna.

"If therefore you are offering your gift at the altar, and there remember that your brother has anything against you, leave your gift there before the altar, and go your way. First be reconciled to your brother, and then come and offer your gift.
Proverbs 20:3
It is an honor for a man to keep aloof from strife; but every fool will be quarreling.
Ezekiel 5:15
So it will be a reproach and a taunt, an instruction and an astonishment, to the nations that are around you, when I execute judgments on you in anger and in wrath, and in wrathful rebukes—I, Yahweh, have spoken it.
James 4:1-2
Where do wars and fightings among you come from? Don't they come from your pleasures that war in your members?

You lust, and don't have. You murder and covet, and can't obtain. You fight and make war. You don't have, because you don't ask.
Proverbs 27:4
Wrath is cruel, and anger is overwhelming; but who is able to stand before jealousy?
1 John 1:8-10
If we say that we have no sin, we deceive ourselves, and the truth is not in us.

If we confess our sins, he is faithful and righteous to forgive us the sins, and to cleanse us from all unrighteousness.

If we say that we haven't sinned, we make him a liar, and his word is not in us.
What did you think of these Verses of Anger in the Bible? God knows that we are human, sinful, and with emotions that we must learn to control. The Bible helps us to understand our feelings and the way we should act towards them. Do you have any other Verses of Anger in the Bible to contribute to the community? Leave your message in the comments.