We show you the list with Bible Verses about Eternal Life. To understand God's word, act according to what he asks of us, and earn eternal life. Be inspired by these Bible Verses about Eternal Life to purify ourselves before God.
God's love is infinite, and his most significant promise is eternal life for those who keep his word. That is why we show you these verses on Eternal Life so that in each of your acts and every decision you have to make, you can be sure that you do what is pleasing in the eyes of God.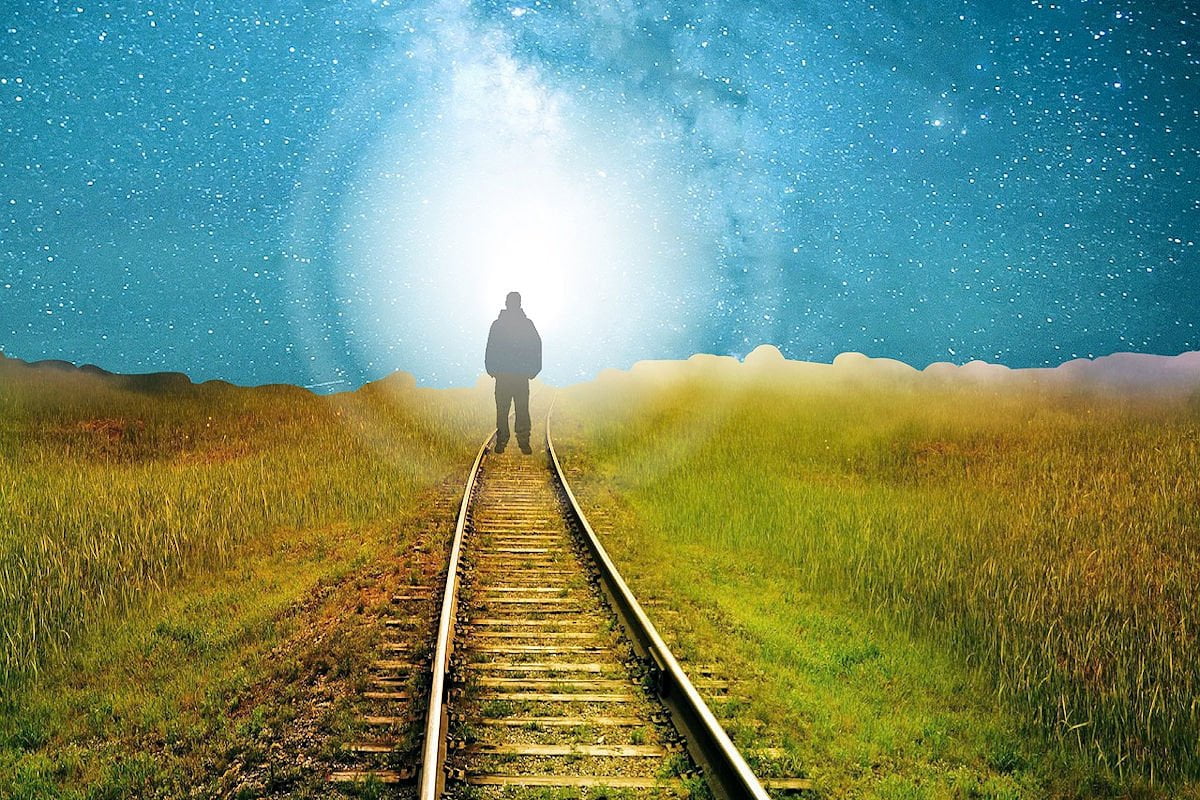 Bible Verses about Eternal Life. Photo by Karin Henseler en Pixabay.
Bible Verses about Eternal Life
John 3:16
For God so loved the world, that he gave his one and only Son, that whoever believes in him should not perish, but have eternal life.
Romans 6:23
For the wages of sin is death, but the free gift of God is eternal life in Christ Jesus our Lord.
John 17:3
This is eternal life, that they should know you, the only true God, and him whom you sent, Jesus Christ.
Matthew 25:46
These will go away into eternal punishment, but the righteous into eternal life."
John 5:24
"Most certainly I tell you, he who hears my word, and believes him who sent me, has eternal life, and doesn't come into judgment, but has passed out of death into life.
Romans 10:13
For, "Whoever will call on the name of the Lord will be saved."
John 3:36
One who believes in the Son has eternal life, but one who disobeys the Son won't see life, but the wrath of God remains on him."
1 John 1:9
If we confess our sins, he is faithful and righteous to forgive us the sins, and to cleanse us from all unrighteousness.
Matthew 7:21-23
Not everyone who says to me, 'Lord, Lord,' will enter into the Kingdom of Heaven; but he who does the will of my Father who is in heaven.

Many will tell me in that day, 'Lord, Lord, didn't we prophesy in your name, in your name cast out demons, and in your name do many mighty works?'

Then I will tell them, 'I never knew you. Depart from me, you who work iniquity.'
1 John 2:17
The world is passing away with its lusts, but he who does God's will remains forever.
Romans 10:9
That if you will confess with your mouth that Jesus is Lord, and believe in your heart that God raised him from the dead, you will be saved.
John 14:6
Jesus said to him, "I am the way, the truth, and the life. No one comes to the Father, except through me.
Genesis 3:19
By the sweat of your face will you eat bread until you return to the ground, for out of it you were taken. For you are dust, and to dust you shall return."
Revelation 21:8
But for the cowardly, unbelieving, sinners, abominable, murderers, sexually immoral, sorcerers, idolaters, and all liars, their part is in the lake that burns with fire and sulfur, which is the second death."
John 6:39-40
This is the will of my Father who sent me, that of all he has given to me I should lose nothing, but should raise him up at the last day.

This is the will of the one who sent me, that everyone who sees the Son, and believes in him, should have eternal life; and I will raise him up at the last day."
Titus 1:2
In hope of eternal life, which God, who can't lie, promised before time began.
Romans 8:18
For I consider that the sufferings of this present time are not worthy to be compared with the glory which will be revealed toward us.
2 Thessalonians 1:9
Who will pay the penalty: eternal destruction from the face of the Lord and from the glory of his might.
Daniel 12:2
Many of those who sleep in the dust of the earth will awake, some to everlasting life, and some to shame and everlasting contempt.
Revelation 20:4
I saw thrones, and they sat on them, and judgment was given to them. I saw the souls of those who had been beheaded for the testimony of Jesus, and for the word of God, and such as didn't worship the beast nor his image, and didn't receive the mark on their forehead and on their hand. They lived and reigned with Christ for a thousand years.
Romans 6:22
But now, being made free from sin, and having become servants of God, you have your fruit of sanctification, and the result of eternal life.
John 6:54
He who eats my flesh and drinks my blood has eternal life, and I will raise him up at the last day.
John 10:27-28
My sheep hear my voice, and I know them, and they follow me.

I give eternal life to them. They will never perish, and no one will snatch them out of my hand.
Luke 23:43
Jesus said to him, "Assuredly I tell you, today you will be with me in Paradise."
John 10:10
The thief only comes to steal, kill, and destroy. I came that they may have life, and may have it abundantly.
Romans 2:6-8
Who "will pay back to everyone according to their works:" to those who by perseverance in well-doing seek for glory, honor, and incorruptibility, eternal life; but to those who are self-seeking, and don't obey the truth, but obey unrighteousness, will be wrath and indignation.
John 17:2
Even as you gave him authority over all flesh, so he will give eternal life to all whom you have given him.
John 8:44
You are of your father, the devil, and you want to do the desires of your father. He was a murderer from the beginning, and doesn't stand in the truth, because there is no truth in him. When he speaks a lie, he speaks on his own; for he is a liar, and the father of lies.
2 Corinthians 4:18
While we don't look at the things which are seen, but at the things which are not seen. For the things which are seen are temporal, but the things which are not seen are eternal.
John 4:14
But whoever drinks of the water that I will give him will never thirst again; but the water that I will give him will become in him a well of water springing up to eternal life."
Verses of Salvation and Eternal Life
John 11:25-26
Jesus said to her, "I am the resurrection and the life. He who believes in me will still live, even if he dies.

Whoever lives and believes in me will never die. Do you believe this?"
Acts 2:38-39
Peter said to them, "Repent, and be baptized, every one of you, in the name of Jesus Christ for the forgiveness of sins, and you will receive the gift of the Holy Spirit.

For the promise is to you, and to your children, and to all who are far off, even as many as the Lord our God will call to himself."
John 14:23
Jesus answered him, "If a man loves me, he will keep my word. My Father will love him, and we will come to him, and make our home with him.
1 John 1:2
And the life was revealed, and we have seen, and testify, and declare to you the life, the eternal life, which was with the Father, and was revealed to us.
2 Peter 3:9
The Lord is not slow concerning his promise, as some count slowness; but is patient with us, not wishing that any should perish, but that all should come to repentance.
Acts 2:27
Because you will not leave my soul in Hades,neither will you allow your Holy One to see decay.
John 6:68
Simon Peter answered him, "Lord, to whom would we go? You have the words of eternal life.
1 Timothy 6:12
Fight the good fight of faith. Take hold of the eternal life to which you were called, and you confessed the good confession in the sight of many witnesses.
Romans 3:21-22
But now apart from the law, a righteousness of God has been revealed, being testified by the law and the prophets; even the righteousness of God through faith in Jesus Christ to all and on all those who believe. For there is no distinction.
Ecclesiastes 9:5
For the living know that they will die, but the dead don't know anything, neither do they have any more a reward; for their memory is forgotten.
Philippians 3:20-21
For our citizenship is in heaven, from where we also wait for a Savior, the Lord Jesus Christ; who will change the body of our humiliation to be conformed to the body of his glory, according to the working by which he is able even to subject all things to himself.
John 1:12
But as many as received him, to them he gave the right to become God's children, to those who believe in his name.
1 Peter 5:10
But may the God of all grace, who called you to his eternal glory by Christ Jesus, after you have suffered a little while, perfect, establish, strengthen, and settle you.
Matthew 25:41
Then he will say also to those on the left hand, 'Depart from me, you cursed, into the eternal fire which is prepared for the devil and his angels.
Psalm 86:13
For your loving kindness is great toward me. You have delivered my soul from the lowest Sheol.
Psalm 139:23-24
Search me, God, and know my heart. Try me, and know my thoughts.

See if there is any wicked way in me, and lead me in the everlasting way.
John 6:27
Don't work for the food which perishes, but for the food which remains to eternal life, which the Son of Man will give to you. For God the Father has sealed him."
1 John 5:11-13
The testimony is this, that God gave to us eternal life, and this life is in his Son.

He who has the Son has the life. He who doesn't have God's Son doesn't have the life.

These things I have written to you who believe in the name of the Son of God, that you may know that you have eternal life, and that you may continue to believe in the name of the Son of God.
John 5:28-29
Don't marvel at this, for the hour comes, in which all that are in the tombs will hear his voice, and will come out; those who have done good, to the resurrection of life; and those who have done evil, to the resurrection of judgment.
Hebrews 7:25
Therefore he is also able to save to the uttermost those who draw near to God through him, seeing that he lives forever to make intercession for them.
Isaiah 26:19
Your dead shall live. My dead bodies shall arise. Awake and sing, you who dwell in the dust; for your dew is like the dew of herbs, and the earth will cast out the departed spirits.
1 John 2:27
As for you, the anointing which you received from him remains in you, and you don't need for anyone to teach you. But as his anointing teaches you concerning all things, and is true, and is no lie, and even as it taught you, you will remain in him.
Acts 4:12
There is salvation in none other, for neither is there any other name under heaven, that is given among men, by which we must be saved!"
Galatians 2:15-16
"We, being Jews by nature, and not Gentile sinners, yet knowing that a man is not justified by the works of the law but through faith in Jesus Christ, even we believed in Christ Jesus, that we might be justified by faith in Christ, and not by the works of the law, because no flesh will be justified by the works of the law.
Revelation 1:8
"I am the Alpha and the Omega, " says the Lord God,"who is and who was and who is to come, the Almighty."
John 3:15
That whoever believes in him should not perish, but have eternal life.
2 Corinthians 5:17
Therefore if anyone is in Christ, he is a new creation. The old things have passed away. Behold, all things have become new.
Psalm 37:28
For Yahweh loves justice, and doesn't forsake his saints. They are preserved forever, but the children of the wicked shall be cut off.
Revelation 2:11
He who has an ear, let him hear what the Spirit says to the assemblies. He who overcomes won't be harmed by the second death.
Ephesians 2:8-9
For by grace you have been saved through faith, and that not of yourselves; it is the gift of God, not of works, that no one would boast.
Verses to Earn Eternal Life
John 6:47
Most certainly, I tell you, he who believes in me has eternal life.
1 John 3:15
Whoever hates his brother is a murderer, and you know that no murderer has eternal life remaining in him.
Matthew 19:16-17
Behold, one came to him and said, "Good teacher, what good thing shall I do, that I may have eternal life?"

He said to him, "Why do you call me good? No one is good but one, that is, God. But if you want to enter into life, keep the commandments."
Hebrews 9:27
Inasmuch as it is appointed for men to die once, and after this, judgment.
Nahum 1:7
Yahweh is good, a stronghold in the day of trouble; and he knows those who take refuge in him.
1 John 2:25
This is the promise which he promised us, the eternal life.
Matthew 7:13-14
"Enter in by the narrow gate; for wide is the gate and broad is the way that leads to destruction, and many are those who enter in by it.

How narrow is the gate, and restricted is the way that leads to life! Few are those who find it.
John 6:35
Jesus said to them, "I am the bread of life. Whoever comes to me will not be hungry, and whoever believes in me will never be thirsty.
Revelation 21:3-4
I heard a loud voice out of heaven saying, "Behold, God's dwelling is with people, and he will dwell with them, and they will be his people, and God himself will be with them as their God.

He will wipe away every tear from their eyes. Death will be no more; neither will there be mourning, nor crying, nor pain, any more. The first things have passed away."
Matthew 6:24
"No one can serve two masters, for either he will hate the one and love the other; or else he will be devoted to one and despise the other. You can't serve both God and Mammon.
Proverbs 8:35
For whoever finds me, finds life, and will obtain favor from Yahweh.
1 John 5:20
We know that the Son of God has come, and has given us an understanding, that we know him who is true, and we are in him who is true, in his Son Jesus Christ. This is the true God, and eternal life.
Matthew 18:8-9
If your hand or your foot causes you to stumble, cut it off, and cast it from you. It is better for you to enter into life maimed or crippled, rather than having two hands or two feet to be cast into the eternal fire.

If your eye causes you to stumble, pluck it out, and cast it from you. It is better for you to enter into life with one eye, rather than having two eyes to be cast into the Gehenna of fire.
John 5:39
"You search the Scriptures, because you think that in them you have eternal life; and these are they which testify about me.
2 Corinthians 4:17
For our light affliction, which is for the moment, works for us more and more exceedingly an eternal weight of glory.
1 Timothy 1:16
However, for this cause I obtained mercy, that in me first, Jesus Christ might display all his patience, for an example of those who were going to believe in him for eternal life.
Matthew 10:39
He who seeks his life will lose it; and he who loses his life for my sake will find it.
Romans 5:21
That as sin reigned in death, even so grace might reign through righteousness to eternal life through Jesus Christ our Lord.
1 Peter 3:18-22
Because Christ also suffered for sins once, the righteous for the unrighteous, that he might bring you to God; being put to death in the flesh, but made alive in the spirit; in which he also went and preached to the spirits in prison, who before were disobedient, when God waited patiently in the days of Noah, while the ship was being built. In it, few, that is, eight souls, were saved through water.

This is a symbol of baptism, which now saves you—not the putting away of the filth of the flesh, but the answer of a good conscience toward God, through the resurrection of Jesus Christ, who is at the right hand of God, having gone into heaven, angels and authorities and powers being made subject to him.
Acts 24:15
Herein I also practice always having a conscience void of offense toward God and men.
Galatians 6:7-8
Don't be deceived. God is not mocked, for whatever a man sows, that he will also reap.

For he who sows to his own flesh will from the flesh reap corruption. But he who sows to the Spirit will from the Spirit reap eternal life.
Jude 1:21
Keep yourselves in God's love, looking for the mercy of our Lord Jesus Christ to eternal life.
Proverbs 3:6
In all your ways acknowledge him, and he will make your paths straight.
Matthew 10:28-29
Don't be afraid of those who kill the body, but are not able to kill the soul. Rather, fear him who is able to destroy both soul and body in Gehenna.

"Aren't two sparrows sold for an assarion coin? Not one of them falls on the ground apart from your Father's will.
Psalm 49:15
But God will redeem my soul from the power of Sheol,for he will receive me. Selah.
What do you think of these verses about Eternal Life that appears in the Bible? Let us remember that the word of God must guide our steps; let us be deserving of love and mercy. Do you have other Bible verses about Eternal Life to contribute to the community? Leave your message in the comments.