We show you the list with Verses on Humility in the Bible. Ask God to help you keep your sanity and keep any kind of arrogance away from your life. Be inspired by these Verses on Humility in the Bible so that God's love is the only important thing that comes out of your mouth.
God's Word teaches us that he opposes the proud and favors the humble. How can we know if we are living in humility and are open to God's blessings? Humility is the ability to have no pride or arrogance and is a key character trait that anyone who follows Jesus Christ must possess. The best example of someone who meekly followed God's plan for his life is Jesus.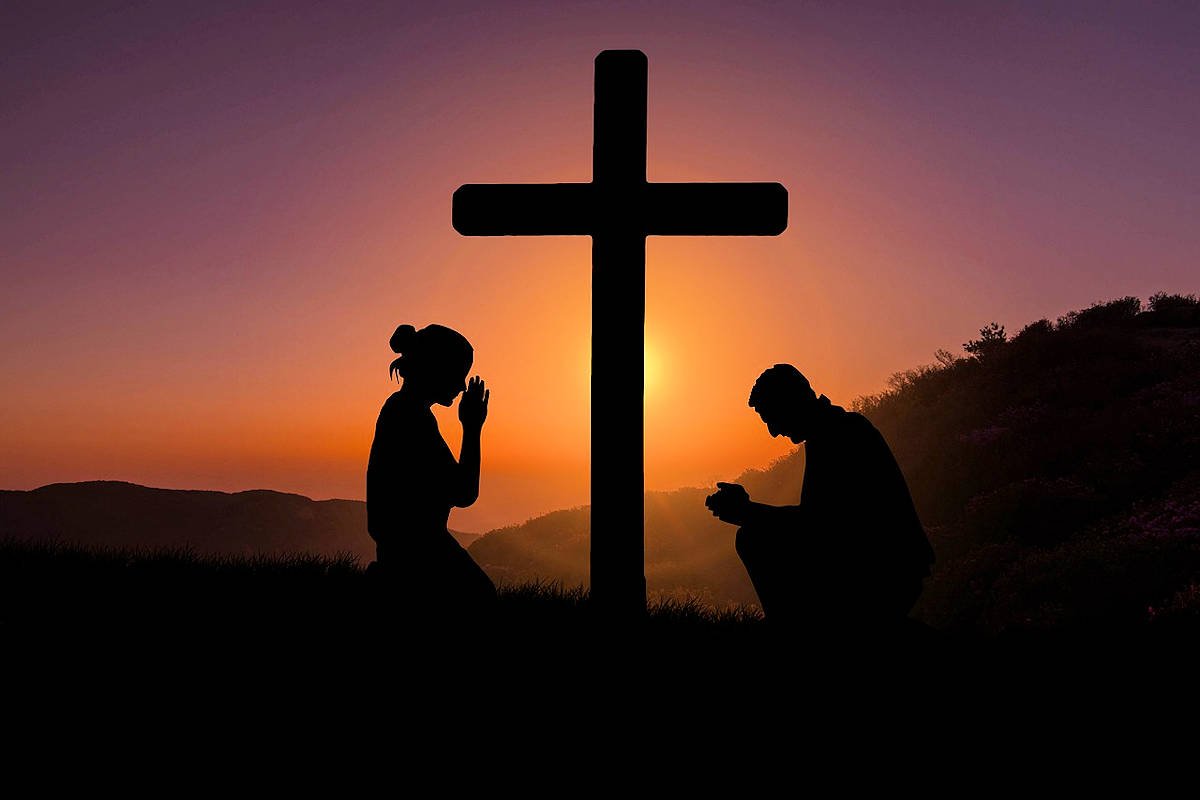 Verses on Humility in the Bible. Edition by Versiculos.net. Original for Gerd Altmann. Pixabay.
Every Christian should possess the virtue of humility but should do so in a way that glorifies God. According to the Scriptures, God resists the haughty and gives grace to the humble. Therefore, we must be filled with God's divine grace and put aside our pride and arrogance, always following God's commandments, and he will provide us with the peace we desire.
Verses on Humility in the Bible
Proverbs 22:4
The result of humility and the fear of Yahweh is wealth, honor, and life.
1 Peter 5:5
Likewise, you younger ones, be subject to the elder. Yes, all of you clothe yourselves with humility, to subject yourselves to one another; for "God resists the proud, but gives grace to the humble."
Colossians 3:12
Put on therefore, as God's chosen ones, holy and beloved, a heart of compassion, kindness, lowliness, humility, and perseverance.
Proverbs 11:2
When pride comes, then comes shame, but with humility comes wisdom.
James 4:6
But he gives more grace. Therefore it says, "God resists the proud, but gives grace to the humble."
James 4:10
Humble yourselves in the sight of the Lord, and he will exalt you.
Ephesians 4:2
With all lowliness and humility, with patience, bearing with one another in love.
Proverbs 15:33
The fear of Yahweh teaches wisdom. Before honor is humility.
Proverbs 18:12
Before destruction the heart of man is proud, but before honor is humility.
Micah 6:8
He has shown you, O man, what is good. What does Yahweh require of you, but to act justly, to love mercy, and to walk humbly with your God?
2 Chronicles 7:14
If my people, who are called by my name, will humble themselves, pray, seek my face, and turn from their wicked ways; then I will hear from heaven, will forgive their sin, and will heal their land.
1 Corinthians 13:4
Love is patient and is kind; love doesn't envy. Love doesn't brag, is not proud.
Psalm 138:6
For though Yahweh is high, yet he looks after the lowly; but the proud, he knows from afar.
1 Kings 21:29
"See how Ahab humbles himself before me? Because he humbles himself before me, I will not bring the evil in his days; but I will bring the evil on his house in his son's day."
Jeremiah 10:23
Yahweh, I know that the way of man is not in himself. It is not in man who walks to direct his steps.
1 Samuel 2:7
Yahweh makes poor, and makes rich. He brings low, he also lifts up.
2 Corinthians 12:9-10
He has said to me, "My grace is sufficient for you, for my power is made perfect in weakness." Most gladly therefore I will rather glory in my weaknesses, that the power of Christ may rest on me.

Therefore I take pleasure in weaknesses, in injuries, in necessities, in persecutions, in distresses, for Christ's sake. For when I am weak, then am I strong.
1 Corinthians 1:28-29
And God chose the lowly things of the world, and the things that are despised, and the things that don't exist, that he might bring to nothing the things that exist, that no flesh should boast before God.
Mark 10:45
For the Son of Man also came not to be served, but to serve, and to give his life as a ransom for many."
1 Kings 14:7
Go, tell Jeroboam, 'Yahweh, the God of Israel, says: "Because I exalted you from among the people, and made you prince over my people Israel.
Psalm 76:8
You pronounced judgment from heaven. The earth feared, and was silent.
Leviticus 26:41
I also walked contrary to them, and brought them into the land of their enemies; if then their uncircumcised heart is humbled, and they then accept the punishment of their iniquity.
Psalm 147:6
Yahweh upholds the humble. He brings the wicked down to the ground.
2 Corinthians 10:1
Now I Paul, myself, entreat you by the humility and gentleness of Christ; I who in your presence am lowly among you, but being absent am bold toward you.
Daniel 4:37
Now I, Nebuchadnezzar, praise and extol and honor the King of heaven; for all his works are truth, and his ways justice; and those who walk in pride he is able to abase.
Philippians 4:12
I know how to be humbled, and I know also how to abound. In everything and in all things I have learned the secret both to be filled and to be hungry, both to abound and to be in need.
James 3:2
For in many things we all stumble. If anyone doesn't stumble in word, the same is a perfect man, able to bridle the whole body also.
Philippians 2:3-4
Doing nothing through rivalry or through conceit, but in humility, each counting others better than himself; each of you not just looking to his own things, but each of you also to the things of others.
Isaiah 5:15
So man is brought low, mankind is humbled, and the eyes of the arrogant ones are humbled.
Psalm 107:39-41
Again, they are diminished and bowed down through oppression, trouble, and sorrow.

He pours contempt on princes, and causes them to wander in a trackless waste.

Yet he lifts the needy out of their affliction, and increases their families like a flock.
1 Peter 3:3-4
Let your beauty be not just the outward adorning of braiding the hair, and of wearing jewels of gold, or of putting on fine clothing; but in the hidden person of the heart, in the incorruptible adornment of a gentle and quiet spirit, which is in the sight of God very precious.
Isaiah 57:15
For thus says the high and lofty One who inhabits eternity, whose name is Holy: "I dwell in the high and holy place, with him also who is of a contrite and humble spirit, to revive the spirit of the humble, and to revive the heart of the contrite.
Proverbs 25:6
Don't exalt yourself in the presence of the king, or claim a place among great men.
Matthew 5:3
"Blessed are the poor in spirit, for theirs is the Kingdom of Heaven.
Isaiah 29:19
The humble also will increase their joy in Yahweh, and the poor among men will rejoice in the Holy One of Israel.
Matthew 23:10-12
Neither be called masters, for one is your master, the Christ.

But he who is greatest among you will be your servant.

Whoever exalts himself will be humbled, and whoever humbles himself will be exalted.
James 3:13
Who is wise and understanding among you? Let him show by his good conduct that his deeds are done in gentleness of wisdom.
John 13:14
If I then, the Lord and the Teacher, have washed your feet, you also ought to wash one another's feet.
Romans 12:3
For I say, through the grace that was given me, to every man who is among you, not to think of himself more highly than he ought to think; but to think reasonably, as God has apportioned to each person a measure of faith.
Psalm 115:1
Not to us, Yahweh, not to us, but to your name give glory, for your loving kindness, and for your truth's sake.
Verses of Humility and Meekness
2 Kings 22:19
Because your heart was tender, and you humbled yourself before Yahweh, when you heard what I spoke against this place, and against its inhabitants, that they should become a desolation and a curse, and have torn your clothes, and wept before me; I also have heard you,' says Yahweh.
Proverbs 27:2
Let another man praise you, and not your own mouth; a stranger, and not your own lips.
1 Timothy 1:15
The saying is faithful and worthy of all acceptance, that Christ Jesus came into the world to save sinners; of whom I am chief.
2 Samuel 7:18
Then David the king went in, and sat before Yahweh; and he said, "Who am I, Lord Yahweh, and what is my house, that you have brought me this far?
Matthew 6:16
"Moreover when you fast, don't be like the hypocrites, with sad faces. For they disfigure their faces, that they may be seen by men to be fasting. Most certainly I tell you, they have received their reward.
Psalm 149:4
For Yahweh takes pleasure in his people. He crowns the humble with salvation.
Philippians 4:20
Now to our God and Father be the glory forever and ever! Amen.
James 1:9-10
But let the brother in humble circumstances glory in his high position; and the rich, in that he is made humble, because like the flower in the grass, he will pass away.
Genesis 18:27
Abraham answered, "See now, I have taken it on myself to speak to the Lord, although I am dust and ashes.
Isaiah 9:1
But there shall be no more gloom for her who was in anguish. In the former time, he brought into contempt the land of Zebulun and the land of Naphtali; but in the latter time he has made it glorious, by the way of the sea, beyond the Jordan, Galilee of the nations.
2 Corinthians 11:30
If I must boast, I will boast of the things that concern my weakness.
Isaiah 13:11
I will punish the world for their evil, and the wicked for their iniquity. I will cause the arrogance of the proud to cease, and will humble the arrogance of the terrible.
Proverbs 3:34
Surely he mocks the mockers, but he gives grace to the humble.
Acts 20:19
Serving the Lord with all humility, with many tears, and with trials which happened to me by the plots of the Jews.
2 Chronicles 28:19
For Yahweh brought Judah low because of Ahaz king of Israel, because he acted without restraint in Judah and trespassed severely against Yahweh.
Colossians 2:23
Which things indeed appear like wisdom in self-imposed worship, and humility, and severity to the body; but aren't of any value against the indulgence of the flesh.
Jeremiah 45:5
Do you seek great things for yourself? Don't seek them; for, behold, I will bring evil on all flesh,' says Yahweh; 'but I will let you escape with your life wherever you go.'"
2 Chronicles 12:6-7
Then the princes of Israel and the king humbled themselves; and they said, "Yahweh is righteous."

When Yahweh saw that they humbled themselves, Yahweh's word came to Shemaiah, saying, "They have humbled themselves. I will not destroy them; but I will grant them some deliverance, and my wrath won't be poured out on Jerusalem by the hand of Shishak.
1 Samuel 9:21
Saul answered, "Am I not a Benjamite, of the smallest of the tribes of Israel? And my family the least of all the families of the tribe of Benjamin? Why then do you speak to me like this?"
Jeremiah 9:23
Yahweh says, "Don't let the wise man glory in his wisdom. Don't let the mighty man glory in his might. Don't let the rich man glory in his riches.
Isaiah 66:2
For my hand has made all these things, and so all these things came to be," says Yahweh: "but I will look to this man, even to he who is poor and of a contrite spirit, and who trembles at my word.
Jeremiah 44:10
They are not humbled even to this day, neither have they feared, nor walked in my law, nor in my statutes, that I set before you and before your fathers.'
1 Samuel 18:18
David said to Saul, "Who am I, and what is my life, or my father's family in Israel, that I should be son-in-law to the king?"
2 Corinthians 12:21
That again when I come my God would humble me before you, and I would mourn for many of those who have sinned before now, and not repented of the uncleanness and sexual immorality and lustfulness which they committed.
Proverbs 29:23
A man's pride brings him low, but one of lowly spirit gains honor.
Isaiah 25:11
He will spread out his hands in the middle of it, like one who swims spreads out hands to swim, but his pride will be humbled together with the craft of his hands.
1 Kings 3:7
Now, Yahweh my God, you have made your servant king instead of David my father. I am just a little child. I don't know how to go out or come in.
Galatians 5:13
For you, brothers, were called for freedom. Only don't use your freedom for gain to the flesh, but through love be servants to one another.
1 Peter 3:8
Finally, be all like-minded, compassionate, loving as brothers, tender hearted, courteous.
Luke 1:52
He has put down princes from their thrones. And has exalted the lowly.
Matthew 6:9-10
Pray like this: 'Our Father in heaven, may your name be kept holy.

Let your Kingdom come. Let your will be done, as in heaven, so on earth.
Proverbs 12:15
The way of a fool is right in his own eyes, but he who is wise listens to counsel.
Zephaniah 2:3
Seek Yahweh, all you humble of the land, who have kept his ordinances. Seek righteousness. Seek humility. It may be that you will be hidden in the day of Yahweh's anger.
Proverbs 16:18-19
Pride goes before destruction, and an arrogant spirit before a fall.

It is better to be of a lowly spirit with the poor, than to divide the plunder with the proud.
Exodus 10:3
Moses and Aaron went in to Pharaoh, and said to him, "This is what Yahweh, the God of the Hebrews, says: 'How long will you refuse to humble yourself before me? Let my people go, that they may serve me.
Romans 12:10
In love of the brothers be tenderly affectionate to one another; in honor preferring one another.
Matthew 20:26-27
It shall not be so among you, but whoever desires to become great among you shall be your servant.

Whoever desires to be first among you shall be your bondservant.
Psalm 95:6
Oh come, let's worship and bow down. Let's kneel before Yahweh, our Maker.
Numbers 12:3
Now the man Moses was very humble, more than all the men who were on the surface of the earth.
Ephesians 4:31-32
Let all bitterness, wrath, anger, outcry, and slander, be put away from you, with all malice.

And be kind to one another, tender hearted, forgiving each other, just as God also in Christ forgave you.
Verses to put away Pride and maintain Humility
Romans 11:18
Don't boast over the branches. But if you boast, it is not you who support the root, but the root supports you.
Luke 9:48
And said to them, "Whoever receives this little child in my name receives me. Whoever receives me receives him who sent me. For whoever is least among you all, this one will be great."
Psalm 25:8-9
Good and upright is Yahweh, therefore he will instruct sinners in the way.

He will guide the humble in justice. He will teach the humble his way.
Psalm 44:9
But now you rejected us, and brought us to dishonor, and don't go out with our armies.
2 Samuel 7:8
Now therefore tell my servant David this, 'Yahweh of Armies says, "I took you from the sheep pen, from following the sheep, to be prince over my people, over Israel.
Colossians 3:18-19
Wives, be in subjection to your husbands, as is fitting in the Lord.

Husbands, love your wives, and don't be bitter against them.
Isaiah 38:15
What will I say? He has both spoken to me, and himself has done it. I will walk carefully all my years because of the anguish of my soul.
Psalm 35:13
But as for me, when they were sick, my clothing was sackcloth. I afflicted my soul with fasting. My prayer returned into my own bosom.
James 4:14-16
Whereas you don't know what your life will be like tomorrow. For what is your life? For you are a vapor that appears for a little time, and then vanishes away.

For you ought to say, "If the Lord wills, we will both live, and do this or that."

But now you glory in your boasting. All such boasting is evil.
2 Samuel 22:28
You will save the afflicted people, But your eyes are on the arrogant, that you may bring them down.
Isaiah 26:5
For he has brought down those who dwell on high, the lofty city. He lays it low. He lays it low even to the ground. He brings it even to the dust.
Genesis 32:10
I am not worthy of the least of all the loving kindnesses, and of all the truth, which you have shown to your servant; for with just my staff I crossed over this Jordan; and now I have become two companies.
Psalm 131:1
A Song of Ascents. By David. Yahweh, my heart isn't arrogant, nor my eyes lofty; nor do I concern myself with great matters, or things too wonderful for me.
2 Chronicles 34:27
Because your heart was tender, and you humbled yourself before God, when you heard his words against this place, and against its inhabitants, and have humbled yourself before me, and have torn your clothes, and wept before me, I also have heard you," says Yahweh.
Isaiah 58:5
Is this the fast that I have chosen? A day for a man to humble his soul? Is it to bow down his head like a reed, and to spread sackcloth and ashes under himself? Will you call this a fast, and an acceptable day to Yahweh?
Proverbs 13:10
Pride only breeds quarrels, but wisdom is with people who take advice.
Genesis 41:16
Joseph answered Pharaoh, saying, "It isn't in me. God will give Pharaoh an answer of peace."
Psalm 8:4
What is man, that you think of him? What is the son of man, that you care for him?
Matthew 11:29-30
Take my yoke upon you, and learn from me, for I am gentle and humble in heart; and you will find rest for your souls.

For my yoke is easy, and my burden is light.
Ecclesiastes 5:2
Don't be rash with your mouth, and don't let your heart be hasty to utter anything before God; for God is in heaven, and you on earth. Therefore let your words be few.
Zechariah 9:9
Rejoice greatly, daughter of Zion! Shout, daughter of Jerusalem! Behold, your King comes to you! He is righteous, and having salvation; lowly, and riding on a donkey, even on a colt, the foal of a donkey.
Psalm 37:11
But the humble shall inherit the land, and shall delight themselves in the abundance of peace.
1 Kings 11:39
I will afflict the offspring of David for this, but not forever.'"
Luke 18:14
I tell you, this man went down to his house justified rather than the other; for everyone who exalts himself will be humbled, but he who humbles himself will be exalted."
2 Chronicles 33:12
When he was in distress, he begged Yahweh his God, and humbled himself greatly before the God of his fathers.
Job 22:29
When they cast down, you shall say, 'be lifted up.' He will save the humble person.
Titus 3:2
To speak evil of no one, not to be contentious, to be gentle, showing all humility toward all men.
Philippians 2:5-8
Have this in your mind, which was also in Christ Jesus, who, existing in the form of God, didn't consider equality with God a thing to be grasped, but emptied himself, taking the form of a servant, being made in the likeness of men.

And being found in human form, he humbled himself, becoming obedient to the point of death, yes, the death of the cross.
2 Chronicles 30:11
Nevertheless some men of Asher and Manasseh and of Zebulun humbled themselves, and came to Jerusalem.
James 1:21
Therefore, putting away all filthiness and overflowing of wickedness, receive with humility the implanted word, which is able to save your souls.
Romans 14:11
For it is written, "'As I live,' says the Lord, 'to me every knee will bow. Every tongue will confess to God.'"
Deuteronomy 8:2-3
You shall remember all the way which Yahweh your God has led you these forty years in the wilderness, that he might humble you, to prove you, to know what was in your heart, whether you would keep his commandments, or not.

He humbled you, and allowed you to be hungry, and fed you with manna, which you didn't know, neither did your fathers know; that he might teach you that man does not live by bread only, but man lives by every word that proceeds out of Yahweh's mouth.
Isaiah 2:11
The lofty looks of man will be brought low, the arrogance of men will be bowed down, and Yahweh alone will be exalted in that day.
Romans 12:16
Be of the same mind one toward another. Don't set your mind on high things, but associate with the humble. Don't be wise in your own conceits.
Luke 14:9-11
And he who invited both of you would come and tell you, 'Make room for this person.' Then you would begin, with shame, to take the lowest place.

But when you are invited, go and sit in the lowest place, so that when he who invited you comes, he may tell you, 'Friend, move up higher.' Then you will be honored in the presence of all who sit at the table with you.

For everyone who exalts himself will be humbled, and whoever humbles himself will be exalted."
Isaiah 23:9
Yahweh of Armies has planned it, to stain the pride of all glory, to bring into contempt all the honorable of the earth.
Proverbs 8:13
The fear of Yahweh is to hate evil. I hate pride, arrogance, the evil way, and the perverse mouth.
Matthew 18:1-4
In that hour the disciples came to Jesus, saying, "Who then is greatest in the Kingdom of Heaven?"

Jesus called a little child to himself, and set him in the middle of them, and said, "Most certainly I tell you, unless you turn, and become as little children, you will in no way enter into the Kingdom of Heaven.

Whoever therefore humbles himself as this little child, the same is the greatest in the Kingdom of Heaven.
John 3:30
He must increase, but I must decrease.
Isaiah 6:5
Then I said, "Woe is me! For I am undone, because I am a man of unclean lips, and I dwell among a people of unclean lips: for my eyes have seen the King, Yahweh of Armies!"
1 Corinthians 15:9
For I am the least of the apostles, who is not worthy to be called an apostle, because I persecuted the assembly of God.
Psalm 18:27
For you will save the afflicted people, but the arrogant eyes you will bring down.
Mark 9:33-37
He came to Capernaum, and when he was in the house he asked them, "What were you arguing among yourselves on the way?"

But they were silent, for they had disputed one with another on the way about who was the greatest.

He sat down, and called the twelve; and he said to them, "If any man wants to be first, he shall be last of all, and servant of all."

He took a little child, and set him in the middle of them. Taking him in his arms, he said to them, "Whoever receives one such little child in my name, receives me, and whoever receives me, doesn't receive me, but him who sent me."
Ephesians 3:20-21
Now to him who is able to do exceedingly abundantly above all that we ask or think, according to the power that works in us, to him be the glory in the assembly and in Christ Jesus to all generations forever and ever. Amen.
1 Peter 5:6
Humble yourselves therefore under the mighty hand of God, that he may exalt you in due time.
Psalm 39:12
"Hear my prayer, Yahweh, and give ear to my cry. Don't be silent at my tears. For I am a stranger with you, a foreigner, as all my fathers were.
Matthew 6:2
Therefore when you do merciful deeds, don't sound a trumpet before yourself, as the hypocrites do in the synagogues and in the streets, that they may get glory from men. Most certainly I tell you, they have received their reward.
What did you think of these Verses of Humility in the Bible? Remember that God asks you for Humility and patience in the face of storms; you just have to have faith. Do you have any other Bible verses on Humility to contribute to the community? Leave your message in the comments.